If you've ever wondered how to write an arts integrated lesson, or how to recognize whether a lesson will be high quality or not, this episode is for you. We're digging into the nitty gritty of what elements should be included and how to create a lesson that will succeed when done with students.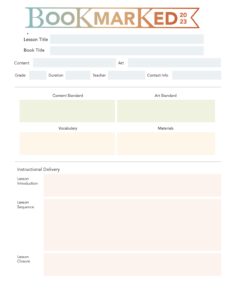 Resource Download
Enjoy this free download of the Basic Lesson Plan template and the Advanced Lesson Plan template.
Hello, my friend. I'm so excited to be back with you again for the Artworks for Teachers podcast. I'm your host, Susan Riley. I have a little bit of a cold, but you know, it's that spring, end of the year cold that all the kiddos bring home and that they bring with you to school, so… I'm sure you're dealing with something close by that's similar. And so we just push through, right? That's what we do as educators. So I hope that you are doing well and that you are healthy and that the end of the school year is nigh for you and that we can enjoy this final stretch of the 2023 school year. So here's the thing.
At the end of the school year, it's oftentimes when we're packing up our rooms and we're doing the fun activities and because all the things we didn't have time for during the rest of the school year, right? And so this often becomes a really busy time for us in our organization because people are looking for a fun activity to do or a fun lesson. And so oftentimes they'll find our arts integration lesson plans on the site and try them out at the end of the school year. 
If you have not already done that, please do it. All you have to do is go to artsintegration.com in the search bar, type in arts integration lessons, and you will find hundreds of free lessons available for you to try out with your students on so many different topics, K through 12. I really encourage you to do that because it is, it's a great time of year to try out arts integration lessons.
But one of the things that I see a lot are teachers who are excited to try them and want to write their own, but they get stuck very quickly because they're not sure how to. And this actually comes up a lot in our certification program as well. We've been running our certification program for almost six years now. And when I first started, my 2017 cohort, you will feel me on this.
Our lessons like there were six sections. Each video in each section, there were like four or five videos in each section. Each one was an hour long It was a really long intense program and from day one what we found as coaches was that lesson planning is not being taught at the college level anymore
Now that's a big broad breast stroke. And so maybe you were taught how to write a high quality lesson plan. But the, the, um, there's so much that is now crammed into teacher education. And you know this, right? Because this is the reality of teaching now that lesson planning, quality lesson planning and understanding how to write a full lesson plan, not something that you just put in your planner in that four by four block, right, that says, you know, whatever it is that you're covering from 10:20 to 11:b45. I'm talking about a full lesson plan designed from scratch. There is not, there are not very many teacher education programs anymore that teach that skill explicitly and have you turn in projects that do that because most curricula is already written for you, right? 
And so you don't necessarily need that skill anymore. You're going to open up to page 125 in the reading curriculum and you're going to teach whatever's on that page for the day, right? But here's the problem with that, especially when it comes to arts integration and STEAM. When we then ask you to write a lesson or to develop a lesson that maybe hasn't been done before,
it's almost like deer in headlights. It's like, how do I do that? Where do I even start? What are the sections that I need? Why do I need those? How do I write this sequence? And it's a little frustrating, right? And so today in today's podcast, I'm gonna break down for you how to write an arts integration lesson. And I'm gonna do a basic version and then a more advanced version. So no matter where you are on the arts integration spectrum, you can get started. 
And this is important. And here's why. Because even though curriculum is given to you, very rarely is arts integrated curricula or a curriculum supplement provided to you, unless of course your school is a trailblazer and has purchased our accelerator program, which provides you with 500 different lessons, right? But if you're in a school district that has not purchased that and they want you to encourage, you know, arts integration, and you don't have training in how to do that, then you're kind of stuck trying to sort and find lessons on the internet that may or may not work. 
And I'm gonna be brutally honest here, my friends. I am on TPT just like the rest of you, right? We all have things on TPT that we like and that we don't like and some of us have stores and some of us just go to buy product and I'm telling you. Having been on there, looking at arts integration projects and lessons, they're not fully developed lesson plans, and they're most of the time, I'm gonna say most of the time, not all the time, there's always some exceptions to the rule, but most of the time, the lessons that are developed are either arts enhancement and not arts integration, or they're written in such a way that if you try to replicate what the original teacher did, you're not gonna be successful because the lesson itself is not written in a way to help you be successful, because why?
We're not taught how to write lesson plans anymore. So when you're scrounging around on the internet trying to find like a $5 lesson or perhaps a free lesson somewhere, you don't know how to even judge whether or not it's gonna be high quality or whether it's gonna be successful. And that means that's a waste of time and it's a waste of your money. 
And so what I wanna do today is empower you to know exactly what to look for in a lesson plan so that even if you don't write one for yourself, you know what to look for. Or B, be able to write your own so that when you have a creative spark and an idea and you're reading this book and you're like, this would be a great arts integration lesson, you know how to write one so that you can go back and do that for yourself. All right? So let's dig in. All right, so I'm gonna start with the basic version.
I'm gonna share my screen for those of you who are watching the video. If you are listening to the podcast, I'm gonna be as direct as possible in explaining each of these things so that you can kind of take it in auditorily right now. But if you wanna go back and look at what I was talking about, you can. We're also gonna include both of these as a downloadable into today's podcast episode. So just go to artsintegration.com forward slash artworks and you will find a copy of each of these lesson templates so that you can use them on your own.
Alright friends, so you're gonna start with a lesson title, whatever you wanna call it. Let's say I'm doing a lesson on the Firebird book from our upcoming book club for Misty Copeland. I'm gonna call this maybe Firebird Reimagined, whatever you wanna name it, right? Then if you have a book that you are working with, you can put the book title in there as well. If you're not working with a book, just leave that part out.
Then you have content and art. And what this means is that what content are you selecting? What focus area are you selecting in the content area and what arts area are you focused on? So maybe reading for content and for the art form, it might be music, or it could be math. And for the art form, it could be visual art, whichever one you want. Notice though that they are side by side on the lesson plan. 
And you're gonna see this in an arts integration lesson, no matter who or what is writing this. And so whether it's an AI produced lesson plan or a lesson plan on our site, if it's a high quality lesson, you're going to see that the content and the art standards are written side by side because both of them are provided with equal amounts of emphasis. One is not serving the other. So we don't write them one on top of the other. Right. Which naturally places the one at the top with more emphasis.
Instead, we have them side by side. So you have your content standard and your art standard written side by side, or sorry, content area and art area written side by side. So reading and art or music or math and music, whichever one you decide. Then your grade level, the duration of your lesson. So how long do you think that this is gonna take you? The difference between how long you think it's gonna take you and the time it actually takes, this might need to be written in pencil to start. 
Many times we often think this is only going to take us one 45 minute block and it might take us two. So you just need to kind of be flexible there, but take your best guess. The teacher that's going to be delivering it, if that's you, that's you. If it's another one, let that name be there for that person and then the contact info. So this is something that you can leverage that if you're giving out a model lesson to someone else, this is what you would give them so that they could contact you back if they have questions. 
Okay, side-by-side standards. So not only do we have side-by-side content and art form, now we have standards. And one of the hallmarks of an arts integration or a STEAM lesson is that it is grounded in a set of aligned standards. And when we say aligned standards, we say we're meaning standards that make a natural fit.
I'm going to pause here and say I can do an entire podcast episode just on how to find a natural alignment. This is what we cover in our Arts Integration Certification Program, which is open all the time so you can go to artsintegration.com forward slash certification to apply if that's interesting to you. But so I can't take the time today to go over how to find those standards alignments. 
But what I will say is that you are looking for standards that if you were to pair them together, it makes sense that they're paired together. And one of the easiest ways to do that is to look at the verbs in the standard. So for example, if my content standard says, identify three differences in these particular shapes. That's not a standard, but let's say that it is, okay? If that is what the standard says for my math standard, my verb is identify, right? Well, it wouldn't make much sense if my art standard was to perform the choreography developed at this grade level. If I'm pairing math and dance and I wanna use that pairing, that's great. But my verb in my dance standard was perform. 
Perform and identify are two very different things, right? Identify is just, I can pick it out in a lineup, right? Like if I looked at it something, I could tell you what that one piece is. That's identify. Perform is a completely different action. And so if you were to try to put those two things together, it's not gonna work. That is one of the things that will cause a lesson to collapse in on itself. Or…for your, if you're looking for students to make the aha, they can't if you're asking them to do two different things. 
So one of the easiest ways to find standards that align, so for example, if I've chosen math and dance as my two pieces that I wanna put together, I'm gonna look for a math standard in whatever sub part that I'm looking for. Maybe it's geometry, because lots of people focus on geometry at the end of the year in elementary school, right?
If I'm looking at that geometry standard and I've selected that identify these particular shapes in my dance standard, I'm going to look for a dance standard that uses the word identify or a simile, right? Something that means the same thing, not a simile, a synonym if I'm looking for something that matches. So if it's not identify, it's something that means the same thing, that means identify in whatever language that is, so that those two standards will have a natural pairing, a natural match, so that students are working at the same cognitive level. 
So when you're looking for standards, one of the easiest tips I can give you is to look for the same or similar verbs so that you know that they're asking them to do the same thing. And then you write them side by side. Now, let me address another big animal in the room. Sometimes when you're working in an arts integration lesson, you could think, oh, it touches this standard and this standard and this standard and this standard. There's like five different standards, right? Because when we're working in a lesson, we're never just teaching one standard, right? We're always teaching multiple standards.
In an arts integration lesson, that's true as in everywhere else. But what I want you to think about is what's the main standard? What's the one that at the end of the day, if you're gonna assess this lesson, which is the one that you wanna assess, right? Because when you're working in a lesson, no matter where it is, even if you are addressing 10 different standards, you're really only assessing one, okay? So that's what I want you to select for your content and your art standards. What are the ones that you want to look at and assess? That's what you put on that paper. 
Then we have vocabulary and materials. So you have to have a materials list, right? So that you can be prepared and you want that other person, if you're giving this lesson to them, to also be prepared to know what they need. Vocabulary is a key step here though. And it's the one that a lot of arts integration lessons that you'll find on the internet miss. And it's such a missed opportunity.
Because vocabulary, common vocabulary across content and arts areas, is key for us to start to develop the cross understandings of these terms. So it is one of the best indicators of student success if they can identify and understand a vocabulary term in both content and arts areas. So when you identify the vocabulary in this lesson that you're going to be addressing, look at it from both angles. Is there a term that is common between both the arts area and the content area that you chose and put it into this key vocabulary area? 
Now it's not those are not the only thing. So if you're working on that geometry lesson, you obviously have key less key terms from geometry and key terms from dance. But make a special highlight for any term that could be used in either or because that is gonna be something that you wanna specifically emphasize with your students. All right, once you have all of that, that's your beginning part so that you're prepared and ready. 
Now it's time for the instructional delivery. Now it's the fun part. So now we have three different sections, your introduction, your sequence, and your closure. So when you're thinking about a basic lesson, a basic arts integrated lesson, you want a hook, something that's going to grab students attention, something that makes them curious right up top, right? So you're not gonna go through the step-by-step sequence at the very beginning, because that kind of ruins it, right? You want a surprise, you want an opening with an element of hands-on activity that students can immediately engage in. 
Oftentimes with an arts integrated lesson, this could be a visual thinking routine. So show them a painting and ask them: What do you see? What do you think? What do you wonder? If I'm back to this math and dance pairing, I might show them a piece of choreography from a musical that I know that sparks their attention or would be something that they would be interested in. And so then I'm having them look using a see, think, wonder routine or an I notice cubed routine or a claim, think, support routine. And so that they are immediately engaging with either the art form or the content area in a creative way.
If I'm using math, I might be doing a task bag. So I give every group a task bag of random shapes and I have them quickly organize them in a specific way, right, or create something that is novel or different out of the shapes in the bag in the next three minutes, right, that would be an introduction. It's a hook. It's something that is gonna prepare them and kind of introduce them to what they're gonna be learning about that day. 
Then you've got the lesson sequence. And so it's a great idea, if it's possible, to move from content to arts to content to arts so that they have this natural balance so that you start with perhaps the math concept and then you're gonna work in a little bit of arts concept and teaching with that. And then you're gonna go back to the math aspect and then you're gonna go back to the arts aspect. Sometimes that's possible, sometimes it's not. Sometimes you need to explicitly teach the math piece and then explicitly teach the arts piece and then pull it together into a final project that you're gonna have them work on that day. That's really up to you. That sequence is where the artistry comes in as a teacher so that you have some play there. But think about like, what would be an interesting way to introduce this topic that I've decided to combine? And then how can I have students play with various aspects of this concept? And what would I want them to create at the end of it?
That's what your lesson sequence is gonna be. And then your lesson closure is how you're gonna wrap everything up. So it might be an assessment. It might be using an evaluation tool. It might be something that's less than that. It might be just sharing our projects and reflecting on that. And then looking for students to talk about specific items from their projects so that you know that they understood the key aspects of both standards. There are so many different ways that you could close.
But it is important in an arts integration or STEAM lesson that you do close the loop. The worst thing we can do is have students create something and then not close it appropriately so that students can reflect and understand and kind of pull the pieces together at the end of their experience. Otherwise, it's just kind of hanging out there and without a reason to close it. So that you outline your lesson closure, whatever that's gonna be.
At the end of this, you have then a couple of questions. Is there an assessment or a final product? If there is, explain what that product is gonna be. And then are you using an evaluation tool? It could be a diagnostic, a formative, or a summative assessment. So a diagnostic is just whether or not they understand the concepts, right, checklist. A formative assessment is something that you can see. Did students grow from beginning to end? And a summative is really just a "did they learn all of the skills that I needed them to learn based on the standards?" And so, and then any special notes go at the end. So this is a pretty basic lesson plan. We are actually using this lesson plan for our Bookmarked event that's coming up. If you haven't registered yet, go to artsintegrationconference.com to make sure that you save 20% between now and May 31st. Everybody who's in Bookmarked is going to be studying their children's literature book that they selected.
They'll do that and then they're going to work on creating an arts integration lesson based around that book. And so our coaches are going to be in there working with people to make sure that your lesson is as good as it can possibly be. But this is our this is a lesson template that you're going to use in that experience. And it's really simple. It helps us to clarify how we're going to pull these creative means together in a authentic way. Right now.
I wanna show you a more advanced lesson plan. So this is what we would use in our certification program. If you've been writing lesson plans, oh, let me stop sharing that one and go into, let me go into here, sorry about that. If you have decided like, I already know how to write lesson plans, arts integration lesson plans, that's easy. Okay, so I'm gonna expand this for you and this is what we would use in our certification program. And you'll notice it's a, it's quite a bit different. So you still have your content in your arts area side by side, as well as your lesson title and a grade level, duration, and teacher. Those things don't change, and that just, it helps us to be in the mindset of we're sitting down to write this lesson and we're being purposeful about it. We have the assessed arts standards and the assessed content standards side by side, and then the addressed arts standards and the addressed content standards that are optional underneath of it. 
So remember when I said, we oftentimes address many different standards within a lesson, but we're only assessing one. That's the difference here. So we put the assess standards up top. This is the one that we're assessing and then everything else that we're covering is in these address standards. We still have key vocabulary, but now we also have 21st century skills. So what are the skills that our students are going to be leveraging in this lesson? And we have our materials list, but we have this interesting thing in the center.
This is where a lot of certification people get tripped up, but I think it is one of the most important pieces in a advanced arts integration lesson, and I'm gonna tell you why. This is called the vertical alignment section. And so there are three columns. There is a before lesson column, during the lesson column, and after the lesson column. So for this lesson, this is during the lesson, right? This is what, here's what we're doing during this lesson. It's essentially like an overview.
Here's what's being covered in this lesson. That goes in the during lesson, that's in the center box. In the before lesson box, you're gonna write, here's what students learned prior to this lesson to get them ready for this lesson. So if I'm still doing that math and dance lesson, my students have been studying these shapes in the previous two lessons to this one. And then after the lesson, all you put in there is, here's what students are gonna cover.
after we're done with this lesson. So the next lesson, what are they gonna do? So they're gonna take what they learned from this lesson and they're gonna write a opinion paper or something, whatever, there's so many options, but whatever it is that they're gonna do after this lesson tomorrow or the next day, from this lesson, what are they gonna do and take away from it and learn next? Here's why this vertical alignment piece is important because if you were delivering an arts integrated lesson and your administrator walks in, and let's say you're using craft sticks to glue something together, right? And this is a seventh grade lesson, and your administrator walks in and sees you having students glue together craft sticks during math time, they're gonna start to wonder what you're doing, right?
And so by giving them a copy of this lesson and saying, here's what we're doing during this lesson, and then here's what happened before and here's what happened after, they have context for what it is that you're doing. And so they will not dismiss what you're doing out of hand, okay? That's why this piece is really important because you know, an administrator walks in at the most inopportune time ever, and administrators, you know this happens.
And wouldn't it be great administrators if you had context for what was going on in that classroom? Of course it would. So this benefits everyone to create that vertical alignment piece. Now in our instructional delivery areas, these look much more advanced because they are in the more advanced lesson. So we have a student learning outcome, what it is that we want our students to be doing during this particular lesson and then the sections. So you might have the introduction, the lesson sequence, and then the closure. That's your sections. And then within here, what your activities or your steps are within that section. And which standard that particular section is addressing. So it might be one of the address standards, it might be an assess standard. 
And if you're going to assess students at the at each of these sections there is a space for you to be able to identify what kind of assessment you're doing and what would looks what would success look like so if your first section is the introduction and your activity is to have students complete a see think wonder about dance choreography from the first scene of six the musical that what what math standard is that addressing what's what dance standard is that addressing um my assessment might be to complete the See Think Wonder task, right? That that's their task, that's a formative assessment. 
And the criteria for success is that they have identified at least one particular shape that we've been studying. So that you know, before you leave that introduction section and you move into the next delivery section, what you need to get students to do before you can move on, right? Because that's gonna lead them to their success. And then, deliver your cognitive demand. So what level of cognitive demand are they working on in this particular section? So if it's the introduction, it's probably something that's less cognitive demand, right? So that you're looking at identification or remembering instead of creating or assessing or evaluating, right? So again, this helps because if I have that for my introduction and then I create my lesson sequence as my next section. And I've listed, here's the cognitive demand for that section, here's how I'm gonna assess it, here's how I know what to do. That helps you then to make sure that your lesson is sequenced well, and that it makes sense, and that students have an experience that it takes them through an experience that makes sense for them, that's not hopping all around, and that pulls together standards well.
And then it allows you to know when it's time to close that, right? In between each of these sections, you also have a transition that you would label here. Now that's important because sometimes it feels like a really weird shift to go from the introduction to the lesson sequence. And so thinking about how would you transition between the two helps you be really purposeful about that so that it's smooth, right, because you don't necessarily need to go, okay, right now we're in the introduction stage, we're gonna move on to the lesson sequencing stage. How would you naturally get them to transition from one to the next? And then at the end, you have your closing listed along with any extensions or differentiation that you wanna provide in that lesson. 
So you've seen or heard two different types of templates. So a more basic template for an arts integration lesson and a more advanced lesson template for a arts integration lesson. No matter what your skill level, one of those templates will help you to just kind of work through your own process of writing an arts integrated lesson. If it sounds like it's complicated, that's normal and it's not exactly easy, right? It gets easier over time.
And certainly, this is not something that you're gonna do every day. But as we're headed into the summer months, I would love to challenge you to download one of these templates and see if you can write an arts integration lesson for yourself on anything that you kind of wanna pull together. The world is your oyster. I would suggest trying it with our book club because you would have a coach and lots of other people to work with.
But that's me being biased. But again, if you wanna do that, that's over at artsintegrationconference.com. And if you really wanna to refine your arts integration lessons, you might wanna take a look at our certification program as well. But I think today's episode will help you to at least get started and create a template on your own so that you can experience what it's like to write a fully integrated lesson and be proud of that.
Share it and use it in your classroom, see what bubbles to the surface for you so that you can keep extending and refining and make these great for yourself. And even if you don't create one on your own, now you know what to look for when you're out looking on the internet for lessons that you could use and get started with. You know the elements you need to be looking for. And if you don't see these elements, the aligned standards, some sort of an assessment, around both of the standards, not just one, a lesson sequence, some sort of introduction and a closure. If you don't see these key elements, please don't download that lesson because that lesson is going to have gaps and holes that are going to lead to a poor experience for your students and for yourself, which just leads to more frustration. 
So I hope this episode was helpful and practical for you. And be sure, remember, go to artsintegration.com forward slash artworks to download one of the templates so that you can get started on your own today. That's it for me this week. However, I have one just teeny tiny announcement. Our podcast is going to shift to Tuesday. So rather than Thursday, it's gonna be on Tuesday and that is because we are welcoming a very special guest Seth Godin to the platform. And so you will hear from him directly. 
He'll be answering a lot of questions about creativity and it's just, it is one of the most powerful interviews that I have ever done. And so he is launching a brand new book on Tuesday and we wanted to support him in that. So the podcast will be coming on to you on a special date on Tuesday, but then we'll go back to our regular programming on Thursday the week after that.
I hope that you'll tune in next week with Seth, and for today, it was my pleasure to be with you. Have a wonderful week.