Feeling overwhelmed, burned out, or stressed? The arts can help with that. In this episode, Susan Riley shares what the science tells us about our emotions, heart, and mind – and how the arts can be used as a conduit for healing.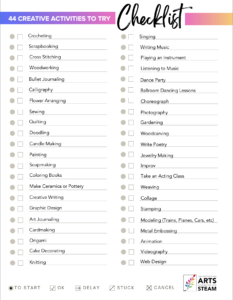 Resource Download
Enjoy this free download of 44 Creative Activities to Try.
Hello, friend, I'm so glad to be back with you on another episode of the Artworks for Teachers podcast. I am Susan Riley, your host, and today, I'm excited for today because we're gonna have an interesting conversation about scientifically, how do the arts help to heal us? I think we have this kind of out there notion that the arts might be helpful, that we have fields like art therapy and music therapy.
But we don't really understand how and why the arts are effective at physically healing our bodies. And yes, I said physically, not just mentally. And so we're diving into that topic today. And I think it's really important, particularly as at the time that I'm recording this, it's towards the end of the school year in 2023, which means this is probably one of the toughest school years that most educators have faced thus far. And that includes over the pandemic, because I think in the pandemic, we were throwing band-aids on everything, tossing out fires left, right, and center, and we were running on pure adrenaline. But at some point, the adrenaline stops, and yet our workload never did. 
And the impact, the effects of having to work from that stress point and never having an opportunity to release that stress has led to a year where it has just been so, so challenging for many educators. I hear all the time teaching in 2023 is not like teaching in 2019. And I am, you know, we all know this, I am not in the classroom right now. I am working to help support educators who are in the classroom, but I cannot speak directly to the idea of what it's like to teach right now. And so all I'm going off of is what I'm hearing from our teacher audience and over and over and over again. And I'm truly listening to what's being said and trying to understand how do we now support people who have been through this kind of trauma, which is what teachers have been through.
I think it's important that we acknowledge that. And so I've been thinking about this episode for a really long time. But what kind of spurred me, kind of kicked me in the tail to actually record this episode are some personal things that have also happened to me over the last several years. And I'm gonna get vulnerable in this episode because I think it's important that we share the truth of what has happened to all of us as we've been in the educational field. So whether or not you've been in the classroom or you are a leader who has been leading a school or you're in central office, or if you are a curriculum developer, or if you are a museum coordinator who works with educators, anyone in the educational field, I think has been impacted tremendously. And I think we all need an opportunity to heal. 
And so I've been really researching through all kinds of science journals, how the arts actually impact us. So for me, over the last several years, there have been things that have happened, which I, and listen, I am a type A personality. If you have not already figured this out, my friend, if this is your first time listening, welcome. I am a type A personality, which means that I like control.
I like to feel like I'm in control. I like to feel like I have made my choices and I stand behind those choices. I like for things to kind of be in their place. I like to get things done early, ahead of time, right? There's a lot that goes into that type A personality and reasons why that is. Also having looked at the numbers, 80%, 80% of teachers self-identify as type A people.
So more than likely, you are my person. And for the 20% who do not self identify that way, I think you can certainly empathize with that kind of experience, because again, you're in it all the time, right? 
So over the last three years, there have been things which have happened to me that in the educational field, in our business, in my personal life, which stripped me of my choices. They took them away. I didn't get to choose what happened. And so now I get to work on how do I work my way through this, having no bearings whatsoever for things like that to happen because in my type A world, those things don't happen to me, right? I have a backup plan for a backup plan until the choices that I thought were clear have been just taken away. And I know that many of you can empathize with that because I think as educators, many of our choices were taken away. And that feels really difficult. It feels kind of like you're this fish out of water and suddenly stress and overwhelm start to fill up our bodies. And we start to experience this fight or flight kind of emotion on a regular basis, which our bodies were never designed for. 
So when I hear about teachers who are leaving the profession because they just cannot bear it anymore, it's not mentally, I think some of it might be mental, but I think there's an actual physical component to this because our bodies cannot carry this level of stress anymore, right? And so… I can empathize with that because again, I've had those experiences as well. And I think like for all of us, we know what that's like. Last week in particular, I had one of those watershed moments where it feels like nothing is going right. Everything is doomsday. You start to question: What is my purpose here? Am I still, why am I even still doing this? Does anybody even care? That's where I was last week. And that's after several years of trying to work through this. And I've shared before about the circumstance, the circumstance thinking, feeling, action, result model, that CTFAR model. I've shared before about that, about how that can help us to reframe our thinking.
Um, when you go back to the Elena Aguilar, um, podcast episode where she talks about reframing how we think about things. I think these are all really powerful exercises and I do them a lot, but even still just last week, I get into this space, this head space of, I don't know what to do next. I'm so overwhelmed. I don't know which way to go.
Everything feels like it's falling apart. What do we do? Right? So and I think a lot of us are there And I think even if we think we're not there right now, give it a week, right. Give it a month. Um at some point you're gonna hit this space um of a wall and so what will work? What would what would happen? Um, if we tried something different? And so for me I had been working through those thinking models last week and I started to think maybe I'm not asking the right questions. Because one of my mantras this year is get curious. When I wanna get angry with something, I actually physically tell myself get curious, ask a better question. Which stops me in my tracks and allows me the opportunity to think about is there something else at play here, right? So that mantra of get curious, ask a better question. 
And so when I started to get overwhelmed and I was like, this is not gonna work, I stopped myself and I said, all right, get curious, what's a better question you can ask? And so the question that I asked myself was, am I happy? Well, that's a loaded question, right? Because there's actually two different kinds of happiness. And I think a lot of us start here and we question, am I happy? 
And the immediate response is no, because clearly, right, you're in an emotional state. But we have to remember, there are two different types of happiness. There's hedonic happiness, which is pursuing pleasurable experiences and avoiding painful ones, right? So this is when we're scrolling Instagram, because we're trying to find something that's gonna give us that dopamine hit, and avoiding the stuff that's really bothering us. That's hedonic happiness. 
And then there's eudomic, I can never say this word, eudaimonic, I'll put it in the show notes, happiness, which is happiness based around having a purpose in life, which means it's not a direct one-to-one correlation. You're not gonna be happy all the time, but do you have a purpose, right? And if you have a purpose, that's going to fuel you for long-term happiness. And so the better question is, rather than am I happy, the question that I then went to was, do I have a purpose? And this is something that we need to kind of wrestle with. Do you have a purpose? Yes, I think all of us have a purpose. Is it the right purpose for you right now? That's the follow-up, right? 
So, do I have a purpose? And is it the right purpose for me right now? That's where I ended up having to spend a lot of time last week. And one of the things I recognized was that my emotions were all over the place. If you feel like that, if you have ever encountered that, you know exactly what I mean. Like some of it, your emotion is, yeah, I like that piece. And some of it is, I don't like that piece. And your emotions go up and down and up and down and up and down, right? 
And so I've worked with a lot of coaches who tell me a lot a feeling is just feeling it's going to pass, right. It's gonna move through you and pass. So just give it a minute until you let the feeling pass till you understand truly where you are, right and I get that but when you're in it when you're in the moment and it's the feelings are all the feeling, right? And they're all there. That's hard. 
And so I actually went to look at what is the scientific definition of emotions, right? Of feelings. What do scientists say that emotions really are? Because if I am thinking about am I, if I'm working through, is this the right purpose for me right now? Some of that's gonna be based on my feelings, right? And so I want to know scientifically what's a
And it's really actually difficult to find a definition for what emotions are in science. One definition that I read that I felt was really helpful was that emotions are the chemical consequences or feedback of past experiences. I'm gonna say that one again, because that took me a minute, but once I got it, that was really powerful. Emotions are the chemical consequences or feedback of past experiences. So what that did was that it caused me to pause for a minute and think about, all right, here's what I'm feeling, right? Here's the emotions that I'm having around this topic, right? Why am I having those feelings? Those are indicators of what I've felt in the past. When I have dealt with this same thing in the past, this is what has occurred. So they're coming back to me, right? This is what I know. When I have this concern, this is how I feel. It's feedback, right? That's helpful. Another way that scientists identify this, identify emotions, is that in its most scientific sense, an emotion is an arousal of the nervous system. 
So this goes back to the idea that we're running on stress, we're running on adrenaline, we're running on this heightened state of our nervous system, which then led me down the idea of, okay, how do we calm our nervous system? How do we bring this back to neutral? And so this is where the arts part started to come in. So as I did some research, what I found that scientists have to say about the impact of the arts on the human experience is that the arts have been proven to improve healing outcomes, to lower the parasympathetic nervous system, which is the nervous system inside of us that we have no control over, right? The one that kind of does all of the inside action. We can actually bring that back down to normal simply by engaging in artistic experiences. The arts also, we know, improve achievement, whether that's a job achievement or student achievement in school, it improves job satisfaction. The arts can actually improve so many different aspects of our lives, and scientists have found this to be true based on data. 
So if we're dealing with emotions and the arts are something that can heal our emotions and heal the way that we work through the world, that's an interesting idea for helping to move through a difficult experience. Now why does that happen? Why are the arts a catalyst for healing? So again, I went into the data. And so this is where I discovered the place called the Heart Mind Institute. I'm going to link to that in the show notes. Heart Mind Institute. Okay.
And they have been working for decades on looking at the connection between our heart and our minds. And so what they have found in their work, it's fascinating to me. I'm gonna read some of this because I don't wanna get it incorrect. The connection between our head and our heart is not a one-way street with the brain simply telling the heart what to do, right? Which is what I think we all imagine, that the brain is the operational center of the rest of our body, which is why I think in education, we spend so much time up here in our heads. And listen, as the type A person that I am, I spend a lot of time up in my brain, a lot of time up in my head space. It's a scary place up there sometimes, right? 
But I'm right there with the rest of us where we've been focused so much on how the brain works and how to add strategies that are brain friendly, right? That we forget that the brain is not necessarily doing all of the operation. In fact, based on this research, it's actually a two-way dialogue where both the heart and the mind are communicating with each other, right? So what, yes, the brain is impacting the heart and what's telling the heart what to do, but the heart is also impacting the brain. It's sending something back because the heart contains an intrinsic nervous system of its own that exhibits both short and long-term memory functions. This is really, really fascinating.
This research around the nervous system around the heart has now created an entirely new field of medicine that is connected cardio, not cardio neuropathy, I'm gonna get that wrong, but it's a study of medicine that focuses on the link between your heart and your mind because your mind is not controlling everything. Your heart and your other organs also have signals that they're sending back to the brain through their own intrinsic nervous system. Now what's really cool about this is that this intrinsic nervous system in your heart, it actually stores memories. It stores memory functions. So this means that what impacts the heart can impact the memory transfer to our brains. 
So when we are developing a memory, what the heart is sending the signals that it is sending to the brain influence the memories that we have right why is this important because you now have a whole body memory of an experience so think about this, think about something that was an experience that you had that was extremely intense, okay, you if you think about that memory right now, the most intense memory you can think of in a second, I guarantee you, you can almost feel it. You can almost smell it, taste what it felt like in your mouth at that particular time because it was a whole body experience because your heart imprinted all of those things onto the memory as it's transferred back into the brain. 
The heart also remembers an event and it communicates the memory to your brain in one of four ways, either through nerve impulses, through your hormones, through a pulse wave, or an electromagnetic field. I'm not making this stuff up. This is what the science says. And for me researching this episode, it was fascinating. So again, I'm gonna point you back to the Heart Mind Institute because the work that they do there is phenomenal.
So what that means through one of those four mechanisms, either through a nerve impulse, so that nervous conduit into the brain, hormones, which is also connected back into your emotional experience, right? A pulse wave or an electromagnetic field. So we have electromagnetic fields around the heart as well as the mind, and so being able to communicate between them. So our most intense experiences imprint themselves onto the heart which communicates the experience with our mind. Now that means that when we've experienced something incredibly beautiful, something that we remember all of our lives, think about your wedding day, the birth of your child, any kind of your graduation, anything that was a highlight in your life, that has been positively imprinted into your brain, right? The same is true for trauma. The same is true for long-term, overwhelmed and stressful experiences. These things can be really difficult to heal, and it takes a lot of care and a lot of time, right? Which we have not given ourselves. Friends, three years is not a lot of time. 
And so we're just now beginning to grapple with how difficult things have been over the last couple of years. This is also why the arts are so effective at improving our outcomes and providing an outlet for expression. Because the arts have a direct connection with our emotions. This is where that definition of emotion becomes really critical. The arts… have a direct connection with our emotions. And we know this by how we feel when we listen to a piece of music or when we look at a piece of artwork or when we're engaging in an artistic expression. We get into almost this state of flow where time disappears, right? And we are just focused in on this one thing.
And what that does is that it immediately impacts our emotional state, which remember what the definitions of emotion are. In its most scientific sense, an emotion is an arousal of the nervous system. So neurotransmitters carry various hormonal responses through the body, including our brains and our hearts. Remember, that's one of the four ways that those hormonal responses, and an emotion is a chemical reaction in our hormones. So when the arts are being used, they're having a direct impact on that emotional state, which is then carrying the memories and the transmission of what's happening through your body. This is why the arts are important because the arts become a link between the conduits of the body.
So when we learn something in and through the arts, our hearts and our minds transfer that knowledge as a whole body experience. That's why arts integration is so powerful. That's why STEAM is so powerful. And listen, I knew that from just a practical experience of watching that happen in real life, but to see the scientific data around it and that explains why that happens is phenomenal.
And it's not just learning in and through the arts. It's experiencing the arts. This is why the arts physically heal our bodies because our bodies are carrying those artistic experiences as transmissions between our hearts and our minds, making it this whole body experience. So when we're in those tough seasons of life, when we're trying to make decisions and we don't know what to do next, when we are feeling overwhelmed and stressed, having an artistic experience, prioritizing that, is one of the fastest ways for us to move through that experience and process it fully and then be able to make the next best decision for ourselves. According to science, it's actually better than just physical exercise. We know that physical exercise is important, brings endorphins into our bodies.
It helps us to move through things. I'm a big proponent of movement because we are more than just our minds. We are full-bodied human beings. But the science is clear that movement engages one area of our bodies, right? The arts can engage all of it very, very quickly. And so what I did for last week and for the last three years, I created a list of creative experiences that I could do at any moment that would, some of them are new, very new, I've never done them before, some of them are things that I'm very comfortable with. There's a lot of different kinds of variety to it, but it's a list of creative experiences that at any time you can engage in, which will then immediately impact your emotional state to try to help you move through that difficult period of time. And so I'm going to include that list of creative experiences in today's show notes. So be sure to go back to today's show on the website, on artsintegration.com forward slash artworks, so that you can download that list and have it handy for the next time you need it as well. 
Because there's an entire other science about flow and flow state that our brains go into that also impact our parasympathetic nervous systems and bring us back to a state of neutral in our bodies so that we can then make our best decisions that's all around engaging in the arts and being in that flow state. And so even if you just do one of these things for 45 minutes, you will bring yourself back to neutral. Why is that important, by the way? Let me just talk about the state of neutral.
When your body is in this heightened stress state of overwhelm, right, which we can't stay in, we were not designed to stay in for very long, but we have been extending that, which is what's causing many of our issues, right, in our bodies. When it's in that state, it's literally cutting off the blood flow to your brain. So your brain cannot make the decisions that you need to make. The brain cannot think through logically because you've cut off the blood flow. So it's important that before we start making decisions about our future, about our purpose, about our happiness, that we get our bodies into this neutral state so that we have the blood flow that allows our brains to find new, creative, different solutions than perhaps we were open to previously, right?
It's hard when you cut off the blood flow, then the only solutions that you get are like the dire solutions. This is why when we get into that overwhelmed state that we feel like, oh my gosh, there's only two extremes that I could go in here, right? Like I could give it all up and go live in a hut somewhere just so that just me and the dog, or I could stay here for the next 20 years and be in misery, right? This, these awful, terrible decisions that that's the only thing that our brains can come up with because there's no blood flow to it. So it's important that we get our bodies back into the neutral state so that the blood flows to the brain and we can use these beautiful brains to create different solutions than maybe we thought of before. And again, our heart and our mind will work together to do that so long as we get back to the state, which is where the arts come in.
I hope that this episode has, if it's not helped you, if it at least is an eye-opening illumination to the science behind how our bodies process stress and overwhelm and how the arts can be used to heal that and why scientifically that happens. I know for me, knowing that information was so helpful because now I know that even if choices are taken from me, there are things that I can control. There are things that I can do in order to better see with clarity a solution that maybe I hadn't thought of before. And that is going back into these creative experiences, sitting with it, allowing my body to come back into this neutral state and just experiencing the power of the arts healing from the inside out.
So I hope that that was helpful for you as well. Now, before I go, I have to just remind you that the Bookmarked Book Club is open this summer. We're looking at five different children's literature books. So you can select one and work on it with a group of other educators. We're doing this in our Circle Community Group. So it's a private community group off of social media, just us.
You'll have a coach that will lead you through it that will also kind of facilitate the book talks. You get to kind of dive into it. You'll get to hear from the authors of each of the books because we've interviewed all of them. You'll also then use that book to create an arts integration lesson around it that you can use at the very beginning of the school year. So it's really, really practical. It's worth 15 PD hours. It's asynchronous. It's a low key event. So you can check in on the community.
at various times during the week. So whatever works for your summer schedule, I would love to see you there. This is a really exciting event for us. And Early Bird Pricing is closing on May 31st. So right now you can get it for $99, get you 15 PD hours, this awesome experience, and you'll walk away with not only your lesson that you create, which our coach is gonna help you with, but also all of the other lessons from all five books.
So you're gonna walk away with thousands of lesson plans that you could use at any time, which I think is really outstanding. So if you haven't gotten your ticket yet, go to artsintegrationconference.com and you can secure that ticket for $99 right now through May 31st. 
All right, I hope you enjoyed this episode. Next week, I'm gonna be back with another interview from a science teacher out in California who talks about three sparks for learning, and specifically, how we can embed curiosity and creativity into our classrooms to create phenomenal learning environments. I hope you'll stay tuned for that episode next week. Until then, thanks so much, and I'll see you soon.
Eudaimonic happiness – the type of happiness or contentment that is achieved through self-actualization and having meaningful purpose in one's life.