Do you need help making a tough decision? Overwhelmed by the options in front of you? In this episode, Susan shares the Clarity Compass Tool. This tool helps you make sure you're focused on what matters and guides your decision-making process based on your goals, values, purpose, and pillars.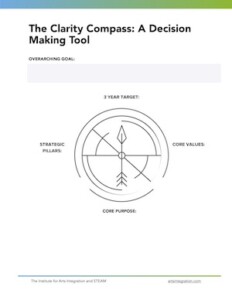 Resource Download
Enjoy this free download of the Clarity Compass resource.
Well, hello there, friend. I'm so excited to be back with you today on another episode of ArtWORKSfor Teachers. I am actually coming to you after recently going on our leadership retreat for our organization. We take a leadership retreat once every three years. It's really called our programming retreat because not all of our leadership gets to go. It's really just our programming team. And we take a look at the strategic plan for our organization for the next three years. And we had something happen during retreat that I thought would actually be really helpful for all of you: if I shared the tool that we were using because when we kind of nailed down how we were gonna use this tool and we started to put it into practice, suddenly it kind of changed everything for us for the remainder of the retreat.
We had a question every time that we were trying to work through something, we actually put it through this tool and it was amazing at how fast we were able to come to a decision just by using this really simple, unassuming tool that I'm gonna share with you today. So I hope that you're ready. Now this tool could be used in a variety of purposes. 
So we used it for our leadership retreat, right? Which we were certainly planning for what programs we're gonna offer in the next three years, what that's gonna look like, how much everything's gonna cost, as if we can kind of determine that with inflation, trying to figure out who we're gonna hire next. And so if you're an administrator listening to this, the tool that I'm gonna share today is really helpful as a leadership tool for guiding those discussions in terms of, you know, what curriculum are we gonna what PD do we need to offer, who do we need to hire, do we need extra support positions, you know all the things that leaders have to decide, even scheduling things. This tool is definitely going to be helpful if you are a teacher and not an administrator and have no plans on being an administrator. This tool is actually really helpful for personal decisions and I'm gonna tell you when we were talking, you know, you know how it is when you go away with people that you work with, you start talking about things other than work, right? And so you have a lot of, you know, personal things that kind of come up. And so as we were talking about personal situations, we started using this tool. And it was amazing at the clarity that we got even on our personal decisions. So from a personal standpoint, you can use this tool as well. 
Also, as a teacher when you're deciding on your own planning so if you have the autonomy to kind of develop your curriculum or at least to plan it out for the year, this can help in that planning process. This is great to decide if you're working in teams or collaboratively when you're trying to come to a decision on something. This can help with that. So I think there are so many different uses for it, which is why I'm really excited to share it with you.
I just want to share as part of our leadership retreat, we went away. And this was something that I was thinking about during our time away. We actually talked about the fact that we wish more schools would be able to get away with their people. And it doesn't have to be anyplace fancy, but getting off of the school campus and going someplace, whether it's a local organization who offers you their space even if you have the budget to kind of get away a little bit further so that it feels like you're actually getting away. I think that's money well spent because I can tell you that we, you know, our teams plan all the time and our organization is small enough and I'm fortunate enough that our leadership team lives close by. We really could have done this probably in the office if I absolutely had to, but I would not have gotten the quality of results.
And so now, if you're wondering where we went, we actually, I purposefully chose Puerto Rico for a couple of reasons. And before you're like, oh yeah, Puerto Rico. Let me give you my reasoning behind it. First, in my own personal background, my dad actually worked in Puerto Rico while I was in high school. He had his own business and he was based down there. And so I spent a lot of time on that island, either during the summer months when I had off or during vacation so that I could spend time with my dad because my parents were together, they're still together now. He just happened to work there. So he would go down every two weeks and come back for a week. It was a grueling schedule and he did that all through my high school years. But I became really familiar with the island and I grew to love it. So that's part of it. But also, five years ago, Hurricane Maria devastated them. And so and and even still five years later they have done a tremendous job of building back and it's, I mean, it's beautiful they've done a amazing job of doing that but of course that island really thrives on tourism and they need those tourism dollars in order to continue to live and so and I know from firsthand experience there's a lot of poverty on that island.
And so that was the other reason I wanted to go. You know, Puerto Rico is part of the United States. I think people forget about it. Or if they think about it, the last thing they heard was that it was devastated by a hurricane, so they don't think about going there. And so I wanted to, if we were gonna go somewhere, I wanted to put our dollars in a place that was gonna matter and that was gonna make a difference to the people who are there, who are sometimes underprivileged or underserved. And certainly Puerto Rico does that.
The other reason that we went. And honestly, it was as inexpensive to go there as it would have been to just go off site, maybe an hour away for three days. And so I highly encourage, get creative and don't put yourself on limits if you're looking at the value of getting away, especially if you're a leader and you can take your team away. And this is one of the things we talked about: just getting out of the office, being in a different location, being inspired by different cultures than we were used to, it was so refreshing and it allowed us to get out of the box that we're so used to. And the ideas that came out of that retreat for the next three years for our organization, I'm telling you, I could never have developed that on my own, nor could I have done it in our office space. So I encourage you, even if you're not a leader and you're just looking for a way to get away or to get refreshed, especially after a long school year, please, the investment in yourself in being able to get away and get a different perspective is invaluable. So that was lesson number one from our leadership retreat. 
Lesson number two was in this tool that I'm sharing today. Now when I share this clarity compass with you, especially if you're watching the video, you're going to look at this and go, this is so easy. But I'm telling you, it will change everything. This little simple tool is going to change how you make decisions moving forward. So if you're not, if you're not watching, if you're listening, I'm going to describe this in full so you don't have to worry about it because I'm about not seeing it because gonna describe it really well. But if you wanna go back and either watch or download the tool, because I have the tool as a PDF download for free as a part of this episode, make sure that you go to the show notes and click into today's episode so that you can download this Clarity Compass, because you're gonna want it after I share all of the ways that it can benefit you. So let's take a look at it. All right, let's hop in here. 
Okay, so this is the Clarity Compass and it's a decision-making tool. Now, I did not create this. I actually learned about this from a business mentor of mine, Ryan Dice. He uses this for business decisions, but as I said, as a school leader and as an educator myself, I strongly believe that you could use this no matter what. Alright, so the whole point of this is to help you determine or make a decision about something around four major ideas and an overarching goal. So you start with your overarching goal whatever it might be. For many business organizations this is going to be a mission statement. For many schools, if you're using this as a leadership tool that's going to be your school mission statement or your school vision. Whatever your overarching goal is. 
So for example, let's say New Year's is a great idea here, New Year's resolutions. Let's say your New Year's resolution, a very common one, is to drop, I don't know, 25 pounds this year, because COVID weight has really got you down and you wanna get rid of this because now COVID is thankfully on its way out. So that's what you would put in your goal there if it was a personal goal, right? Doesn't really matter what your goal is, just write it down so that you know this is what you're working towards. If you're using this in the capacity of trying to make a decision as a team, maybe you're collaborating as a team to decide how best to support your English language learners because you know that they've been struggling this year or working on classroom behaviors because across the board, your grade level is struggling with behaviors. So what's the overarching goal, right? That we're gonna decrease the amount the disruptions that we see on a daily basis by, I don't know, 5%, if you're gonna have a measurable goal or a visibly noticeable amount, right? So you would put that in there. That's your goal, right? To reduce classroom disruptions, maybe. Whatever your goal is, you put it up at the top. Then you have this beautiful compass tool. 
And so just like on a compass, you have north, east, west, and south. Your first goal is gonna be your three-year target. Now, this is, again, this is business planning that I pulled this from. You could shorten this, certainly, to a one-year target. So if you don't wanna take three years to drop 25 pounds or you don't wanna take three years to reduce classroom disruptions, just change this to one year. You could totally make that a one-year target for yourself. But this is the end goal, right?
Be specific. So you're for example if this was a one-year target on classroom disruptions your target would be zero classroom disruptions during math class, right, that is your target, that's where you want to get to whether or not you actually get there that's where you're headed right that's the piece that you want to know. If you're a school leader and you're actually using this as a three-year target and let's say you're you're working towards an arts integration, your three year target is to be certified as an arts integration school by the Institute, which, by the way, that's coming. That could be your three-year target, right? That's where we're headed. So the point of North here on the Compass is so that everybody is aware this is where we're headed. And when you start making decisions, you're going to start with North. Does this, whatever this is, this option that I'm being provided, help me reach my target?
So for example, let's take the classroom behavior. Let's say your target is to get to zero classroom disruptions during math time, right, by the end of the year. And let's say you're provided with an option to offer extra recess to those students who do, you know, a certain amount of sales of the upcoming wrapping paper drive, right? I want you to consider, does that, will that lead to your target of lessening classroom disruptions? Maybe, maybe not, right? Maybe by offering those recess and maybe you pair it with lessening classroom disruptions, right? That the, every time you see a classroom disruption, you lose a certain amount of time or you, you see a positive behavior, you gain a period of time outside for that extra recess. If that is supporting your goal, awesome. Now you get to move to the next part of the compass. If it has nothing to do with your target goal, I want you to consider, is this something that I really need to be working on right now? Because your target should be something that's really important to you. 
And right now, classroom behavior is on the top of the list when it comes to building respectful classrooms, building safe classrooms, building environments where everyone is respected and that there are very few classroom disruptions. So if you're working on something else, like for example, arts integration, can arts integration positively impact student behavior and help you reach that goal? Absolutely. It's research proven to do so.
The upcoming, you know, will an upcoming event that the school wants to put on, will that benefit your overarching goal? Maybe, maybe not. So do you want to participate? Again, this helps you to make some of those decisions. The North is your absolute goal, right? If this is fuzzy, which is some of the answers that we got to in our leadership retreat, if your North is fuzzy, like, oh, it could or it might not, this is when you start going around the compass, you check these other things. 
So you have a set of core values. So these are the things that you believe in surrounding this overarching goal. These are the things that guide you. Everybody has a set of core values. So for some people, one of their core values is respect. And for someone else, it's integrity. For somebody else, it might be financial security. There are many core values that people can have and I'll do a total another episode on how to find your core values but you know what they mostly are right, and so even if you just list three what are your core values that really guide everything that you do as an educator or as a leader okay so you list those out take a look at that that option does it meet your core values right so you've checked on then you're going to check your core values. Does it meet my core values that are sitting here? 
And if it's in alignment with those values, keep going. If it's not in alignment with those values, you're going to stop and you're going to say no. Because anytime you are faced with a choice that is not in alignment with your values, you're going to resent doing that thing. Right? And many of you, this is one of the, I think, one of the major stumbling blocks that we're not talking about. Many of us have these core values of, and that they're not being met right now by either students or parents or administrators or whomever in our work environment and we're in, and we're on the struggle bus because of it. So I want you to take a look at your decision and say, does it match up with my core values? If it does, awesome, keep going. If it doesn't, pause and reevaluate that decision or maybe say I don't think this is right for me. Then you're going to want to move to core purpose. 
So what is the purpose of what you're doing right now? So this is a big broad breaststroke. Don't get too small here. So as an educator, your core purpose, why are you a teacher? Why are you an educator? Why are you sticking around when things are so hard right now? What is your core purpose that is driving you? This is what you're going to do. If you're a leader, if you're a school administrator, or you're a leader, or you're a business owner, what is it that's driving you to be in that leadership role right now? What is it that you're trying to affect? What is the purpose for which you are sitting there in that position? Write that down so that when you look at the option, the opportunity that's in front of you, and you're considering it, does it meet your core purpose? Is it going to impact the things that you're there to impact?
If it's not going to have any bearing on what it is that you're trying to affect change on or why you're there, that's a place to hit pause and say this is not a good option for me at this moment And then the last piece is strategic pillars. So strategic pillars are three to five Ideas or tools that are going to get you to where you want to be to that north, okay, your purpose and your target. And you're gonna consider, how am I going to meet that target in the three to five different ways. It could be that you're gonna implement a consistent behavior plan. And you're gonna monitor that plan over three months. So, you know, that could be one of your strategic pillars. Another one could be ensuring that everyone is speaking to one another, no matter what situation you're in. That could be a strategic pillar for you. 
These are different than your values though. Your value is that you value yourself, the idea of respect, that you believe in respect for yourself and respect for others. A strategic pillar is putting that respect in place. Okay, so being able to have an action around that idea. So see how they can align with your core values as well. Strategic pillars are really helpful and now they recommend three to five, I find no more than three because your human brain really stops at three. They do groups of three and so by keeping it to three you're keeping it narrow, you're keeping it purposeful, and so this can help guide the decisions that you want to make. Now one thing I want to say when we go through these, so this is really easy by the way, once you have these things written down then you can take any opportunity or any idea or discussion point or something that you're working through as a decision and put it through this compass. And if it meets all of the areas of your compass, move forward with it. And if it doesn't meet an area of your compass, you need to determine, is it just one area? And if so, which area is it? And are there opportunities to kind of attach or build something into this that would help meet that missing link, or if it's missing a lot of those areas, then it's not a good decision or it's not gonna work and we need to let that go. One overarching idea though, that I want you to keep in mind is that this clarity compass, when you put it into place, I want you to put it into place for something large. I don't want you to necessarily dig into having an overarching goal for five different areas.
An overarching behavior goal for this year that behavior in your classroom you're gonna focus on classroom management this year because behaviors are off right that becomes a large goal that you can work towards in any classroom that you're teaching in any space that you're in if you're covering lunch duty if you're out doing bus duty, you're still working on that classroom so you yourself do not see many classroom disruptions or disruptions from students because of the way that you manage situations. So you see how that is a much broader picture than just your math class. You could do it for just your math class if you wanna try something small, but I find it's really effective if you do it as an overarching idea. And again, you can do this for your personal life too. So if you did it for your weight loss goal within a year, you know, on dropping those COVID pounds, right? And I'm right there with you, my friend. And so what is your target this year? My target is to lose 25 pounds, okay? So that's my North Star. My values are that I value being healthy. I value being with my family members. I value spending time making sure that I am taking care of myself. So those are some of my core values. And my purpose is to live longer, right?
I want to live longer and I want to live in the moment. I don't want to be held back because I feel like these pounds are on me. And then my pillars with that, how am I going to do it? I'm going to make sure that I walk 20 minutes every day, no matter what, I don't care where it is. I'm going to move my body in some way for 20 minutes. I'm going to take a look at, I'm going to meet up with a nutritionist and learn about nutrition and what is good for my body. And I'm going to get a blood test and make sure that everything is working okay, and that I can go back and check that every quarter if I need to have another blood draw so that I can make sure that I'm on target. Those are my pillars, right? That's what I'm gonna do in order to affect my north. So when I am approached with, you know, all the leftover Easter candy, and whether or not I wanna take that because, you know, my sister-in-law doesn't want it in her house, and go, is that going to help me meet my target? Nope. Is it going to be aligned to my core values? Nope. Is it going to help me hit my purpose of being healthy? Not really. Is it going to meet any of the strategic pillars that I'm putting in place? Nope. So that is a no. I'm not going to take that Easter candy from my sister-in-law. See how helpful this can be? It can be so practical that way as well.
If you're doing this as part of a school initiative, this is really helpful keeping everyone on the same page. And here's the reality, we have a lot of teacher turnover, right? So in that case, I want you to consider when you start the upcoming school year, or perhaps even as you finish this school year, have people go through this as a team effort and look at what do we want our overarching goal to be as we move forward for next year or this upcoming school year? What's that target? What's the target that we're gonna hit? Either this year or one year target or in three years? What are our values? What drives us as a school? What's our purpose for being here? You know, our company purpose, when I did this with my team, is every child, every teacher, every day. So when I'm looking at things, is this going to impact kids and teachers? And is it going to make a difference in their life every day? If not, it's not something I necessarily want to focus on this year. Your strategic pillars. How are you going to get there?
For our example, we used white glove service. We wanted to make sure that everybody felt like they are very taken care of in our organization. Anybody who works with us, any client, any customer, it doesn't matter if you're purchasing a one-time event ticket to bookmarked or if you've invested in certification. We want you to feel like you've stepped into a white glove service from our organization. We wanna build long-term relationships with people. We don't believe that people are disposable, we want to make sure that you feel taken care of and that you want to work with us long-term. That's something that we really, really value. So that's part of our strategic pillars, right? So when we're looking at a decision that comes our way and we have company values, we have a three-year target in terms of where we want to be as a company, both within monetarily, because that's what's going to help us make a difference to teachers, as well as programmatically. 
We want to offer and where our focus needs to be because we are a small team and we can't do everything. So when we have a decision to make, like an opportunity comes up for us to do, to partner with someone, this comes up all the time. We ran it through this compass during leadership retreats. Like, is that going to be something that's going to help us meet our three year target, matches our core values, meets our purpose and helps us with our pillars? And unfortunately, most of those partnerships didn't. It's not that they were bad, it's just that they didn't happen to meet that those four components on the compass. And so it was easy for us to say, thank you so much for this opportunity, but this is not the right fit for us right now. I think this is the potential to help us keep from overwhelm. 
It helps us to understand and keep focused on the things that matter, because when we're scrolling and scrolling and we see all the stuff everybody's doing and it's all flashy or we see the new, you know, programs that come out or the new tools that come out. There's a time and place for that and there's, it's wonderful to play. But at the same time, every time we stop and we go to do all of the things, we become overwhelmed. So this helps us to narrow our focus. I love this as a decision tool. 
I would love for you to use this to try it out and think and give some feedback to me in terms of did you use it? Was it helpful? Would you tweak this? I would be really, really curious to hear your thoughts on that. So that's what I've got for you today. I hope that that was helpful and that this tool itself can help you to bring some clarity to your decisions at this time. This is also a time of year where many people are trying to decide about their jobs and where to go next, whether or not to stay. I think this tool can help you with that as well. So again, please let me know how you've used it and if you find this to be helpful. 
And I also have a small request from you. If you have found these podcast episodes to be helpful, I would really appreciate it if you would leave a review on your favorite podcast service. Your reviews actually make a difference. It helps other educators find us. So if you have a little bit of time and can spare us a review, that would be really great. Thank you so much and I look forward to being back with you next week on another episode of Artworks for Teachers.