Whether it's a new year or a new season, goal setting is a natural part of what we humans do. But while goal setting is popular, goal reaching can feel frustrating. Here's a journaling process to help you set and meet your new year resolutions.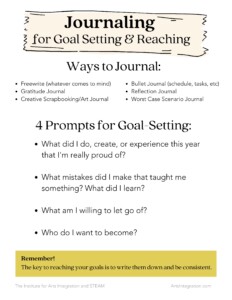 Resource Download
Enjoy this free download of Journaling for Goal Setting prompts.
Welcome

Goal-setting story. 5 years ago, I set the goal to read 100 books a year. After taking a month to get through 1 book, I quickly abandoned my goal. Last year, though, I came back to that goal and decided I would tackle it again. But this time with a very specific plan for getting it done. How did it turn out? I'll come back to that in a moment. Let's start by looking at where I went wrong the first time.

Setting goals are linked with higher motivation, self-esteem, self-confidence, and autonomy. But not all goals are beneficial.

Goals need to be both external and internal – they should be linked. Shorter, micro-goals ensure the progress over time. Think of it like a pyramid inside a circle. (Show image)

Another key ingredient to setting and reaching goals is the understanding of measuring ourselves in the gain, not the gap.  I spoke about this in

episode 11

.  In his book The Gap and The Gain, Dan Sullivan shares that goals are often a moving horizon.It can be hard to reach because the finish line is always moving. So it's important to measure our progress backwards. Instead of measuring from our starting line to the finish, we need to measure from where we are to where we started. This offers us progress and purpose moving forward, and grounds our goals in gratitude.

Finally, when it comes to goal-setting, I always leave a little room for magic. There are just some things you can't anticipate and if you're goals are so tightly focused, you're going to miss opportunities for magic to happen. I'll show you in a minute how I leave space for that in my journaling practice for goal setting.

All of these combined will help you set your goals. But you know what helps you reach your goals? Writing them down and consistent follow-through. That's where a good journaling practice comes in.

There's lot of different ways to journal:

Freewrite (whatever comes to mind)

Bullet Journaling (schedule, tasks, organization)

Gratitude Journal 

Reflection Journal

Creative Scrapbooking

Worst Case Scenario

You can layer your goal setting into your journaling practice to make both more effective.

To get started with goal setting, you have to figure out what you really want this year. To do that, I found these 4 journaling prompts really effective:

what did I do, create, or experience this year that I'm really, really proud of?

what mistakes did I make that taught me something? What lessons did I learn that I can leverage?

What am I willing to let go of?

Who do I want to become?

From there, you'll have a lot to work with when it comes to your goals. Because who you want to become will dictate what you need to do to get there. And those are your goals.

Here's how this played out for me. Remember the 100 books I wanted to read? And remember how I originally abandoned it? Well last year, when I answered those 4 prompts in my new year's journal, I decided I wanted to become a reader. A reader would have no issue with reading at 100 books a year. And when I asked myself why I wanted to do that, I knew it was because I buy into the belief that readers are leaders. I'm a leader, so I want to also be a reader. Now, I've tied my goal both externally and internally. So from there, I just needed to break it down into manageable chunks. How many books would I need to read each month to stay on track? I'd need to read 8 books a month (or 2 a week) to make my goal. Reading could take lots of different forms, so I thought about how to incorporate audiobooks into my schedule, too. I even carved out space for this goal in my planner by providing space for the title of the book I was reading that week at the top of the pages. And now, at the time of this recording, I'm on book 102: Mad Honey.

Now if you're like me, you like a good process. So far, we've talked about what good goals look like, how to measure your progress, a 4-step process to finding the right goals for you, and even how to layer journaling and goal setting together. For this last part, I want to show you a few examples of how I do this in real life.

So that's it – a down and dirty guide for setting and reaching your goals in the year ahead. If any of this was helpful to you as you get ready to begin your goal-setting process, please tag me on social media and let me know. You can use @artsintedu on any of the social media platforms. I'd love to see your goals and cheer you on throughout the year.

And if you know of someone who could use this episode, I'd be so honored if you'd share it with them.

Next week, we're kicking off the new year with a new set of interviews. Throughout the month of January, we'll be highlighting what our Arts Integration Certification alumni are up to now in anticipation of our February 1st enrollment kickoff. Next Thursday, you'll hear from Molly Lucareli about life after the classroom. I promise you won't want to miss it. Until then, stay creative my friend!