When it's time for a vacation, do you find yourself so stressed that by the time you get back, you haven't really relaxed at all? If so, this episode is for you. Susan walks you through her process for unplugging to get the most out of your time off so you can come back creative and refreshed.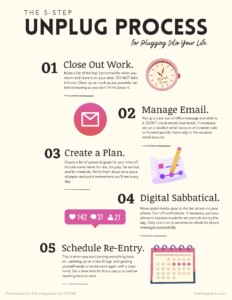 Resource Download
Enjoy this free download of the 5-Step Unplug Process resource.
Welcome

Getting ready for break – and everything that comes with it.

The process to unplug during a break.

What does the science say? 

Research

shows that time away from the job can have physical and mental health benefits. People who take vacations have lower stress, less risk of heart disease, a better outlook on life, and more motivation to achieve goals. 

Overwork leads to lowered creativity and problem solving, less productivity, and no net career benefits.

Here's what's interesting: we don't know what to do with time off. Our company provides unlimited time off and yet, we almost have to force our employees to take it.

This is why the quality of your time off matters.

According to the

Harvard Business Review

, passive rest and relaxation are not effective for recovering from the day to day stresses that build up. 

What actually works? Setting goals for your time off. Turns out that people who set goals for their breaks are between 8-13% happier when they return to work than those who didn't.

Caveat: don't treat your goals as a to-do list. Be flexible. And make sure these are personal goals and not work goals.

One way to enjoy a better break is through an unplug process. Once I started implementing this, I started seeing bigger breakthroughs in my business and more importantly, in my personal health and well-being.

Here's the process:

Close out your work as best as you can. Make a list of the top 3 priorities for when you return and then leave this on your desk. DO NOT take it home.

Put up an out-of-office notice and stick to it. Do NOT check your emails when you are on break. Remove your email app from your phone/devices. This will take a few days to detox from the habit of checking your emails. Can't totally let go of email? Set up a vacation email account that forwards specific items from your work email to your vacation email.

Create a list of personal goals for your time off. Include some items for rest, for play, for service, and for creativity. Write them down on paper and put it somewhere you'll see it every day.

Put yourself on a digital sabbatical. If you can, move your social media apps to the last screen on your phone so you don't see the notifications all the time. Turn off notifications/chimes and if necessary, put your phone in airplane mode for set periods during the day. Only turn it on at set times to check for phone messages purposefully.

Schedule a re-entry segment. This is when you start turning everything back on, catching up on a few things, and getting yourself ready to tackle work again with a clear mind. Set a time limit for this – whether it's 2 hours or an afternoon – and when the time is up, you're done for now.

This process works – but it takes practice. At first, it took me a full week out of a 2-week vacation to really let go and get into vacation mode. Now, it only takes me a day or so. Give yourself grace and understanding that it takes time to unwind.

Also – another good tip is to let others know you're going to unplug. They'll hold you accountable when you want to fall back into those old habits.

That's it for this week. If you try this process out over break, let me know how it goes when you get back in the new year. Next week, I'll be bringing you one other process I do every year: journaling for goal setting and reaching. I'm even sharing some of my personal journals so you can see/hear how I set everything up.

I hope you are able to find some rest during this upcoming break period. For those of you who celebrate it like me, Merry Christmas! And for everyone else, I wish you a season of peace and joy.