Did you know there are 3 modes of thinking? Convergent, Divergent, and…Lateral. In today's episode, learn how you can use Lateral Thinking to build student's creative skills by taking old ideas and combining them in new ways.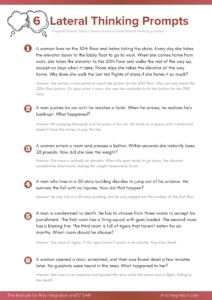 Resource Download
Enjoy this free download of Lateral Thinking Prompts.
Welcome

Different types of thinking: Divergent (using imagination), Convergent (using logic), and Lateral (using both divergent and convergent thinking to approach problems at all angles).

Think of divergent thinking as having a central question and looking at all kinds of ideas.

Convergent thinking is like having a central answer and supporting it with lots of facts.

Lateral thinking considers both and centers around movement – you use lateral thinking to move from one known idea to creating new ideas.

Lateral thinking was coined in 1967 by psychologist Edward deBono. He "argued that 

the brain thinks in two stages: The first is a perceiving stage, where the brain chooses to frame its environment in a certain way, identifying a particular pattern. 

The second stage uses that pattern, that particular way of looking at the environment, and builds upon it to reach a conclusion. 

No matter how effective we are at the vertical thinking of the second stage, better vertical thinking can never correct errors that have arisen in the first stage. In order to more accurately perceive patterns in our environment, we have to develop our lateral thinking skills." Source:

https://bigthink.com/neuropsych/lateral-thinking/

 

Essentially, we're looking to take old ideas and combine them in new ways to create something new.

One example of this in action was a Japanese engineer named Gunpei Yokoi. He had failed his electronics exam and had to settle for a fairly mundane repair job at a local game factory. However, he started to notice that the engineers were focusing on new technology for their games and dismissing old technology out of turn. He started to combine this older and understood technology in new ways to develop what's now known as The Game Boy. All the technology in that Game Boy was old and well-known. It just hadn't been put together in this new way before.

This is often how innovation happens. Rowan Gibson (ep 9) talks about the lenses of innovation. Lateral Thinking often falls into the Challenging Orthodoxies area.

So… how can we use this idea of lateral thinking in the classroom? We're always talking about increasing opportunities for creativity and creative thinking, yet we value vertical or convergent thinking in our schools.

DeBono created a series of prompts to help us build lateral thinking skills. I'm going to include the resource with these prompts on it for you to use in your classroom (along with the answer key). But here are a few for us to ponder:

A man pushes his car until he reaches a hotel. When he arrives, he realizes he's bankrupt. What happened?

Answer: He's playing Monopoly and his piece is the car. He lands on a space with a hotel and doesn't have the money to pay the fee.

A woman enters a room and presses a button. Within seconds she instantly loses 20 pounds. How did she lose the weight?

Answer: The room is actually an elevator. When she gets inside to go down, the elevator accelerates downward, making her weight temporarily lower.

A man who lives in a 30-story building decides to jump out of his window. He survives the fall with no injuries. How did that happen?

Answer: He may live in a 30-story building, but he only jumped out the window of the first floor.

These exercises can be used as icebreakers, bellringers, or even transition prompts for students to consider.

Building our whole brain is important for us to more than pay lip service to creative skills. And our neuroplasticity is more flexible the younger we are. So providing opportunities for students to practice lateral thinking early can help improve creative and innovative solutions for the future.

Thanks so much for listening and I can't wait to connect with you again next week, same day same channel. Have a great week my friend.
Resources:
20 Challenging Lateral Thinking Puzzles
The Most Undervalued Problem Solving Tool?