Reflection Journaling Prompts
After yet another year of challenges in education, we're in the home stretch. Think how different and uncertain everything seemed in September. In some ways it feels like a decade ago, doesn't it? So much has happened so be sure to pause and celebrate all of your accomplishments this year… if for no other reason than to prove that everything that happened really did. Because without your first-hand memories, no teachers in the future will really believe it all! Would you, if someone were to list out all the things that happened this year?
Journal Prompts
In the inevitable insanity that comes with the end of the year, challenge yourself to find just ten minutes a day. Use this time to grab a piece of paper or a journal, your favorite pens, pencils or markers, and choose one of the journal prompts below to answer every day:
Describe your classroom in September and your classroom now. What rules did you change? What rules did you relax?
List three things you know how to do now that you never thought you would or could learn at the start of the school year?
What was the moment you didn't think you could keep going? Was there something that led to a change of mind and helped to propel you forward?
Who was your saving grace, go-to person this year?
What is one piece of advice your end-of-the-year self would give to your beginning-of-the-year self if you could?
How has this year changed you as a teacher?
What are three positives to come out of this year?
Share one thing from this year that you will carry over into the next?
What is something that has disappeared from your teaching world prior to the pandemic that you are pleased has gone?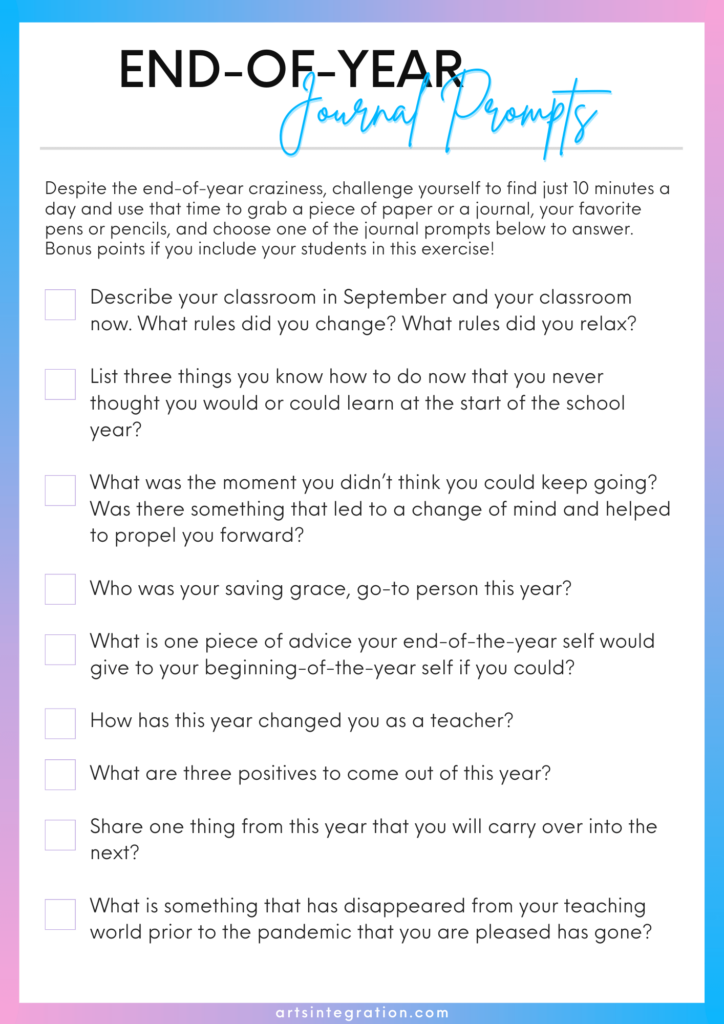 Keep these answers together and stash them away somewhere. On the tough days in the new year, pull them out and look at them. These are the types of little things that can be just the energizers you need.
Include your students
Better yet, do these questions each day with your students. There are so many mental health benefits to journaling, and it's been a challenging year for them too! Adapt themes you need to, but sit, write, and reflect together. After 10-15 minutes, share your thoughts with each other. It's important for them to recognize that not only is struggle okay, but that adults have had to struggle as well. It will strengthen your connection with them too, which remains important right through the end of the year. For those learners whose strengths may not include writing, consider introducing journaling with art instead.
Be proud! Celebrate the success, acknowledge the struggle, and take the good of this year into the next.