Beginning on September 1, 2021, all of our individual online courses will only be available in our Accelerator membership program. This means that you will no longer be able to purchase a single individual course.
This is a big change and you're probably wondering why we're making this move. Here's a few reasons for this change:
More cost effective for educators
Cohesive, sequential learning opportunities
Community connections for impactful growth
More Cost Effective for Educators
We've been offering online courses in arts integration and STEAM since 2013. In that time, our courses have undergone quite a bit of change on their own. Each course has been edited and fully re-filmed and re-written every 3 years. Each time, we've taken feedback from our thousands of students and revamped materials, content, and our platform to better accommodate 21st century learners.
In 2019, we received the coveted IACET accreditation for our online learning opportunities. This is the gold-standard for accreditation and allows us to provide CEUs that a recognized world-wide. Through that process, our courses became even more rigorous and relevant for teachers.
However, this new accreditation and the continuous cycle of improvement comes at a cost. Our individual course prices moved to $199 per course as a way to create a sustainable pricing model that allowed us to maintain accreditation and provide cutting-edge learning opportunities that teachers deserve. While this is still much lower than many other online courses available for CEUs (about 25% below industry average), $199 for a single course still stretches many educators' budgets.
In 2019, we made the decision to include all of our current and new courses within our Accelerator membership. The Accelerator offers all of our courses, conferences, monthly workshops, resources, and lesson plans in a single location. It's truly an all-in-one platform for arts integration and STEAM. We felt that teachers should have the flexibility to get the PD, Curriculum, and Resources they need whenever they need it.
The Accelerator costs $225/year and contains all 8 of our online courses. Since each individual course is $199, this is saves you over $1300!
Cohesive, Sequential Learning Opportunities
Over the past 4 years, the data has shown us that educators often take more than one course or conference with us. If this is the case, then the Accelerator is immediately a more cost-effective solution. But more than that, the Accelerator provides educators with a clear pathway for developing their skills in arts integration and STEAM.
Since all of the courses are available in the Accelerator, educators can start with a foundational course and then move into more specialized material. Or, if they prefer to take a full course and then take a quick workshop on the latest artistic techniques, they can do so. We call this the Arts Integration and STEAM Implementation Wheel: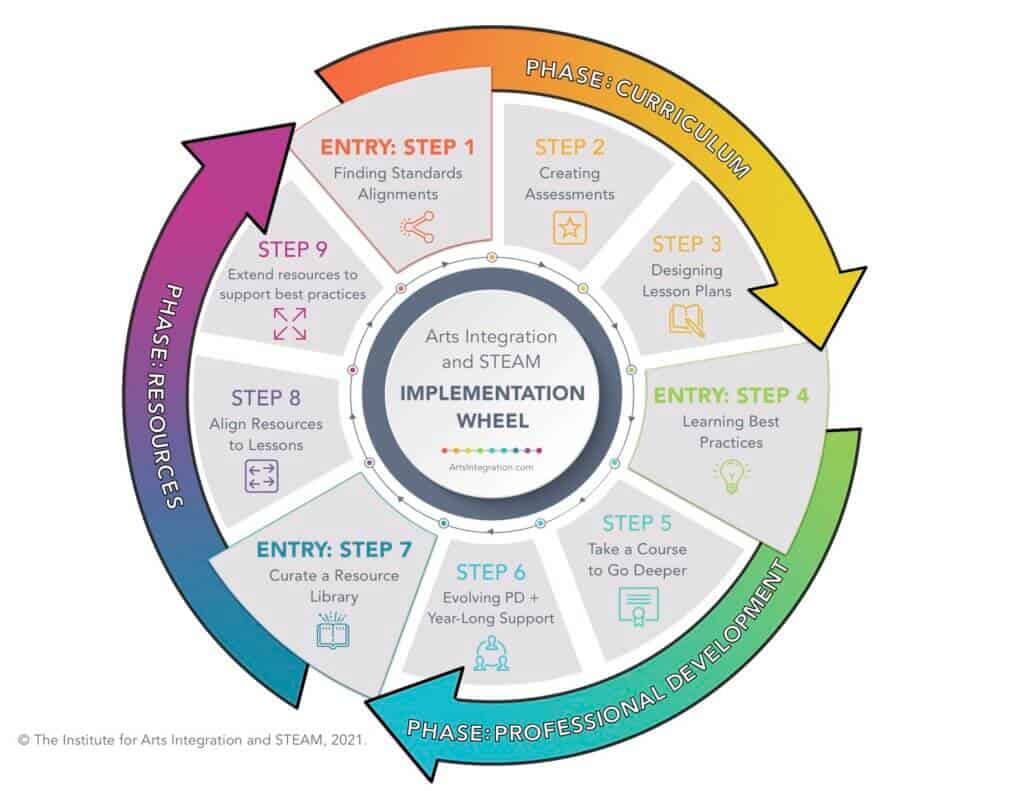 Arts Integration and STEAM don't live in isolation. Why should your professional learning be any different? What makes more sense is to take a course, have access to supporting and evolving best-practices, and a resource library of materials you can use to put what you've learned into action. This can't be done in an individual course, which is why we developed the Accelerator.
Community Connections for Impactful Growth
Finally, one of the missing ingredients from any self-paced course is access to a community of others learning the same material. While self-paced is convenient, it can be lonely.
The Accelerator offers access to our vibrant online community, which allows you to ask questions, share your completed projects, and connect with other educators using arts integration and STEAM. It also provides access to our private members-only app, which makes it easy to learn, connect, and share on the go. This isn't possible in our individual course access alone. One more reason to make this shift!
Next Steps
If you'd still only like to take an individual online course, you have until August 31 to enroll in any of our courses at $199.
On September 1, you will only be able to access each course through our Accelerator platform for $225/year.
If you'd like to become a member of the Accelerator now or in the future, you can find all the details right here. This includes enrollment options for both individual educators and schools/groups.
Our goal is to serve educators with world-class professional development, resources, and lessons in Arts Integration and STEAM. We hope you'll join us in the journey ahead!