March 2021
3 Women Illustrators You Need to Know
As we celebrate Women's History Month, it's a chance to spotlight all of the incredible ways women impact the world. In education, women are paving the way as teachers, administrators, curriculum developers, custodians, and superintendents. What an inspiring time! But there are still glass ceilings to be broken. One avenue where women are breaking through is in illustration.
For a long time, illustrations and cartoons were a male-dominated field. It wasn't until the turn of the 20th century that women broke into the industry through children's book illustrations. And even then, many had to do so under a pseudonym. Today, there are many more women in this field and they are using their skills to advocate, curate, and expand the human experience through their work.
Here are 3 women illustrators you need to know who are using their platform and their talents in exciting new ways:
Danielle Coke | @OhHappyDani
Danielle Coke worked in a "normal" 9-5 job until just a few years ago in 2019. After she quit her job to run her own design agency, she began sharing her illustrations about social justice and faith-based art to her Instagram feed. Since then, she's grown her following to almost 500,000 and uses her platform to share anti-racist work. She creates illustrations as a "way of using art and words to make complex social justice-related issues more digestible and easy to understand for people around the world".
What makes Dani's work so useful in our classrooms are both the illustrations themselves and the way she uses social media as a platform for change. Her illustrations offer students a means to drive conversation, consider different viewpoints, and explore their own values and beliefs. And her advocacy work through social media can offer students an example of how to identify an issue and engage in a critical dialogue that builds up without tearing down.
Dani will be a featured presenter at our 2021 Summer Arts Integration and STEAM conference. You don't want to miss her message specifically for educators!
Find Dani on Instagram and on her website.

Stacie Swift | @StacieSwift
Stacie Swift uses her platform with 275,000 followers to share illustrations about positivity, self-care, and mental wellbeing. Her work aims to help people acknowledge trauma and move forward. In a time when more of our students than ever struggle with social-emotion learning needs, Stacie's artwork can serve as a conduit to connection and expression.
You can use Stacie's work in the classroom with some simple Visual Thinking Strategies. Something like "See, Think, Wonder" or "Puzzle, Think, Explore" could be a great way to get students working through their own feelings, encourage positive peer-to-peer relationships, and cultivate a more positive relationship with themselves.
Find Stacie on Instagram and on her website.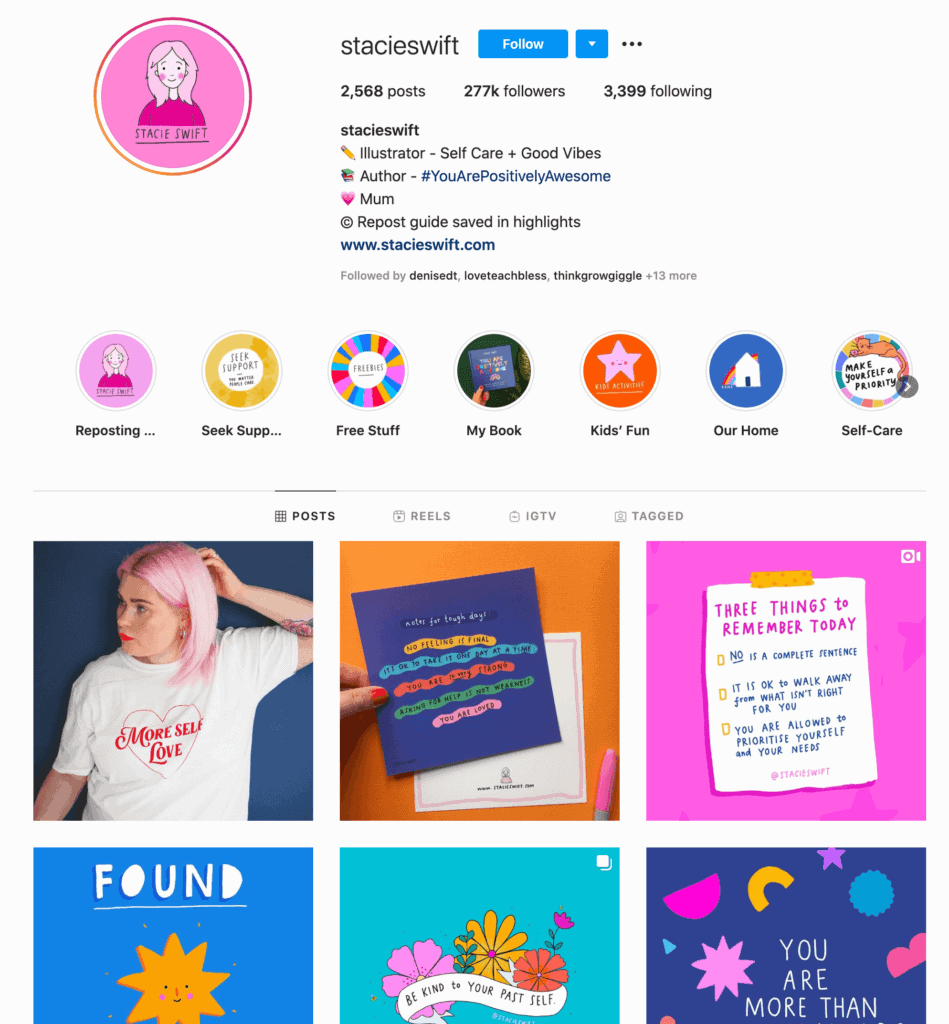 Danielle Krysa | @TheJealousCurator
Danielle Krysa is the writer/curator behind the contemporary art site, The Jealous Curator (est.2009). While she does create her own incredible art, she is best known for her work in curating and sharing the artwork of others. When she started her site, she used it as a way to share the artwork of artists who made her jealous. Like many of us, she had fallen into the comparison trap and it didn't make her feel good. So instead, she found a way to use her platform to turn her jealousy into admiration and inspiration.
Danielle has spoken at TedX, written multiple books, and has her own podcast. During the pandemic, she also worked with Nicholas Ferroni to host Children's Art Curated. Each video featured a child's artwork and Danielle provided direct feedback and encouragement to each child highlighted. Her work can be an example of how to refine our work, select what we'd like to share, and celebrate others. All important lessons for any area in the curriculum.
Find Danielle on Instagram and on her website.