Susan Riley | June 2020
Closing Out the School Year
Let's face it: closing out the school year in 2020 is going to be different. For many, there are no in-person send-offs. There's no clapping out the kids or handing out certificates or even being able to hug your colleagues goodbye for the summer. Quite frankly, it stinks.
All the Questions
On top of that, we may be asked to come in for a brief amount of time to clean out our rooms, pick up our belongings, and quickly figure out what we might need for next school year. And with everything up in the air on how we'll be opening in the fall, this kind of quick close puts us in various states of mind. For some, it induces panic (What do I take? How do I even begin cleaning this out?).  For others, sadness and grief (I'll never see these students again. I didn't know the last time I saw them was really the last time). And for others, it's just a matter of getting done and getting out.
Then, there's the uncertainty. What will the fall bring? Are we going to reopen? Will it be safe? Will you have to begin the school year online? How will you build crucial relationships with students you've not seen face-to-face? Will we all be able to keep our jobs?

This leads to questions about professional development and how to prepare for the uncertain future. What PD should you take? What's the most important thing to do over the summer to be ready for the fall?
If this sounds familiar, you're not alone. Many educators are asking these same questions. It's okay! There are some specific ways you can re-empower yourself and get ready for whatever is coming our way next.
5 Closing Steps to Consider This Summer
Keep in mind, these steps are suggestions. Everyone handles stress like this differently. But if you're looking for a few simple things you can do to close out the school year and feel good about heading into summer, try these: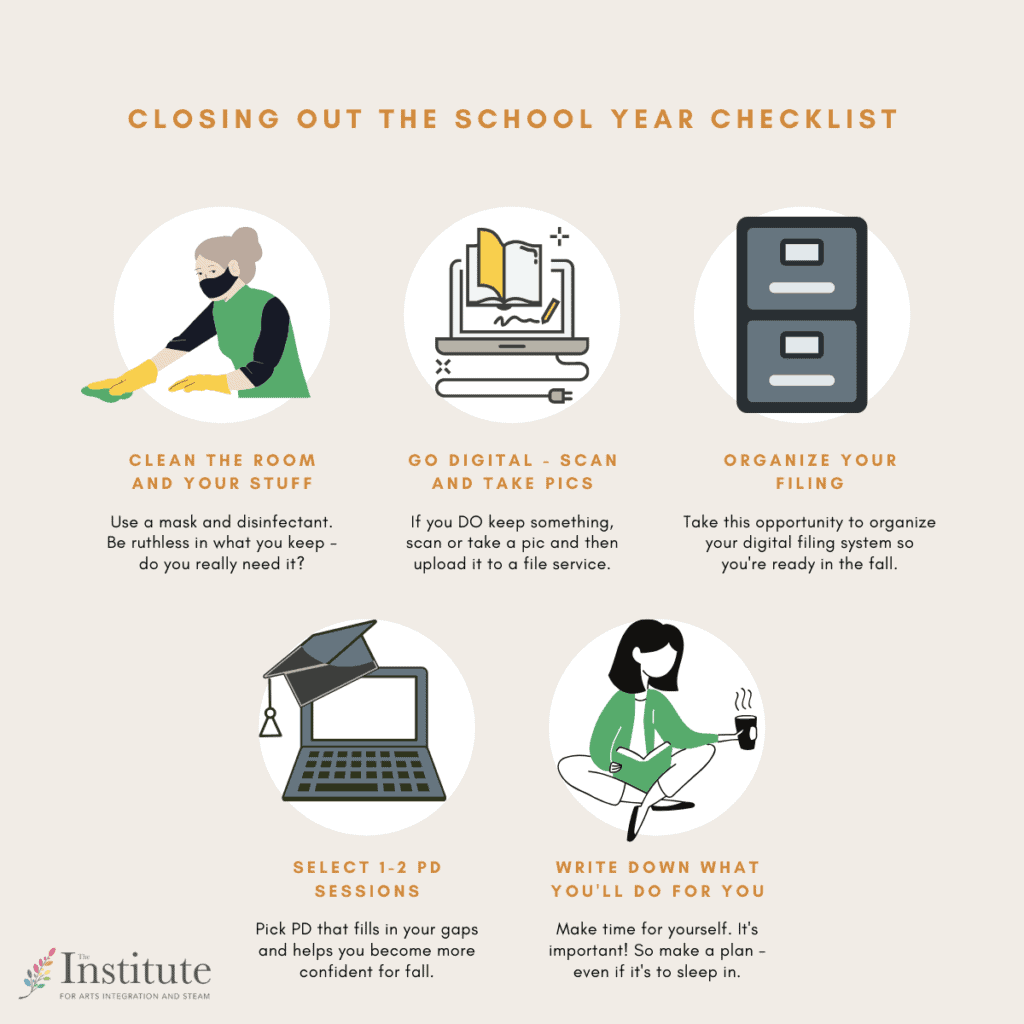 1. Clean the Room and Your Stuff
It's important to get your room and your stuff as clean as possible. Take whatever time you're given, grab some disinfectant, gloves, and a mask. Make sure you wipe down everything. This will give you peace of mind that your classroom and your items are safe and clean.
Also, use this cleaning session to sort out your stuff. What do you REALLY need to teach? Consider the possibilities that you may either need to move your classroom, share it with another teacher, or teach fully online for the fall. If any of those scenarios happen, what's the stuff you need in order to quickly move to that teaching possibility? Often, you'll find there's a bunch of stuff that looked great, but doesn't really do much in any of those alternative situations. You don't have to throw it away (though you may want to totally pitch some stuff). You could box up stuff you don't really need and place it in storage. Doing this now will save you a lot of stress for an uncertain future.
2. Go Digital – Scan and Take Pictures
If you DO decide to keep something, either scan it or take a picture and then upload it to your preferred digital filing service like Google Drive or Dropbox.  For documents like tests, rubrics, worksheets, etc. this is easy. But also consider taking pictures of your bulletin board items and classroom decorations. You can always save them either as ideas for your next space OR create a digital classroom using pictures of those items.
3. Organize Your Filing System
Take this opportunity to organize your digital filing system so you're ready in the fall. We ALL fall down on this one – particularly when we had to move everything over to remote teaching so quickly. My own Google Drive is a mess. Use part of this summer to watch a few videos on how to organize your digital files and get everything in order. You'll feel so grateful for this in September.
4. Select 1-2 PD Sessions
Now is the time to pick PD that fills in your gaps and helps you become more confident for fall. You know what these gaps are and don't need someone else to tell you!  Perhaps you need more ideas for running remote learning smoothly. Maybe you want to pick up some new classroom management ideas. Or perhaps you want to take some time to dig into culturally responsive teaching.
Here's my biggest tip for PD: don't take more than 1-2 sessions if possible. I know summer is when we all try to cram in as many PD hours as possible to keep up with our licensure requirements and get ahead. But this year has been unlike any other we've faced. You MUST take some downtime. Cramming your summer full of PD will only burn you out. So be selective.
And remember: PD doesn't have to just be courses or conferences. There are so many ways you can grow. This article from John Spencer has a great list of 16 ways to own your PD. Look at the whole range before picking the ones that will be most meaningful for you.
5. Write Down What You'll Do for YOU
Yep – I'm a stickler for this. Just like I shared in the previous step, it's critical you take time for yourself this summer. And the quickest way to make sure you do so is by writing it down. It's easy to think about ways you'll relax and then dismiss them because you have "just one more thing to do" during the summer. Take some time and write down a few things you are committed to doing for yourself. Maybe it's taking a walk every day or sleeping in at least twice a week. Write it down and post it somewhere you'll see it often. This will remind you to take care of yourself.
Because now, more than ever, you need space and time to relax, reflect, and rest for the year ahead.