Amplifying Artists and Musicians of Color
3 Min Read  •  Community Connections
Unable to remain silent any longer, artists across the US are using their work as avenues into the topics of race and racism. Visual artists, dancers, musicians, and actors are taking to social media and the streets in an effort to speak out and speak up.
The Institute for Arts Integration and STEAM is taking this moment not only to listen and learn, but to amplify. It's not our job to speak. But we do have a platform that can be used to lift up other voices that need to be heard.
Here are some of the black artists, musicians and poets who are using their various art forms to express what is, many times, emotions beyond words. Click their links, follow their stories, and continue to learn and take action.
Visual Artists
@kara_walker_official – A self-proclaimed negress of noteworthy talent, we would have to agree. Kara's pieces tell relevant and powerful stories that center on race, gender and violence.
Nikkolas Smith specializes in "artivism." His most recent pieces are that of George Floyd and Ahmaud Arbery.
Titus Kaphar is an American painter who examines history through art and reconfigures the focus to the often hidden black or secondary subjects in the paintings.
@demardouglas – Also known as the painter of Dreams, Demar uses surrealism to find the beauty in the struggle.
@sanfordbiggers – Sanford doesn't shy away from a difficult conversation. In fact, he uses visual and performing arts to help spark challenging discussions.
@frankmorrison (through @dopeblackart) – Frank created this poignant piece "Liberty and justice for all" to remind us that there will be no liberty for all until there is justice for all.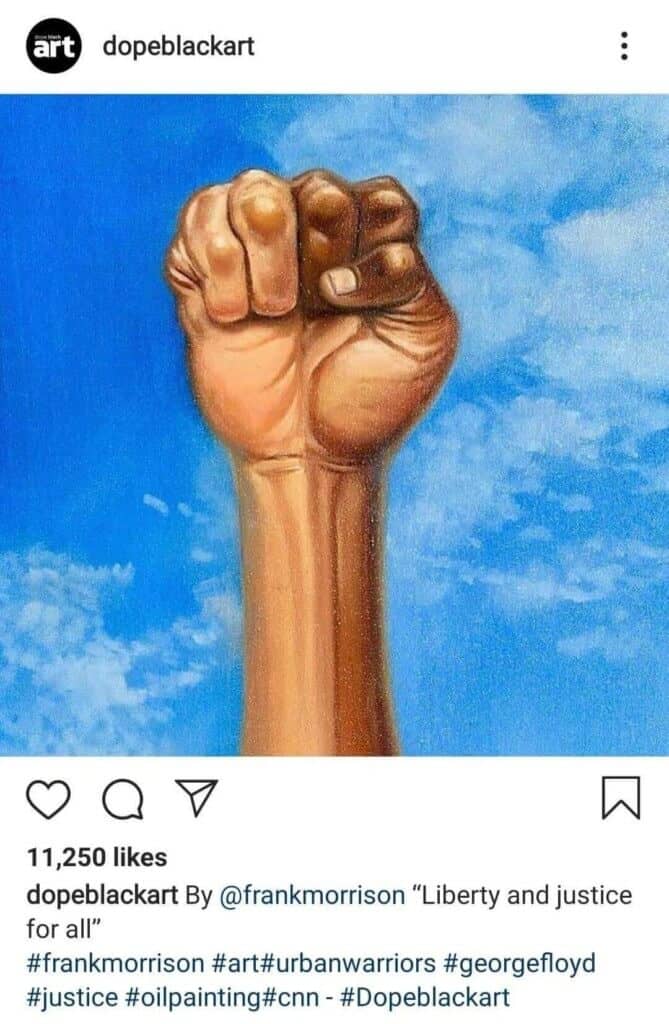 @ohhappydani – Digital artist and optimist Danielle Coke uses social media to help turn awareness into action. You can also check out her Facebook page for more.
@devinwesleyy– Devin is a portrait artist. "Is my soul different from yours?… If your answer is no, then I shouldn't be treated differently than you."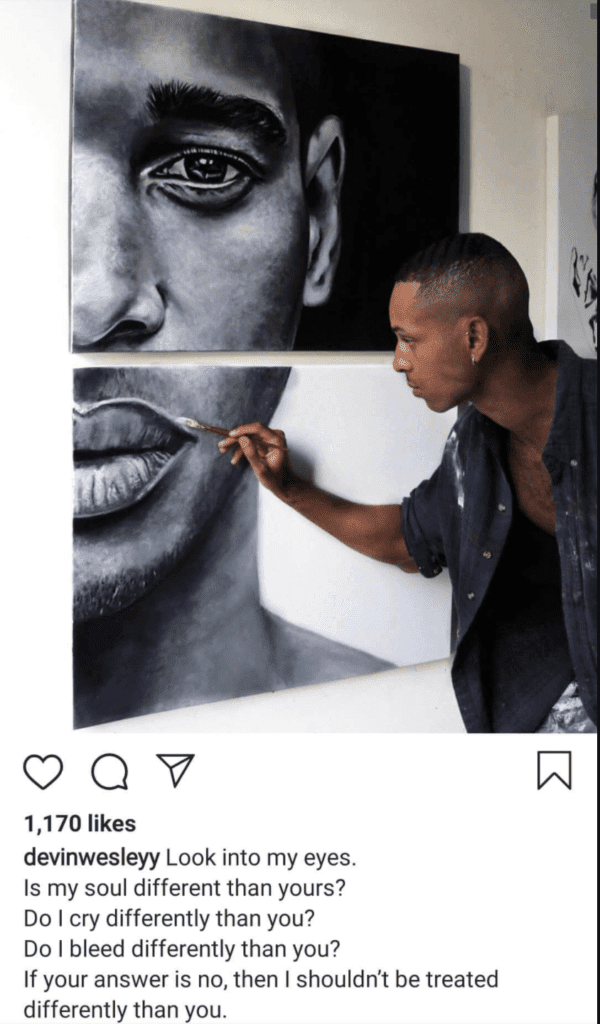 @adajacooper – Adaja shares process videos of her art, most notably of George Floyd.
@loharris_art – She's tired, but she's still creating art because that is where her loudest voice lies. Check out illustrator and animator Lo Harris' posts on keeping the course.
Poets
@dontcallmespiritual – Poet Unyque Daniel has captured a lot of attention with her poem "untitled." In her profile, she also shares a #blacklivesmatter document on where to sign petitions and/or donate to legit BLM causes.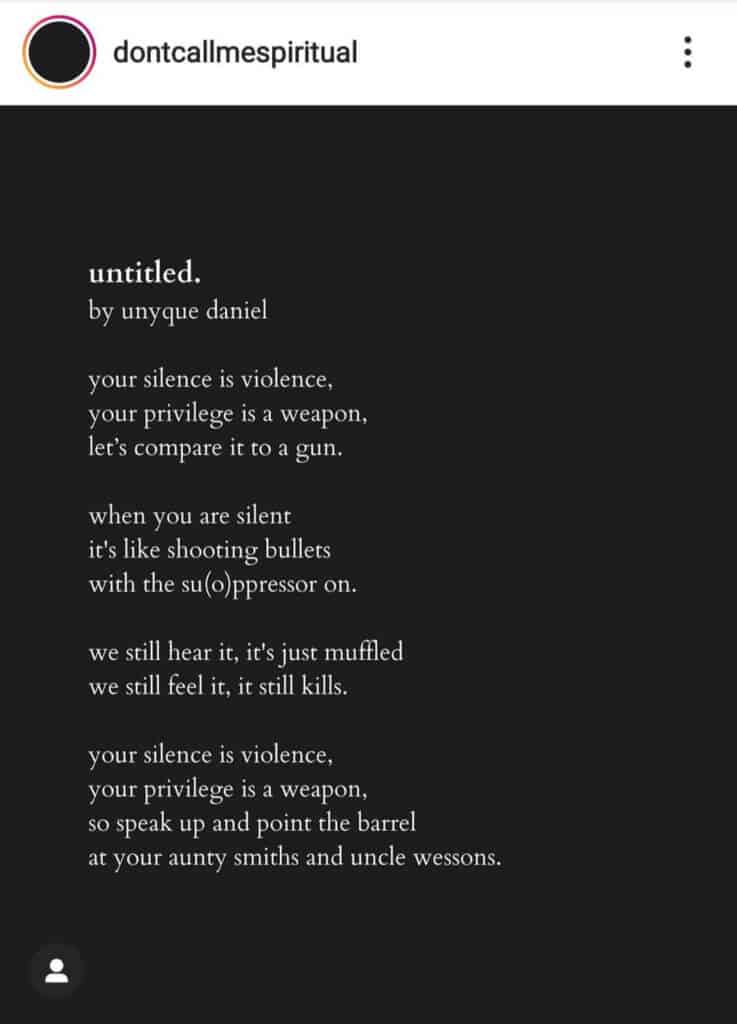 @mghughes – Novelist, essayist and poet M.G. Hughes shares many works on her Instagram page that focuses on equality and hope. She is releasing her first novel in mid-2020.
Musicians
@mcgillclarinet – Principal Clarinetist of the New York Philharmonic and Juilliard School faculty, Anthony McGill shares a haunting rendition of "America". In the post, he shares that "This normal isn't new" and urges people to #taketwoknees to put a spotlight on the evil running rampant.
@brownleetenor – In response to Anthony McGill's #taketwoknees challenge, tenor Lawrence Brownlee sang a stunning rendition of "There's a Man Going 'Round Taking Names."
@roderickcoxconductor – Roderick Cox is one of the only black conductors in the world and is working at breaking down the barriers in a white-dominated field.
@aliciakeys – Alicia is using her platforms to amplify voices like slam poet Amiri Baraka ("Why is We Americans"). Alicia is a longtime proponent of the Underdog.
@lizzobeeating – "There's not a lot you can say to make things better. There is a lot of things you can say to make things worse."
Additional Resources and Activists
Democracy needs a new soundtrack. Until the end of the month (June 2020), you can create and submit your new anthem to be used by the partner organizations of Songs for Good, which include RepresentUs, March For Our Lives and Zero Hour. It may also be used for strategic actions leading up to the November 2020 General Election, and be professionally produced as both an audio track and a music video. 
There are so many people we are learning from and we so appreciate the value they are sharing. Please go and read the lessons being taught by these incredible teachers as a beginning:
Joe Truss – @trussleadership and Culturally Responsive Leadership
Layla F. Saad – @laylafsaad and her website
Mireille Cassandra Harper – @mireillecharper
Rachel Cargle – @rachel.cargle and LinkTree