Dyan Branstetter | June 2019
Communication Tips for the Busy Teacher
I remember my first few years of teaching vividly. I felt confident with my students and I loved working with them. However, I was a bit intimidated by their parents. I was fresh out of college, and I made sure to send out my required monthly newsletter with information about our academic topics.
However, at Back to School night, I was blasted by parents who were downright mean. I remember comments like, "Last year's teacher did stations. Why aren't you doing stations? This is horrible." and "How can you expect kids to write about what they read? They're only 8. They just learned to read!" and "Why did my child get a B, when she is clearly bright? You need to change her report card. I'm taking this to the principal." I held it together until the last parent left, locked myself in the faculty bathroom, and cried. I certainly wasn't perfect. However, I was doing everything I knew was best for students. I was putting my heart and soul into educating their children. But I felt like the parents hated me.
New and naïve
In hindsight, it was only a few parents that treated me like this. I was brand new, very young, rather shy, and I had some new ideas. I was really good at teaching my students. However, I was not good at communicating, even though I thought I had done enough. While I still think those parents should have treated me with more respect, I hadn't shared my rationale for anything I was doing. I communicated freely with my students, but superficially with their parents. To gain much-needed support from parents, especially as an unknown, inexperienced teacher, it is imperative that we strategically overshare to help them know we are on the same team. We need to frequently communicate and share that our goal is always the same: to help their child reach his or her full potential.

When families know that we will bend over backward for their child, they have more trust in us as educators. If they understand the basic "why" of an instructional strategy, they don't criticize you for the way you're teaching. Over time, as you start to build your reputation as a trustworthy, effective teacher, it gets easier. However, it is still crucial to overshare, especially if you're trying new and innovative teaching strategies. Strategic oversharing is also important when it comes to communication about individual student needs. This applies to academics as well as behavior. DO share student strengths and positives as much as possible. DON'T sugarcoat the urgency of student needs in an objective way.  (Nothing breaks a trusting parent-teacher relationship more than venting to a parent about their child.) This can proactively solve problems before they arise.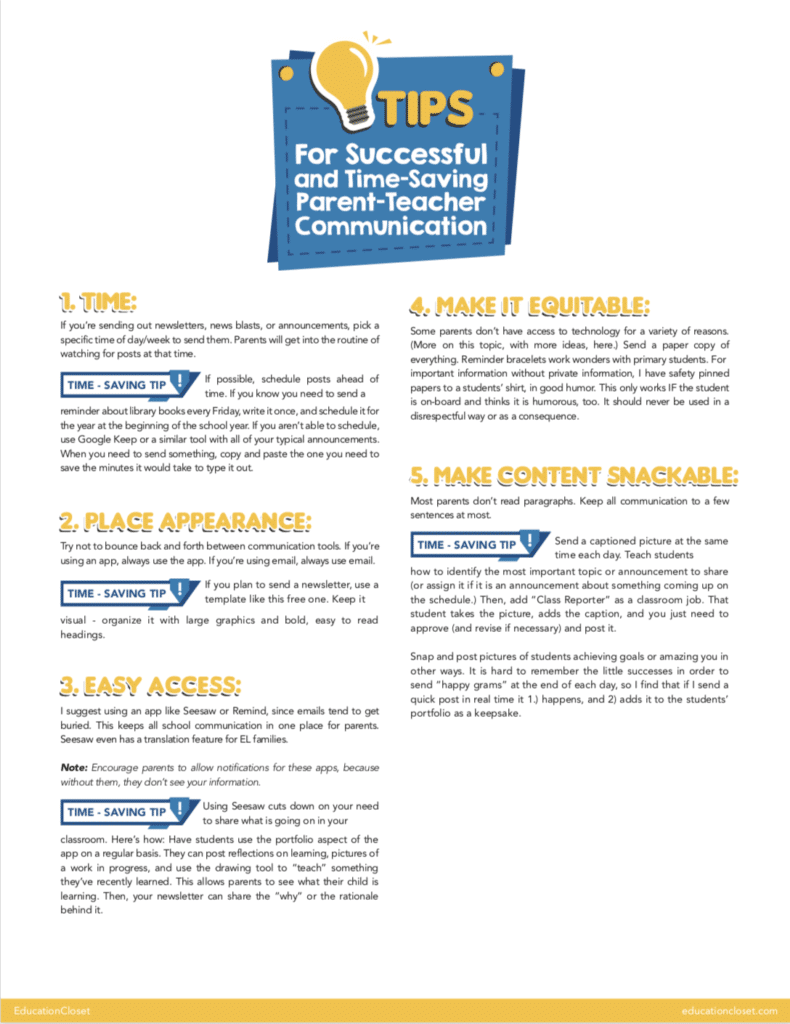 Communication Tips
The more you keep parents in-the-know about student goals and progress, you won't have to field angry emails or phone calls due to a surprise on a report card. Share concrete ideas with parents about ways they can easily help support their child. This will help parents understand that while a score is less than desirable, you're working as a three-part team (student-teacher-parent) to reach the set goal.
With all of the other responsibilities of educators, it seems like there is not enough time to even eat lunch, much less do this much communication with every family you serve. It is possible, though, through the use of the following communication tips. In addition, it helps you build a classroom community that families are a part of, and it makes teaching a more positive experience in general! 
Time
Time: If you're sending out newsletters, news blasts, or announcements, pick a specific time of day/week to send them. Parents will get into the routine of watching for posts at that time.

Time-Saving Tip: If possible, schedule posts ahead of time. If you know you need to send a reminder about library books every Friday, write it once, and schedule it for the year at the beginning of the school year. If you aren't able to schedule, use Google Keep or a similar tool with all of your typical announcements. When you need to send something, copy and paste the one you need to save the minutes it would take to type it out.
Place/Appearance
Try not to bounce back and forth between communication tools. If you're using an app, always use the app. If you're using email, always use email.

Time-Saving Tip: If you plan to send a newsletter, use a template like this free one. Keep it visual – organize it with large graphics and bold, easy to read headings.
Easy Access
I suggest using an app like Seesaw or Remind since emails tend to get buried. This keeps all school communication in one place for parents. Seesaw even has a translation feature for EL families. Note: Encourage parents to allow notifications for these apps, because without them, they don't see your information.

Time-Saving Tips: Using Seesaw cuts down on your need to share what is going on in your classroom. Here's how: Have students use the portfolio aspect of the app on a regular basis. They can post reflections on learning, pictures of a work in progress, and use the drawing tool to "teach" something they've recently learned. This allows parents to see what their child is learning. Then, your newsletter can share the "why" or the rationale behind it.
Make it equitable
Some parents don't have access to technology for a variety of reasons. (More on this topic, with more ideas, here.) Send a paper copy of everything. Reminder bracelets work wonders with primary students.
Make Content "Snackable"
Most parents don't read paragraphs. Keep all communication to a few sentences at most.

Time-Saving Tips: Send a captioned picture at the same time each day. Teach students how to identify the most important topic or announcement to share (or assign it if it is an announcement about something coming up on the schedule.) Then, add "Class Reporter" as a classroom job. That student takes the picture, adds the caption, and you just need to approve (and revise if necessary) and post it.
Snap and post pictures of students achieving goals or amazing you in other ways. It is hard to remember the little successes in order to send "happy grams" at the end of each day, so I find that if I send a quick post in real time it 1.) happens, and 2) adds it to the students' portfolio as a keepsake.
Make Content Relevant
Parents will tune out if the information you are sending is not useful, if they don't understand it, or if it is frequently negative. Of course, announcements, reminders, and schedule changes are important. Every now and then, send non-judgemental parenting tips/links. Share ideas for family field trips, such as events/coupons/deals on experiences that you come across that could help students build background knowledge. This will help parents know you are interested in the "whole child" not just your child academically.
The above communication tips help to cut down on the amount of time you're sharing about classroom academics, reminders, and announcements. That way, the bulk of the time you spend communicating can be personal, between you and individual parents about individual student needs.
Effective Communication is Essential
Effective communication is essential for successful relationships with families. It not only helps parents stay involved in their child's education but it advocates for you as an educator. It advocates for education in general. When a parent supports your efforts at home through positive talk about school or by helping his or her child with social and/or academic goals at home, it helps that child be more successful at school. This is the epitome of a parent-teacher-student team where everyone has the same goal: to help that student reach his or her individual potential.