Amanda Koonlaba | March 2019
Extreme Makeover: School Courtyard Edition
One of the most rewarding educator collaborations I've ever participated in happened during the 2014 and 2015 school years. In 2014, a group of teachers at the school where I was working at the time wrote a grant to a local grant funding agency to improve one of our school's courtyards. Then, once the grant funding was awarded, the team rallied the school community to completely renovate a dilapidated outdoor space into a thriving classroom, Extreme Makeover-style.
We knew we had an outdoor space with a lot of potential. But if we're being honest, it had become rundown over the years. In fact, it was truly an eyesore as many of the windows in our building were open to this space.
As educators, we wanted every inch of our school to be child-friendly and welcoming. At the same time, maximizing every single experience for learning within our school was also a priority. Ultimately, we partnered with the Association for Excellence in Education, which funds grants of innovation to schools in our district.
Before: This is a before picture of the outdoor space. You can see that there once were raised beds here. In this photo, you can see some of the supplies for the renovation that have already been delivered.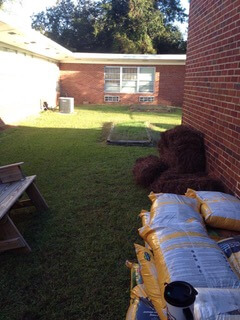 Here's how we rallied ourselves to develop the grant submission:
Step 1: Looking at Research
A core group of teachers who'd been chatting about the need to fix up the courtyard for months made the decision to try to write a grant. We found a research report from the University of Tennessee that helped us nail down our main reasons for wanting to turn our rundown courtyard into an outdoor classroom. We were definitely thinking bigger than just making it nicer to view.
Our three main reasons for wanting to revitalize our outdoor space were:
Fulfill our mission of ensuring our students had access to a joyful and artful learning environment

Integrate the arts with other subject areas through outdoor activities

Continue our mission of teaching the whole child
Step 2: Articulating the Need
Once we identified some core reasons for this project, we needed to write a statement showing that our students had a genuine need for this outdoor learning space. Below, you will find our "Need" statement. Keep in mind that we were submitting this grant to non-educators for review and that this statement is specific to our local context at the time.
"Poverty plays a key role in the achievement gap that our school is currently trying to address.

(Achievement gap refers to the differences in academic performance among groups of students.) Poverty also limits students from having outdoor experiences because of the crowded living conditions of apartments and government housing. 66% of our students live in poverty (receiving free or reduced lunches), and the truth is that many of these students simply do not have a yard at home in which to spend time. Although we cannot alleviate these impoverished living situations for our students, we can provide an outdoor learning space in which they can spend time working on academic and life skills while at school. An outdoor learning space is different from a playground. According to research, outdoor learning is powerful for students because they become connected to their environment and their learning. This connection empowers them through a sense of achievement and wonder. In turn, it motivates them to want to learn more, create more, and do more! This builds the foundation for respect and lifelong learning. It is our responsibility to instill this in our students and this outdoor learning space will help us to do that."
Step 3: Networking
We networked with community members about what types of resources we would need, pricing, donations, and volunteers. Needing to build a larger team of our staff members, we also networked among the other educators at our school. On our grant writing team, we had a liaison from every aspect of our school. Each grade level, the arts programs, administration, and special populations were each represented on this team.
This networking was a critical step to making our grant proposal strong. We were able to show that every student's interest would be served through this project. Additionally, we were able to show that we had massive school-wide support.
Through our networking with community members to determine what resources would be available to us, we were able to show the grant funders that the community was ready and willing to support us. This also helped us show that we were serious about using whatever resources were funded through the grant wisely as we made it clear we'd sought donations and discounts from the community.
Step 4: Generating Excitement and Submitting
To hook the attention of the people who would be reading the proposal, we decided to play upon the Extreme Makeover: Home Edition show that was so popular at the time.
Here's our Extreme Makeover: Courtyard Edition grant opening overview:
"Imagine a group of students, teachers, and volunteers waiting anxiously in front of a bus. The air is heavy with excitement as the crowd starts yelling "MOVE THAT BUS! MOVE THAT BUS!" Imagine the looks on their faces as the bus moves for the big reveal. What do they see when the bus moves? With this project, they will see a transformation. A lifeless, uninviting courtyard will become a lively learning area. Where there was once a courtyard with empty flowerbeds and broken fences, there will now be a pergola, a walkway, lush landscaping, vibrant flower beds, seating areas, and student artwork! Extreme Makeover: Courtyard Edition will bring life to this empty outdoor area. This new and exciting place will be a location where students can gather to read, write, and explore. It will be the perfect spot for teachers to take their students for collaborative projects connecting the curriculum across disciplines. It will be a beautiful outdoor classroom. Student engagement will explode…MOVE THAT BUS!"
Finally, after months building our team and determining exactly how to transform to our outdoor space, we were able to submit the grant proposal. It took about two months for us to hear that would be receiving funding. Since it was in the spring, we did not start implementing until the fall.
Here's how we rallied our community to implement the Extreme Makeover: Courtyard Edition grant:
Step 1: Ordering Supplies and Following Up
Once the fall semester began, our grant team started meeting regularly to ensure proper implementation. One of the first things we did was to follow up on the community resources we'd originally sought. We needed to make sure we would still have access to those resources before we began ordering materials with the grant funds.
Once that task was complete, we arranged for all of our materials to be delivered and began the task of acquiring the items that would have to be purchased through the grant funds. Since this grant was awarded to our school, we had to write purchase orders to each business that would be supplying something. We knew that would add some layers to the amount of time it would take to begin the actual work. So, we planned our fall schedule very carefully around this.
Perhaps the most significant thing about this step was the way each person on the committee took on a different role so that no one had the weight of this huge project solely on their shoulders. As the art teacher, my role was to think about the painting projects. I acquired tin roof flashing and had it cut into the shape of large flowers. I also spent time working with my students on designs to paint on the flowers and on the picnic tables. We landed on letting each be inspired by a work of art we'd studied.
So, we had a Kandinsky-inspired concentric circles picnic table and a Mondrian-inspired flower, just to describe a couple. Another teacher took on the role of handling the flower beds, while another actually built the pergola herself.
Step 2: Volunteer Day
Next, we set a date for a volunteer day. We wanted to invite our students, their families, and the greater community onto our campus to help do the work of actually building the courtyard.
We publicized this event as a fun way for everyone to engage with our school through both nature and the arts. School board members brought their grandchildren to help out. Scout troops attended. Our staff and their families were there. We had current students come to volunteer with their families. We even had former students who were already in high school drive themselves to volunteer. Our PTO provided water and snacks for volunteers. The turnout for this event was impressive considering we held this on a Saturday during college football season in the south!
We had everything prepped for this event. All of the artist-inspired painting that needed to be done had been outlined on each item. The flowers, pine straw, soil, bricks, etc. were on hand. We had a strong plan to get every task completed that was designated for Volunteer Day. Each task had a lead volunteer that could oversee implementation. We had a welcome table where volunteers could check-in and find their assignments if they'd signed up prior to the event. We also had tasks set aside for people who came to help but had not signed up.
One of the biggest tasks for this project was laying the bricks to create a pathway. I remember the Scout Troops on their hands and knees digging the dirt while other students brought bricks to them. One of our teachers ensured the bricks were straight.  A lot of effort was put into the organization of this event. One Sunday morning was about all it took!  We also received a lot of attention from our local media, which was such a positive thing for our school.
Step 3: Final Touches and Sustaining
After Volunteer Day, the courtyard had already significantly changed for the better. However, there were still some finishing touches. Teachers had their classes paint fence posts that we used to create a mural-effect along the wall beside the pathway. My art students worked in small groups to paint the bricks in the pathway.
Once the courtyard was functional, classes were able to use that space for a range of lessons. You'd see grandparents eating lunch with their grandchildren. Sometimes you'd see small groups of students reading to each other. Other times you'd see the Challenge class shooting a video for a journalism lesson or students walking around measuring things as a center during math time. When we had our annual Arts Festival, you'd even see local musicians out there playing their instruments. But, you'd never see that courtyard empty (weather permitting).
Of course, over time some of the artwork needed retouching. We took turns working with our classes to make that happen so that not just the art classes were doing the sustaining tasks. Science teachers used that space to teach about plants, which is how we were able to make sure the flower beds were always planted. Interventionists would supervise students who needed to use the space for social/emotional purposes, and I remember that many of those students were able to calm themselves down, pulling weeds from the beds.
We just found little ways to keep the courtyard from becoming dilapidated again. I am sure that one of the main reasons no one felt that the courtyard was "just something else on their plate," year after year is because we had so much buy-in from our staff in the beginning. It was a very intentional part of the process.
Goals Met
Grantwriting is not easy and this was definitely a massive undertaking. I don't mean to make it sound otherwise. No one person could have made this project happen by themselves. That's one reason the planning was so important. We carefully planned for getting buy-in. We used research and our school-wide goals to plan the writing of the grant. And, we also diligently planned the implementation. The planning took the most time of all of the steps of the project, but it paid off tremendously to take that time upfront.
As with any project of this magnitude, it is very important to think about whether we were able to meet our goals. In the beginning, we'd outlined some of our reasons for wanting to take on this project. First, we wanted to use it to fulfill our mission of ensuring our students had access to a joyful and artful learning environment. We literally helped them build a space for themselves that was colorful, delightful, and worth taking pride in.
That aligns very closely to another of our reasons which were to continue to teach the whole child. The human beings at our school deserved to participate in outdoor activities because being outside is essential to the human experience. This helped us ensure that even our students living in poverty could experience an outdoor space. Finally, we were able to use this space to integrate the arts with other subject areas through outdoor activities by implementing many of our lessons there.
Final Thoughts
I hope this article has been inspiring to you in terms of seeing how a large-scale collaborative effort can work in a school. I also hope that by sharing some of the language from our actual grant submission you'll have some ideas to springboard you if you decide to take on something like this in your own school.
As always, let me know your thoughts, and reach out if you have questions.
After: Here are a couple pictures taken after the work had been completed. You can see the artwork on the walls and the painted pathway that we built. If you look closely, you can see the pergola and flower beds in progress as well.