Kinetic Mathematical Sculptures
Flextangles and Kaleidocycles are perfect kinetic mathematical sculptures for children of all ages. This cyclical art form is sure to educate and entertain anyone who makes one. Their flexibility and open-ended nature are just a few qualities that make these works of art perfect for any classroom.
What are they?
Movable sculptures that continually cycle from image to image. Watch a video.

Why Students Love Them
Everyone loves art that moves, especially when it is their own art!

These moveable paper sculptures are so impressive that students feel a boost in their self-esteem after completing them.

They are custom paper toys to keep their hands moving.

They are fun!
Why Content Teachers Should Love Them
Flextangles/Kaleidocycles Can…
Integrate seamlessly and naturally with many other content areas.

Focus on a topic or theme.

Illustrate life cycles or seasons in science.

Touch upon math concepts like angles, measuring, shape, and form.

Illustrate historical events that can be captured in a paper slideshow form. It could be a rotating timeline.

Portray a storyline in ELA, address vocabulary words, or illustrate a poem. Your students could write an instructional script to teach others how to make them.

Link easily with technology. Take a video of the flextangle moving to create a short film or GIF. Compose music to go along with your video.
Why Art Teachers Should Love Them
Flextangles/Kaleidocycles Can…
Help students create kinetic sculptures.

Address some of the Elements of Art like shape, form, value, color, and line.

Use different mediums to create a range of looks and effects.

Be used for installations of collaborative pieces.

Be a longer lesson with more in-depth instruction or a shorter activity between lessons.

Link in with any artist you are focusing on. These moveable sculptures link very well with artist, M.C. Escher. Artistic movements can also be portrayed in these kaleidocycles with each face representing a different one.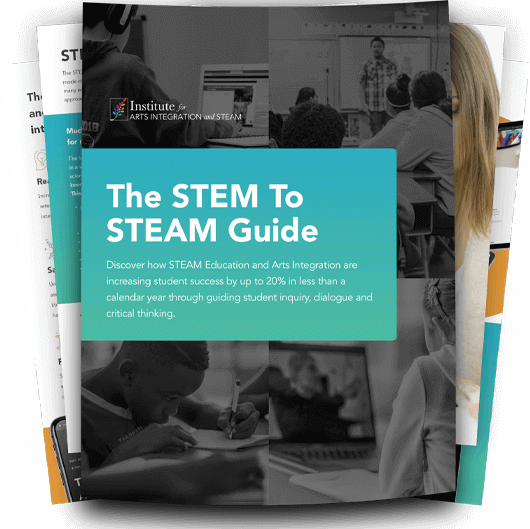 LET'S MAKE STEAM EASIER.
The Ultimate STEM to STEAM Guide
STEAM is more than a buzzword – it's the creative approach that will prepare our students for the 21st century.
This resource pack has everything you need to move from STEM to STEAM without the stress.
Use this 5-step process to start seeing success now.
How to Make Them
The absolute best website for these is Babble Dabble Do. It not only includes a template

, but it also shows instructions for decorating the template and assembling the flextangle.

If you are interested in using technology, images, and graphic arts, the best website is called FOLDPLAY.
Tips from the Field
I do this project with older kids (middle school) and they still need help folding and taping. You may find that the process may frustrate younger students. This does not mean that it is impossible, it just might take some more one-on-one instruction.

I use clear tape to connect my sides together. I find that it is more flexible and easier to assemble than with glue.

It is easier to color the flextangles while they are unfolded. This is not always possible depending on your final goal or design, but it is easier if you can color, draw, or paint them while they are flat.

Use thicker paper like cardstock

Make sure folds are crisp and along the lines. You will want to fold the paper both ways to make the flextangle easier to assemble.
Links
Try making these flextangle/kaleidocycles in your classroom. They are also simply fun to make for all occasions and as party favors. Enjoy!