Jaime Patterson | November 2018
Arts Integration School Design
"Wow, it looks exactly the same, doesn't it?"
I'm lucky enough to have made very strong friendships in elementary school. Even better, I've maintained those friendships through many seasons of my life.
Eight years ago, I had just started my very first year teaching. In a show of support, two of my old friends came to visit my classroom. I had first met them on the elementary school playground. We then spent our middle and high school years eating lunch together while we talked about our art classes. We even maintained contact in college when we each branched off into different schools with different majors and career goals.

And then there they were, in my classroom, visiting me after school on a Monday afternoon.
Like every good first-year-public-school-teacher with an arts background, I had made a significant effort to spruce up my room. The fluorescent lighting of the classroom was dampened by adding lamps. I masked the scent of mold and dry erase markers. I even tried to brighten up the drab cinder block walls with colorful posters and student work samples.
"Well, here it is!" I said as we reached my classroom after a short walk from the office. Their response knocked me off my feet.
Exactly the same
"Wow, it's exactly the same isn't it?"
"Exactly the same as what?"
"As it was ten years ago when we were in middle school."
"We didn't even go to school in this state, let alone this school building."
"No, but it just looks… exactly the same. It's weird how schools are like that, they all just look and smell and are exactly the same."
I've come to realize there is a lot of truth to that idea. That when it comes down to it, so nearly all schools are exactly the same. And it is rare that any academic community has any say at all in the design of their school.
Relegated to shared classrooms or even portable trailers, teachers often consider themselves lucky to have sufficient personal desk space. Adequate supplies for their growing classes is a bonus! In fact, two years after the visit from my friends, I became our school's Arts Integration specialist. This was a position that (theoretically) came with its own office.
Over the course of that year, the office space was transitioned into a teacher planning space. Then a copier space. Then a storage space. Eventually, there was so little room that I was physically relocated to an actual closet space.
And let's be clear. Part of what makes Arts Integration such a valuable, effective teaching strategy is that it is not dependent upon having gorgeous atrium spaces, top of the line theaters, or even access to visual arts classrooms. You can implement Arts Integration successfully without all the frills. You can implement it almost anywhere, even with limited space and supplies.
Building from scratch
With the recent revitalizing wave of arts integration as a popular teaching strategy, some school communities are finding themselves with good fortune. How so? They are in a position to be designing their physical learning environments from scratch… Or at least having some say in the ways their school campuses continue to develop or expand.
In November, I attended the US Department of Education's Arts in Education conference. I had the opportunity to meet and speak with teaching communities working with government grants. Grants specifically designated for starting and building arts integration programs.
I also know from my experience at Bates Middle School in Annapolis, MD, which won an enormous SAILSS (Supporting Arts Integrated Learning for Student Success) Grant, that there is a time and a place for dreaming up spaces crafted specifically with Arts Integration in mind. And, that sometimes the grant lottery helps to actualize that vision.
So for the sake of those privileged enough to be part of a school addition or reconstruction project, and those who may one day be in such a position: let's dream.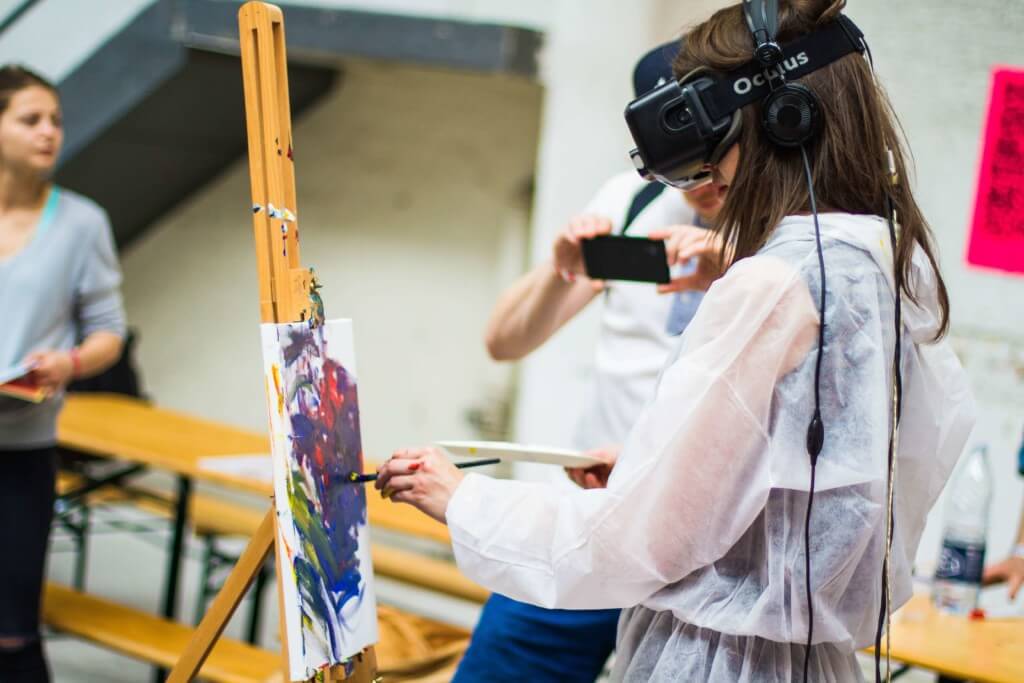 From the Ground Up
In March of this year, an article on Edutopia specified the top five design aspects when creating school buildings in 2018. Technology integration, safety and security, transparency, multipurpose space, and outdoor learning are their top priorities. All of these elements definitely lend themselves to an ideal environment for integrated learning. However, technology integration stands out in from an arts-specific lens.
Consider technology across the arts areas. The lighting and sounds that accompany dance and theater productions. Recording of music, as well as listening to different songs through the use of technology. The idea of 3-D printing expanding visual and media arts. While having great quality "traditional tech" materials can already be a wonderful opportunity for students, consider how you could use it.
For example, wiring projectors into hallway spaces might allow teachers to gather multiple classes into atrium spaces to co-teach a lesson together. This also lends itself to installation art projects for students.
Technology across the arts
The idea of "fishbowl" classrooms, where floor to ceiling (bulletproof) glass on all classroom walls adjacent to hallways falls under the "transparency" design element. (Personally, I could definitely see this bright and well-purposed layout as a double-edged sword.) It would allow teachers to peek in at neighboring rooms and potentially make visual connections between concepts their peers are teaching and ways they might relate it back to their own classroom material.
Additionally, it would allow for dance, music, and theater processes to be observed in action, rather than the "product" related works seen so often pinned on the small cork boards outside of traditional classrooms. The Greek concept of the agora, or communal, gathering place has been used to describe a central learning space in idealized school architectural design. (Think an open concept library workspace surrounded by glass-walled classrooms.)
However, this also seems reminiscent of the "open school" designs of the 70's that some of our colleagues are still dealing with. It's certainly possible that these fishbowl designs would end up distracting students from learning. It may even cause them to feel uncomfortable, thus making certain aspects of art that require more vulnerability, like improvisation, more difficult to access.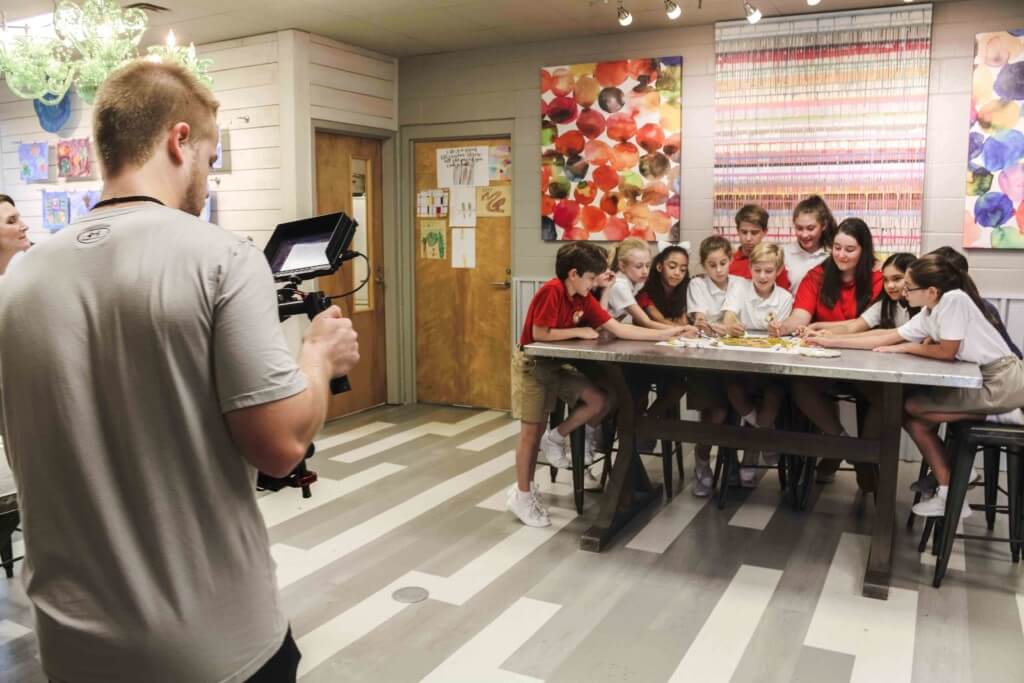 The Ideal ArtScape
For an arts integration school what would be most pertinent? A music recording studio with electronic keyboards and drum kits, computers, and microphones? A darkroom for photography? Multiple dance studios and performance spaces?
Certainly an expansion of makerspaces (dare we say makerlabs?).  Spaces that promote collaboration and experimentation through 21st-century learning. One of the most important aspects of an integrated learning community would be a schedule that is purposefully planned to allow adequate cross-collaboration time. Organizing the schedule to allow general education and arts teachers to have adequate time to collaborate would be paramount.
In keeping with the idea of moving learning spaces forward to suit 21st century learners, Steve Turckes, a school principal and a global practice leader at the architecture design firm Perkins + Will, says:
"There's a realization and understanding on the clients' side that the factory model school that most of us went to—where you've got similarly sized classrooms marching down either side of the hallway—is not going to support the kind of teaching and learning that they're after."
What would your ideal arts integration school look like? Share your ideas with us in the comments below!