Susan Riley | May 2018
Best STEAM Websites and Apps in 2018
As you head into summer, now is the time to explore, discover and play with new online resources.  As you begin to compile your own bookmarks, here's our list of best websites and apps for STEAM in 2018.  These cover everything from classroom-friendly tools to planning resources for educators.
All have been teacher-tested and recommended for their ease of use, cost-friendly (or free!) price point and arts integrated connections.  And if you like these, be sure to register for our upcoming Arts Integration and STEAM online conference.  You'll see lots of ways you can use these tools in your own classroom.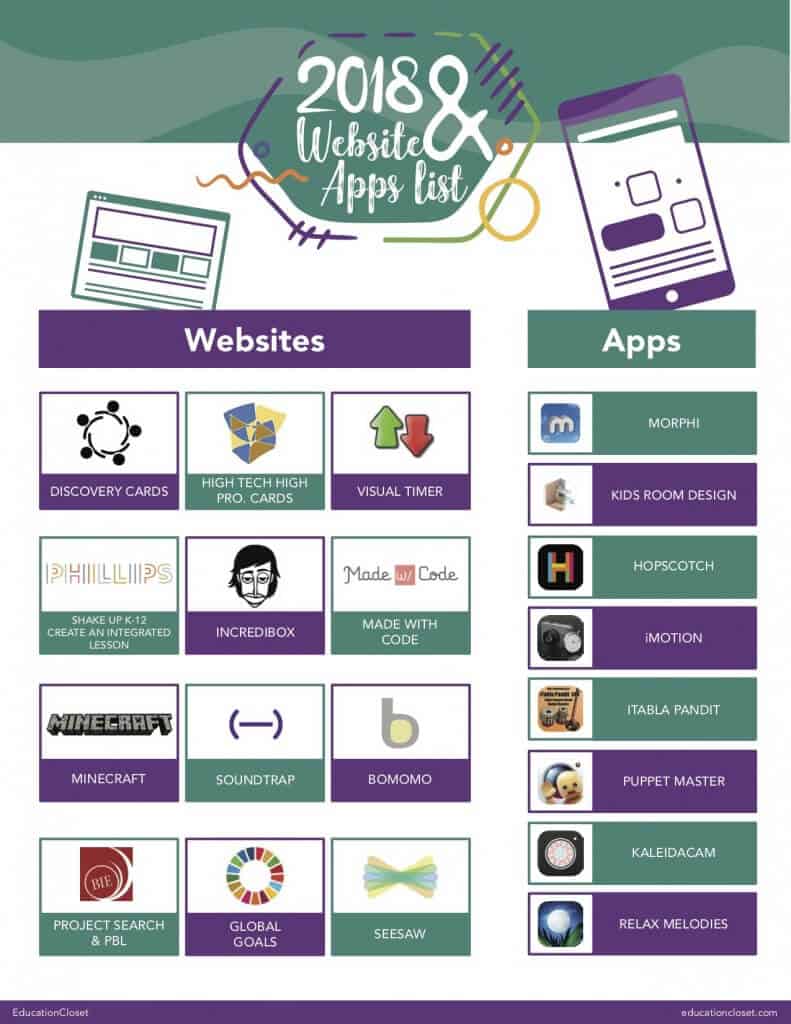 WEBSITE LIST
1. DISCOVERY CARDS: Developed to help you frame lessons using driving questions. Each card has a driving question, student products, teacher reflection and project description.
2. HIGH TECH HIGH PRO CARDS: Similar to the Discovery Cards, this is an open source for teachers sharing projects for PBL that worked in their classrooms.
3. VISUAL TIMER: If you need a quick visual reminder of how much time is left for your project or class, this is a great free tool.
4. PROJECT SEARCH AND PBL: This is the source for all things Project Based Learning.
5. SHAKE UP K-12: This cool game from the Phillips Collection helps you create your own arts integration lessons through a virtual "shake" of the dice.
6. GLOBAL GOALS: Looking for real-world problems to explore and solve with your STEAM lessons?  This is the place!
7. INCREDIBOX: Want to have your students create their own music mix?  This is the tool to use.
8. MADE WITH CODE: Google's answer to helping more students become interested in coding. There are so many cool games and things you can create in this user-friendly platform.
9. MINECRAFT: Yes, even in 2018, Minecraft is still a powerful tool for creating, presenting and reflecting on the design process.
10. SOUNDTRAP: This is like having your own music studio from any device, anywhere.  Students can collaborate on beats, loops and instruments.
11. BOMOMO: Students can create pieces of abstract art using a variety of interesting animated brushes.
12. SEESAW: Still one of our favorite resources for student portfolios – there are so many ways to use this online tool for assessment and presentation.
** Bonus! FLIPGRID: This video reflection tool is a phenomenal way for students to explain and share what they know.
APPS LIST
1. RELAX MELODIES: Looking for a way to create calm or help students get in their creative flow?  This is perfect!
2. MORPHI: This really is 3D design for all.  You can use this on any device to help bring your 3D visions to life.
3. iMOTION: This is the app for creating time-lapse and stop motion animation.
4. PUPPETMASTER: This animation app is so intuitive, even your youngest students will be able to use it for bringing any image to life.
5. iTABLA PANDIT: Use this world music app to bring Indian accompaniments to your musical compositions.
6. KALEIDACAM: Explore and create patterns, circles and spirals using this fun app. You can use your own pictures and turn them into all new possibilities.
7. KIDS ROOM DESIGN: What's more fun for students than to design their own room?  This app is perfect for media arts and design connections to math and engineering.
8. HOPSCOTCH: We've mentioned Hopscotch before but honestly, this app helps anyone create their own games and code. This is truly a K-12 app that gets students thinking through STEAM.
Now it's your turn.  What are your favorite websites and apps for arts integration and STEAM?  Drop them in the comments below!