Matt and Laura Grundler | December 2017
The Purposeful Principles: Leadership with Heart
It's no secret that we are fans of the TLAP (Teach Like a Pirate) PLN, the chat lead by the pirate himself. Dave Burgess was a point of inspiration for us as we developed the K12ArtChat tribe.  We have met the most amazing educators throughout these pirate chats and two of our favorites were Julie Hasson and Missy Lennard: we knew immediately that they were the real deal in school leadership.  Passionate elementary principals who lead with purpose and love.  We've tweeted and re-tweeted to them so many times and they have been kind enough to lead two K12ArtChats, most recently on October 12. If you missed you can read through it on the Particpate transcript.  
What was so wonderful about this most recent chat was that it hit at a great time to re-evaluate our whys and reflect on our guiding beliefs.  At this point in the fall when grades are coming due and the honeymoon is over, it can sometimes feel like a bit of grind before Thanksgiving break.  Therefore, the reminders about purpose are so beneficial to morale, which is one of the many reasons we think educators should find a positive chat that they connect with regularly.  
We thought it would be good to hear a little more inspiration from these two phenomenal educational leaders and wanted to share their wisdom with you.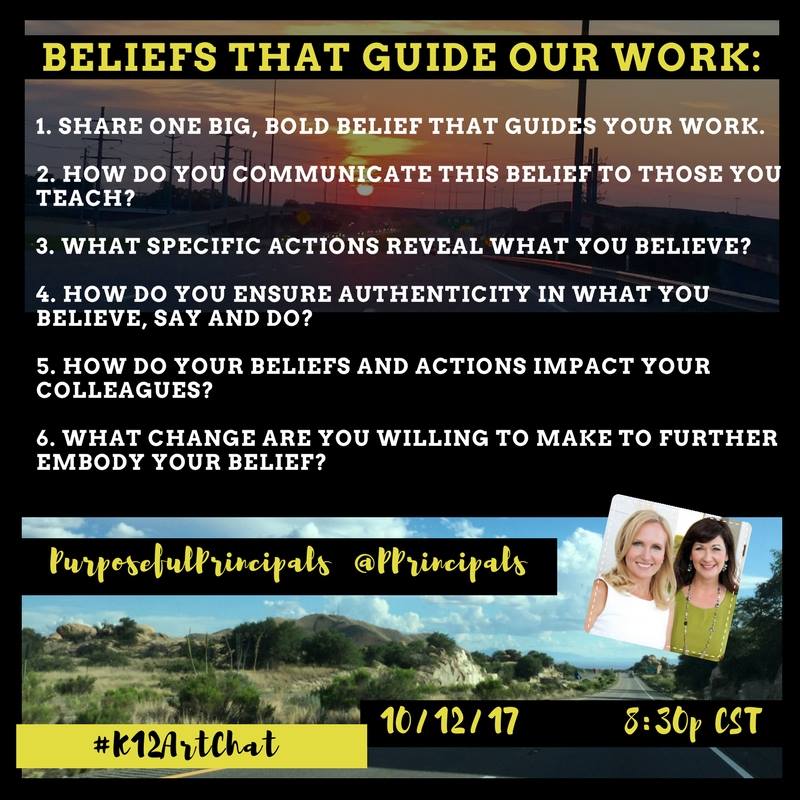 The Interview
Julie and Missy, as always thank you for taking time out to connect with arts educators. We wanted to ask you both to answer a few of  the questions you asked the PLN and a few additional questions about your new book, Unmapped Potential.
Tell us a little about yourselves, we know you are principals and authors, what else should we know? What lead you to education and then to educational leadership?
We are both the children of educators. So, we understood the reality of the job but also saw the impact. We have always viewed ourselves as teachers, even when we moved into administration. Seeing the potential in our teachers and tapping into their strengths is the best part of our work. We are definitely among the principals who call themselves "lead learners" as we are constantly in search of ways to serve our teachers and students better. Connecting with other educators (like the Grundlers and K12ArtChat) inspires us to try new things and broaden our perspectives.
Please share with us your ONE BIG BOLD Belief that guides your work and why?
Our big, bold belief is:
Thoughts lead to actions, and actions lead to outcomes.
We advocate for educator awareness. It's so easy to go through our busy days on autopilot, unaware of the impact we are having on students and colleagues. When we are present and aware of the thoughts and beliefs that lead to actions, we can choose how we respond instead of just reacting.
Beliefs That Guide Our Work
Beyond directly communicating this belief to your school community, what actions reveal your beliefs?
The words we say are important, but communication goes way beyond our words. It's easy to say that all kids can learn, but instructional choices don't always support that statement. Even the energy we bring into our schools every day tells students and colleagues about our expectations.
How do you ensure authenticity in what you believe, say and do?
Students are always giving us feedback, if we just pay attention. Asking reflective questions about the kind of impact we are having and the strength of our relationships can reveal much about our alignment. We also believe strongly in providing safe ways for students to give feedback about their experiences at school. Again, it's about slowing down and staying aware so that we can purposefully make the right choices.
Unmapped Potential
Switching gears a little, tell us about your book. Where did the title come from and what was your motivation for writing it?
We started talking about the book eight years ago when we opened a new school together. When Julie became a principal at a nearby school, working on the book was a way to continue our reflective conversations. Awareness of the mental maps that hold our beliefs and expectations is the central tenet of the book. This map is key to reaching our own potential and helping students reach theirs. So, when writing the last chapter, Unmapped Potential just came to us.
We've really enjoyed our copies of the book, specifically how it speaks to real life teachers. You use stories from your experiences as well as give concrete analogies for professional improvement.  What do you hope to accomplish with the book?
Our hope is that the book will lead to greater awareness of the limiting thoughts and beliefs educators may be carrying on their mental maps. It's these patterns of thoughts and beliefs that lead to actions and outcomes. If we want different outcomes, we have to think differently. Unmapped Potential suggests that we have the power to change things for the better. But lasting change only happens when we change beliefs that are limiting us to those that empower us.
Creative Confidence
During our chat, Laura tweeted this: "#k12ArtChat wouldn't you agree w/ pg. 70 @PPrincipals ? Ever heard 'I can't draw a stick figure' before? Boils down to creative confidence."  Why do you think this statement from your book resonated with so many people?
We all tend to quickly put things into two categories, Me and Not Me, based on past experiences or our own assessment of our abilities. We are not likely to sustain effort in things we put in Not Me. We may see success over time if we just open our minds to the possibility. After all, we have to get through the beginner stage before we experience proficiency. We expect our students to take risks and persist; so we need to model this growth mindset.
We'd like to encourage our PLN to draw and sketchnote using the map-changing actions and map-changing questions at the end of each chapter and share them with #unmappedED but we are curious to know if you keep a journal/visual journal? If so, would you be willing to share pics with us?
We often use sketchnotes to plan. We planned each chapter of Unmapped Potential that way. We are currently preparing a series of professional development sessions for a school facing some daunting challenges. They want to increase teacher efficacy and confidence. So, we sketched the main points we want to include in our sessions.
Parting Wisdom
We'd love to hear your final thoughts (for now)?
As educators, we can feel overwhelmed by the pressure to do more with fewer resources. Sometimes we feel isolated and alone in the struggle. The best thing we can do for ourselves and our students is connect with other educators. Find a travel buddy (or a whole tribe) who will provide encouragement and support. And please know that the two of us are cheering you on!
We are so thankful the opportunity to connect with Julie and Missy and connect our tribe to their amazing work.   We hope you enjoy "Unmapped Potential" as much as we are and would like to remind everyone to strech themselves, learn and create everyday.
Wishing you Creativity,
Team Grundler