Dyan Branstetter | November 2017
3 Essential Steps to Building Valuable Relationships with Parents
How do you build valuable relationships with parents? Are you still writing newsletters as your main form of communication with families? If so, I encourage you to stop. Or at least reflect and revise on your practice. Gone are the days of reaching the majority of families with a sheet of paper filled with words.
In reality, the traditional newsletter will reach parents who can fluently read and parents who have time to read it. This means your newsletter will not reach any of the following: parents who speak another language, parents who are in "survival mode" and just trying to make ends meet, parents from cultures that do not place a emphasis on a strong school/home connection, and parents that did not have a good school experience themselves. To be real, it is the families we need to connect with the most that our newsletters do not reach.
Strong relationships with families are as important as strong relationships with our students. Families need to know that we work as a team and that we are rooting for their child to succeed in life just as they are. Once we can form this trust with our students' parents, both parties can more effectively help students reach their academic potential.

So if a newsletter doesn't work, then what does?
Newsletters usually go home in student backpacks or as an email. They might be weekly or monthly, and they are lengthy because we have a lot of important information to share. Since this does reach some parents, if you already do this, go for it. But let's look a few more ways that you can meet parents where they are.
Use technology
At the very least, email your families in addition to sending paper copies. However, there are so many apps that are designed to help with home-school communication. Even if some families in your class don't have a computer, most have a smartphone.
Pick an app and run with it! ClassDojo, Seesaw, Bloomz, and Remind are all good possibilities for messaging parents individually and as a whole group. (Even Facebook, Instagram, and Twitter can work for this purpose. Read more below.)
If you do send a monthly newsletter, you can supplement it with reminders throughout the week using the app. Or, opt for breaking up your newsletter and send out news flashes instead.
One word of caution, however: the quickest way for parents to turn off notifications of these apps is to send multiple blasts throughout the week at random times. Try to pick a consistent time each day or week to send these.
In addition, this regular communication will become a tool that parents rely on. (ClassDojo has a scheduling tool, so you can schedule these announcements ahead of time which makes it even easier to be consistent.)
Here's an interesting article on how texting tips to parents boosted literacy skills in early childhood students.
Keep it visual!
Before we talk about this in terms of parent communication, let's look at a few marketing statistics: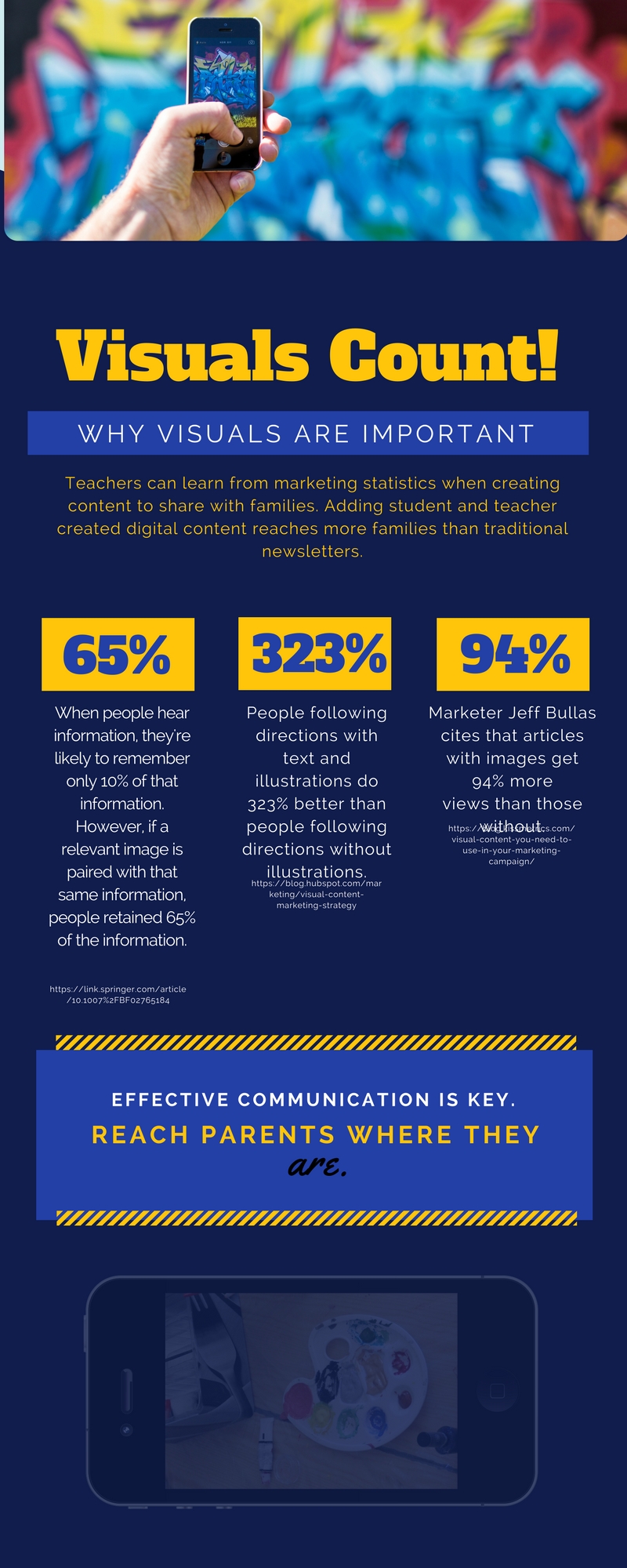 Parents are busy, and they'd like to gain the information you're sharing quickly. Pictures can do that. Comprehension attention spans are shorter than ever due to the amount of digital content we see each day. Pictures can help with that. Some parents are not fluent readers or have limited to no English. Pictures can help with that!
When possible, share your news with a picture instead of with words. If you're saying, "But I don't have time for this!" Here's your answer: This may seem like more work, but if you train your students to take the pictures, it becomes a great way for them to take ownership of the academic day. After the initial learning period, it is less work for you, and more effective for parents and students. Here's a way to do it:
Add "photographer" to your class job rotation. Each day a different student decides what to take a picture of and what the caption will be. During the day, they that student takes a picture, and writes the caption for me. I then post it at lunch or after school. If you are a specialist with many different classes, you could rotate through classes instead of doing this with each class, or you could focus on just one grade level. Our art teacher has one Instagram account, and she as she posts pictures she captions them with the class they belong to.

Before turning the camera over to students, share your guidelines for what they should capture. I ask students to think about what we have learned that day and take a picture of something that seemed important to them. Sometimes students snap a quick picture of an anchor chart or candid action in the classroom. Other times, they think back to something earlier in the day and have some friends act it out for the picture. Either way, it requires students to reflect on their instruction. After a while, this permeates students' thinking.

From https://artsintegration.com/2016/10/11/the-power-of-an-audience/ 
I used to have an Instagram account for my class, but then I found Seesaw. By posting our daily picture on Seesaw, parent comments appear once I approve them, and students are able to see and comment on our pictures as well. I can also send my updates and reminders through the same platform with a translation capability for parents of my ELL students.
Some families want to be connected to the school, but logistics prevent it. These are the parents who can't attend school events because of working third-shift, lack of child care, or they simply had a bad educational experience themselves. Videos are powerful tools to accommodate this. Once you have a communication routine in place with parents, this is a great next step. Check out this blog post on how to create a virtual open house for families that can't attend in person.
Make It More Personal
Yes, we are passionate about our content, and it is great to share that, but we need to remember that parents might not be. Parents are concerned with how they can help their child, and you are an expert in children at the age level you teach.
Share simple tips that families can do at home to enrich or remediate your content. Share parenting tips for completing homework, building responsibility, or question stems to help with communication at home.
Even video clips that match the content of the day may help with homework or spark conversations at home. In addition, there are many wonderful infographics on educational topics that can help with this so that you don't have to recreate the wheel.
Sharing this type of information, rather than simply a paragraph about your current content, helps you share your goals and purpose for students. It also helps parents know that you are on the same team. Periodically, you can survey your families with a quick questionnaire to gain insights into their preferred topics. Just like students, when parents know you care, they are more willing to work with you and you will foster a positive, effective relationship.
How have you used non-traditional newsletters to reach your families? Share your ideas with us in the comments!