Integrating Music with Sound Stories
Sound stories were some of my favorite activities for students in my days as an elementary general music teacher. A sound story occurs when children use music and instrumentation to create sound effects to accompany a story. The result is an engaging way of storytelling that invites creativity and collaboration.
Sound stories are a really authentic way to integrate music and storytelling. Whether your aim is to draw ELA standards into the general music classroom or vice versa, sound stories organically address content standards for both music and ELA organically. Here are a few different ways you might use sound stories to serve your purpose.
Sound Stories with Sound Effects
There are some great resources for pre-determined sound effects and musical interludes (Tapestry of Tales is a personal favorite), but you can also have students engage in some critical thinking to determine what sound effects would best accompany the story. Students might use instruments, they might use found sounds, or they might use recording software such as Audacity to create sound effects that can be played back.

You may even take this to the next level and tell a story using only sound effects and instrumentation. This approach can really be as versatile as you need it to be based on what resources you have at your disposal, your own level of comfort with music integration, and the level your students are at.
Use patterns for musical cues
This is one of my favorite ways to practice a song with students, and there are a couple of ways to do this. You might pair a book up with a song students are learning that is somehow related and intersperse cues for performing that song through the story. A familiar song in the elementary general music classroom, "Bounce High, Bounce Low" is a great tool for teaching beat vs. rhythm, quarter and eight notes, and sol-la-mi pitches.
I paired this song up with the book Mr. Bounce by Roger Hargreaves and notated with stickers where students should sing the song as we read the story. Each time students saw a yellow dot in the book, we sang the song, practicing these musical concepts as part of telling a story. I kept these books in a special space in our classroom library so that if students had extra time, they could read a book and do some musical storytelling of their own.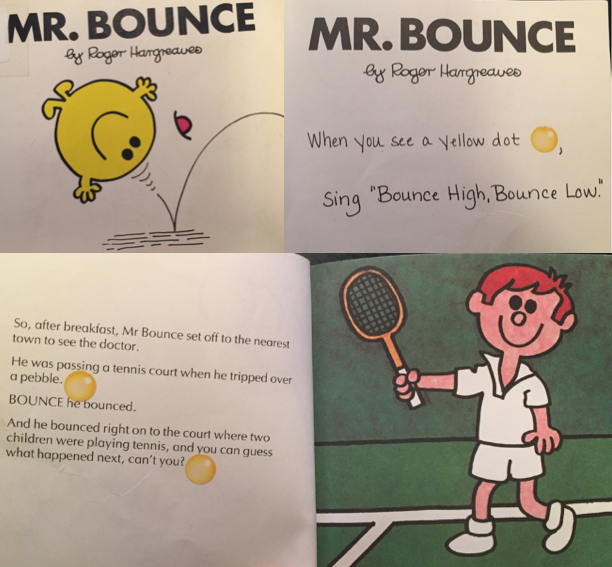 In an idea I got from Thom Borden's Treasures of Music Literacy workshop, as my students were learning the relationship between sol and mi, we would read Nancy Van Laan's Possum Come a-Knockin', and every time I read the words "possum come a-knockin at the the door," students would play "sol-mi" on a pitched instrument to imitate the sound of a doorbell. By the time we had read the book, in the matter of a few minutes, students had about a dozen chances to play this pitch relationship, and after the reading, were able to sing it and retained these pitches for quite awhile. And we were able to practice it in a way that didn't feel like practice, but rather was an engaging part of telling a story.
Create a musical version of a story
My favorite musical programs were always those that were musical versions of existing stories. I would choose a children's book at the beginning of the school year that would be the basis for this program. Then, throughout the year as I chose songs and pieces to introduce musical concepts, I would choose those that had something to do with the book (for example, if the story had something to do with zoo animals, I would choose songs about the animals in the book to introduce musical concepts).
Then, when it came time to put together a musical performance, we would infuse these songs into the telling of the story. It cut down immensely on the amount of preparation time that most musical productions take away from instructional time, and was a great way to tie our musical work for the year into a theme. A great example of one of these programs is Aileen Miracle's Where the Wild Things Are Musical program, which can be found on TeachersPayTeachers.com.
Whatever your comfort level is with either music or ELA standards, start exploring how to infuse music into storytelling, and watch the magic happen! Happy sound storying!