Are you ever frustrated with the lack of time for arts integration in your curriculum?  Lack of time for planning is one of the biggest barriers for most teachers.  This is especially true for you elementary educators who are swamped the minute you walk in the door.
That's why I'm excited to share that EducationCloset is providing an Arts Integration Curriculum Planning Kit just for you K-5 teachers.  Best of all, this whole kit is FREE.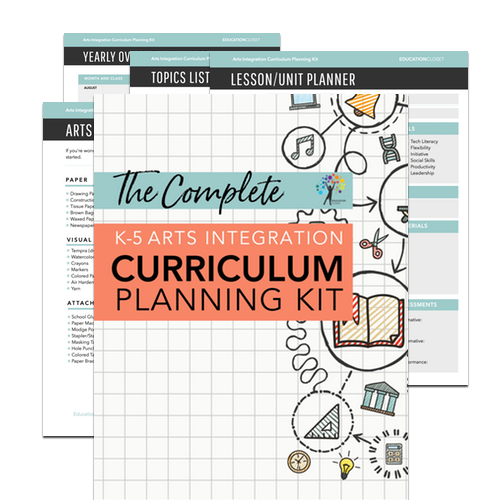 What's Inside
You'll find all of the templates, resources, and helpful lists you'll need to start integrating the arts into your curriculum.  So you can either built it from scratch or use this kit to supplement your current curriculum needs.  Inside you'll find:
Lesson/Unit Planner

Curriculum Map Template

Common Vocabulary

Driving Questions List

Topics List

AI Supplies List

Teacher and Student Feedback Form

Yearly Overview Planner

Rubric Samples
As you start revamping your curriculum or if you're looking to add a few extra minutes to your day, I hope this free planning kit helps to make your job just a little easier.  Enjoy!