Lauren Hodson | June 2017
Insect Art: Chalk and Glue Technique
Do you know the difference between a bug and an insect? Is there a difference? What about an insect and an arthropod? What category do caterpillars fall into?
Identifying these scientific characteristics can be visualized using this glue and chalk technique that allows students to create their own species of insect, bug, arthropod, or pay tribute to their favorite.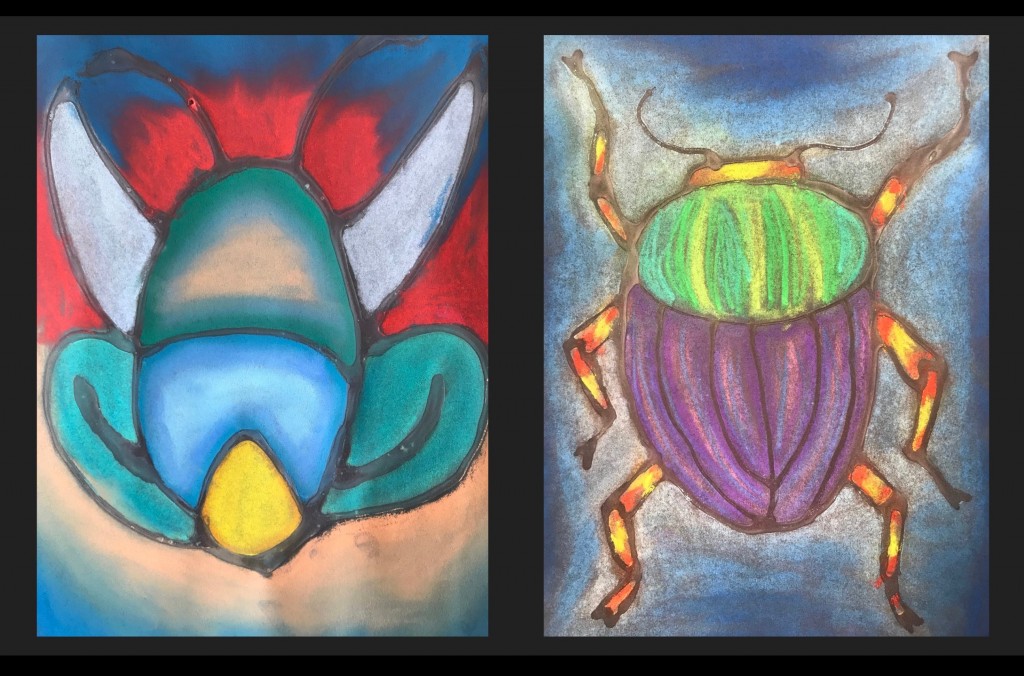 Materials You'll Need
Black construction Paper

School Glue that dries clear

Modification: Black glue on White Paper

Colored chalk pastels (Colored pencils or oil pastels work as well)

Paper Towels for blending
Teaching Process
Discuss the characteristics of bugs and insects

Insects have…

3 body parts (head, thorax, abdomen)

2 antennae

3 pairs of legs

An Exoskeleton, or skeleton outside of their bodies

True Bugs have…

Different mouths that allow for straw-like drinking and eating practices instead of teeth

Research images and sketch observations

Use Symmetrical Coloring sheets to discuss how bugs and insects are made with simple shapes. Find some

HERE

 – this is helpful for building student confidence and helps break down complex subjects

Draw Final Bug on Black Paper with Pencil

Go over Pencil with Glue and let dry

Practice chalk techniques and discover what they can do. Share discoveries as a class!

Color with Chalk when glue is dry. Try to add value to your artwork with highlights and shading.


Art Vocabulary and Techniques
Symmetry

: One side is identical to the other

Value

: The lightness or darkness of an object or color

Tints

: True Color with White Added

Shades

: True Color with Black Added

Blending, shading, smudging

: Bluring an area using your finger or an art tool

Highlights

: add white or light colored chalk to create a reflection or highlight

Drawing with unique materials

: Drawing with glue is new and interesting for students

Helpful Education Closet Links
This chalk and glue technique can be used for many different arts integration lessons. It is adaptable for your lessons and interests.