How to Create a Tunnel Book for Arts Integration
Looking for an innovative way to introduce foreground, middleground, and background to your students? Want students to be able to create their own stages or settings for written plays? What about bringing Ancient Chinese Landscapes to life by creating a three-dimensional work of art? Sick of dioramas? Try having students create a Tunnel Book! You can check out my Tunnel Book Pinterest Board HERE. The possibilities for arts integration are endless.
What is a Tunnel Book?
As I was wondering around internet, I stumbled upon these amazing works of art called Tunnel Books. I immediately began thinking of ways to utilize them in my art classroom and how they could be used for Arts Integration. Basic folding skills and a few planning tools were all we needed to begin the adventure as a class.
So what is a Tunnel Book? It's made of paper panels that are spaced in a specific way. When a viewer stands in front of the artwork it looks like a complete landscape, scene, or setting. As the viewer moves around, they can look through, above, and below the work of art and see separate worlds within the same piece. They are surprising, innovative, and technically amazing. They are basic to make, but have a big impact when fully constructed. Creating a Tunnel Book is perfect for Arts Integration and can fit into any curriculum seamlessly!
Making the Tunnel Book
I had students think of stories that they had read and liked, lyrics to songs that they could relate to, or poems that they would like to illustrate. They were also given the option of producing a work of art from their imagination.

The expression on the students' faces when we finished constructing their masterpieces was so inspiring! They were so excited to see their two-dimensional works of art come to life! They loved that their artwork could be looked at and looked through.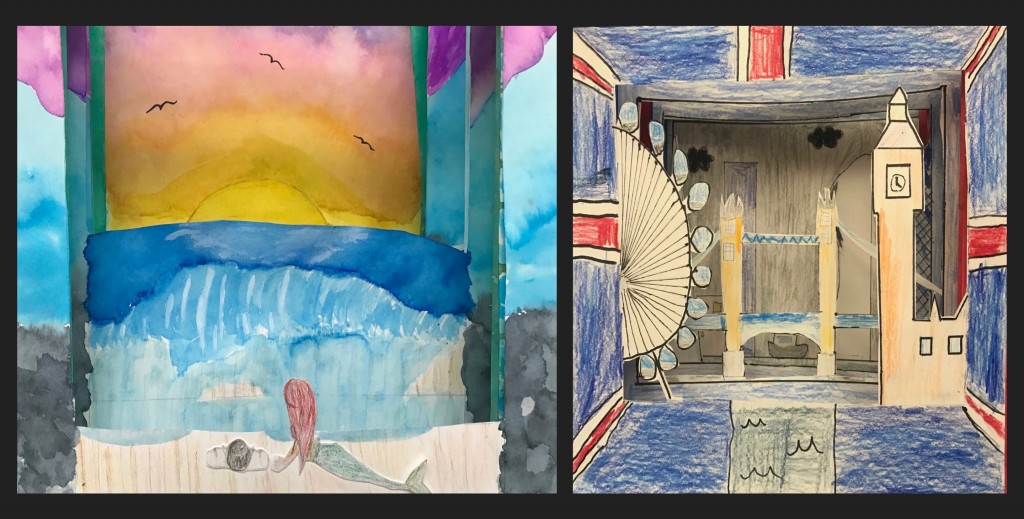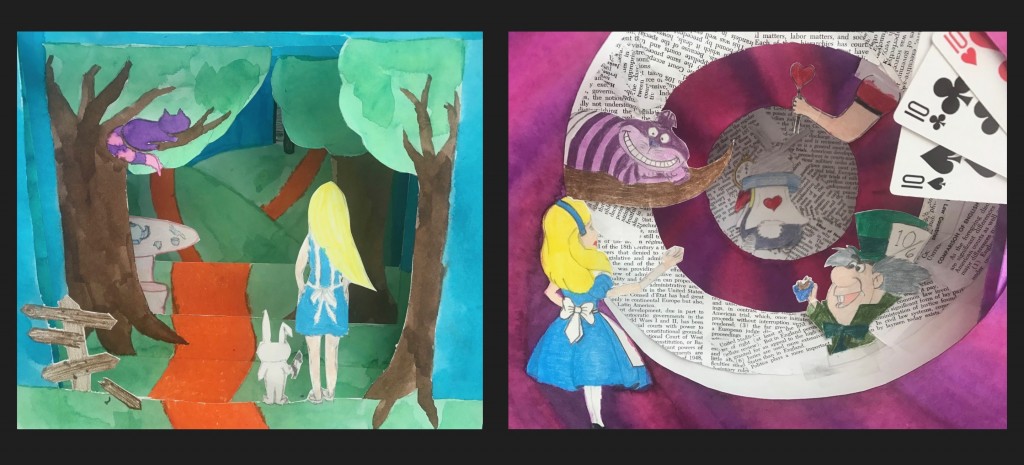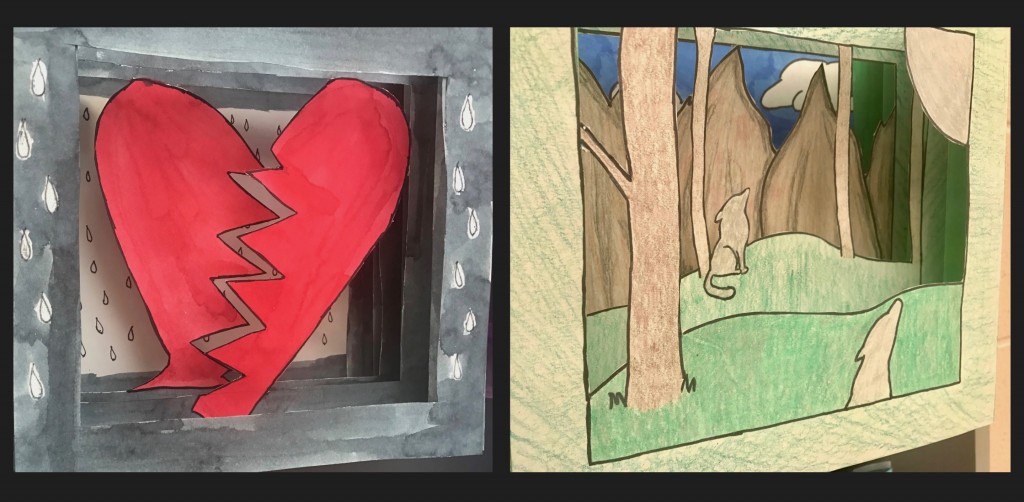 Arts Integration Connections
The basic format for the tunnel book can be applied to any content area! This is one of the reasons why I love them so much! The materials, processes, techniques, and subject matter can be interchanged to fit any need in any classroom. This makes them perfect for Arts Integration. The other thing that I like about them is that they can be simplified for younger students or made extremely intricate for older students.
Visual Arts
Foreground, Middleground, Background: Take these concepts and apply them directly to something students can see and build. We made our tunnel books using four panels: Foreground in the front, then middleground, background, and finally back cover. Each point of interest or focus had to either be positioned on a different side from another panel or be higher on the page than the one before it.
Perspective: When creating paths, or roads, perspective had to be utilized for the layers to match.
Space and Proportion: Subjects in the foreground were to be larger than subjects in the background or on the back cover.
Measuring and Using Artistic Tools: During this lesson, we used rulers, scissors, glue, folding tools, and I helped with an X-acto knife when things became tricky.
ELA Ideas
Student written stories, or interpreting text visually
Story Mash-ups: Alice in Wonderland and Matilda
Illustrations of Poems or Song Lyrics
Written Play and Puppets. Film the plays for an added technology layer to the lesson.
Science and Social Studies
These are perfect for classroom presentations where posters are overused. Students can create their own shadowboxes of sorts to depict ideas in Science and Social Studies.
Science
Body Systems
Solar Systems
Molecular Structures
Cells
Social Studies
Ancient Civilizations
Maps
Historical Biographies
Problem Solving
Thinking Backwards is key for this lesson. We began with a complete sketched picture. What do you want the entire piece to look like when the viewer is looking straight ahead? Then we separated it into four layers. While constructing the final product, students had to assemble their individual works of art to create an entire three-dimensional world.
Tunnel Book Construction Links
Tunnel Books have become a wonderful teaching tool for me! They're inspiring and so versatile! Think about giving them a try in your classroom.