Lauren Hodson | March 2017
Using Maps to Inspire Arts Integration
Maps are fascinating. There is a long history when it comes to maps and their role in our lives. This has changed throughout the years, but they remain an integral tool for how we navigate the world around us. Maps show us where we are, where we want to go, and where we've been.  From Claudius Ptolemy, who drew the first global map, to Google Earth, maps continue to visually represent our surroundings as a human race and now use to inspire arts integration.
Maps are important to study and analyze while providing us with crucial information. They can also provide inspiration for a range of creative arts integration lessons. Mapmaking, or cartography, seamlessly aligns math, social studies, science, and visual art.
Ornamental maps throughout history do not only provide interesting visuals, the images can also tell a coded story, represent characteristics of a region, or highlight historical context.

I recently stumbled upon one of the most fascinating interactive maps depicting drawn sea monsters. Olaus Magnus' 1539 Carta Marina depicts modern sea creatures like lobsters and whales as ominous beasts hiding in the waters. He illustrated these animals from tales told by fishermen and others. Now we visualize these animals differently, but the map found on Slate is a feast for the eyes and imagination. It would be a wonderful hook for a science, geography, or ELA lesson.
Check it out HERE! Zoom in and scroll over the creatures to find out more about them.
Map History Links
Artists That Use Maps
Art Map Lesson Plan Ideas
When I first moved from Ohio to Massachusetts, I was constantly getting lost while navigating the unfamiliar highways. This feeling inspired me to make this work of art titled New Home. It is made with tiles and an old window frame.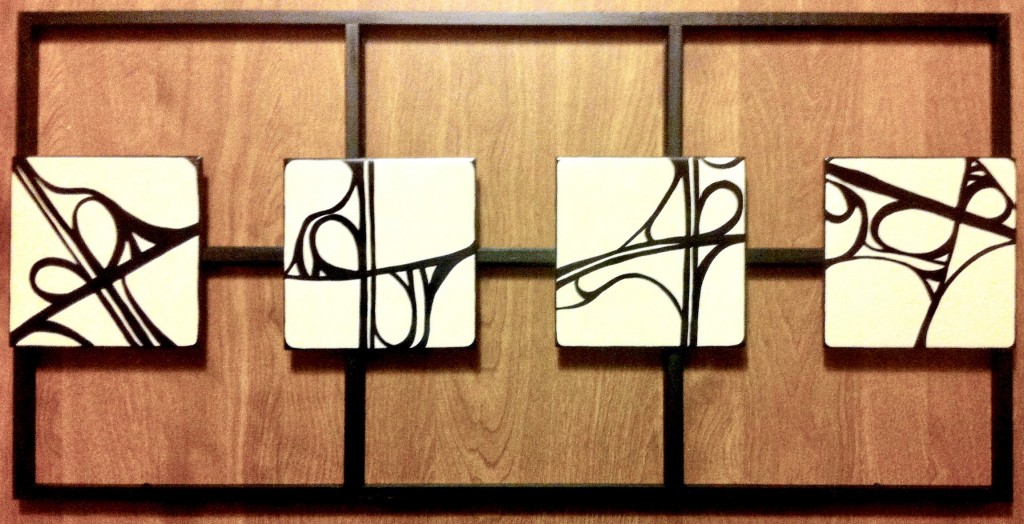 I created this piece using Google Map images of the highways that I traveled every day. By taking away the landmarks and labels, it allowed me to see them in a different way. I saw the lines and shapes the roads created and it made them less terrifying. This could be an interesting way to incorporate community and understanding of local geography in your classroom.
Maps can be a creative access to inspire arts integration lessons. As humans, we have used them for centuries. Knowing where we have been, provides us a window to where we might go.