Lauren Hodson | January 2017
Using Robots to Create Art: Dot and Dash Edition
Lately, I have been thinking about how to integrate technology and visual arts in classroom in a more visual way. The A in STEAM is an equal participant and sometimes it is seen as an afterthought. So I am focusing on ways to create STEAM lessons wherein the artistic product is just as important as the process itself.
I have been playing around with the idea of using robots to create artwork in the classroom.  There are many examples of how machines and technology assist artists in the creation of their masterpieces, so what about using the robot as an artistic tool, like a marker or paintbrush?
In this article, I will discuss our visual arts in classroom adventures with our robots, Dot and Dash, and provide a round-up of links/ideas for creative play.

Visual Arts in Classroom: Dot and Dash by Wonder Workshop
My art classroom recently received 2 very special robots named Dot and Dash from Wonder Workshop. These robots can be controlled and coded using Wonder Workshop's 5 Apps that are free and available for phones and iPads.
We were so excited to open the boxes in class! My middle school students instantly fell in love with them.  When you turn them on, they immediately interact with their surroundings! They speak, dance, sing, act like light swords, move, laugh, and accumulate Robot IQ the more you work with them. Instantly, the students treated them like our class pets or mascots. 
Our ultimate mission was to figure out how to create artwork with them. We focused on Dash because this robot moves and we were able to navigate it. Some of the attachments that helped us in our quest, were the LEGO-compatible connector pieces that come with the robots. We brainstormed on how to attach a marker. How could we use this attachment best? What could we put on it to help Dash hold a marker? What would Dash's artwork even look like? How much could we, as artists, control?
We are in the process of experimenting further, but the next day, a student brought in a LEGO arm/hand from an old set to observe Dash's artistic abilities. A small group of students set out to test this and the results were amazing. Using Wonder Workshop's Blocky coding app and Wonder app, Dash began moving around the paper with a marker in hand. You can see our progress during these Dash and Dot activities in the image below.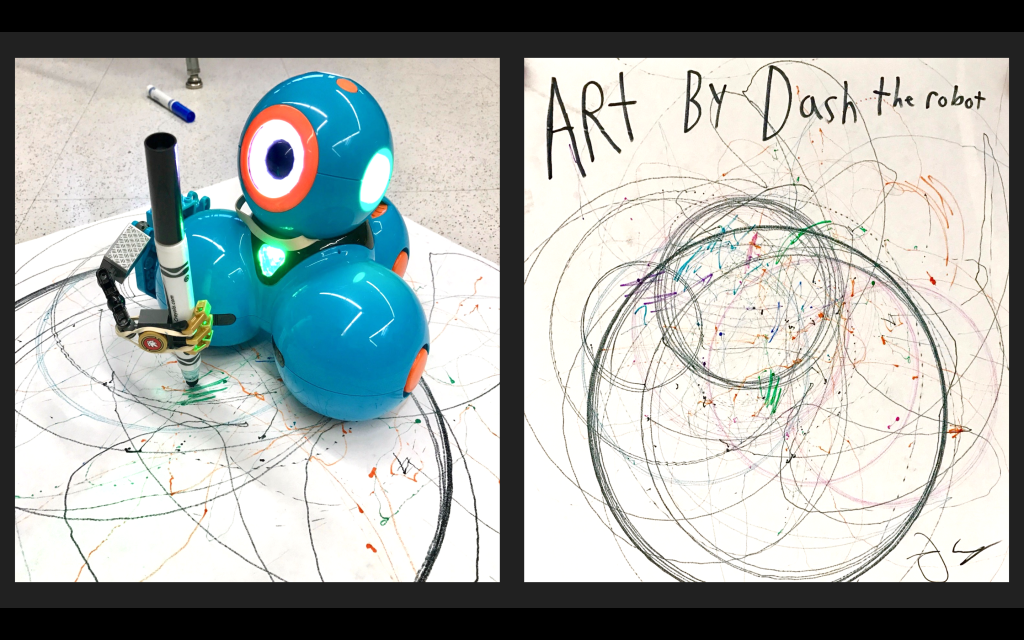 Dot and Dash Project Links
Dot and Dash can also work with Makey Makey. Dash can actually use a Makey Makey to play the drums! Check out this wonderful YouTube video. The "Dash & Dot Show" have many episodes showing the amazing things that these little friends can do!
Here Are Some Other Dash and Dot Activities 
Helpful EducationCloset Links
How can robots be used for Creative Play as Visual Arts in Classroom?