Dyan Branstetter | December 2016
STEAMy Ideas for Integrating Glass Mosaic Art
Math manipulatives are an important tool for an elementary math classroom. They are a crucial component to help students understand math concepts. In addition, students love working with them. In fact, students love them so much that it is recommended that teachers allow students to "play" with the manipulatives to get it out of their system before they have to follow specific directions for using them. I can attest to this- when given the chance, my students will spend an entire indoor recess designing beautiful creations using our pattern blocks like a Glass Mosaic arts ideas.
Last month, my school tried to capitalize on this love of manipulatives by inviting a glass mosaic arts artist, Linda Billet, to work with us for a two-week residency. We traded our child-friendly, durable foam pattern blocks and fraction bars for small pieces of sharp glass! Even many of the students were concerned at first when they heard they had to pick up a glass, however, Mrs. Billet put their minds at ease by demonstrating how to safely handle the materials. (For the record, we finished our project without needing band-aids!)
This year, we are working on cultivating a growth mindset for all of the learners in our building. We decided to use that as the theme of our project while incorporating our thriving teaching garden. Under the direction of a very talented former PTO parent from our school, every student has an opportunity to participate in at least four garden lessons throughout the year. Parent and teacher volunteers help to tend the garden over the summer. At its peak, it boasts beautiful blooming flowers and abundant vegetables that the students harvest in the fall. Our garden really is a symbol of the amazing growth that takes place within our building each year. What a perfect theme for a mosaic for our wall, bringing the beauty of our garden within our school to bloom even when our garden is not.

In a garden, we begin by cultivating the soil. In our classroom, we begin by building relationships. With art, we begin by preparing the canvas. There are so many parallels. An isolated artist in residence experience is great, but to maximize its effectiveness, it is helpful to make connections to what students are learning. When comparing the National Arts Standards with the Next Generation Science Standards and Common Core Standards for Mathematics, there are many standards that naturally overlap, making it easy to integrate this project into our curriculum. In addition, we compared the artistic process with the writing process and the scientific method.
Teachers had the choice to extend their experience with the artist in a lesson or unit within their classroom, or they could point out these connections through teachable moments within the art experience. In addition, Mrs. Billet incorporated our shared academic vocabulary and growth mindset into her time with our students.
In order to make integration as easy as possible for teachers, I created this infographic with all of the lessons and ideas linked or explained. This way, teachers could pick and choose what worked best for their individual grade level or subject area and they wouldn't have to search for materials.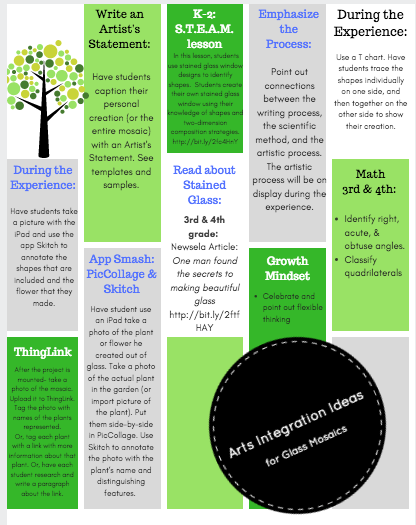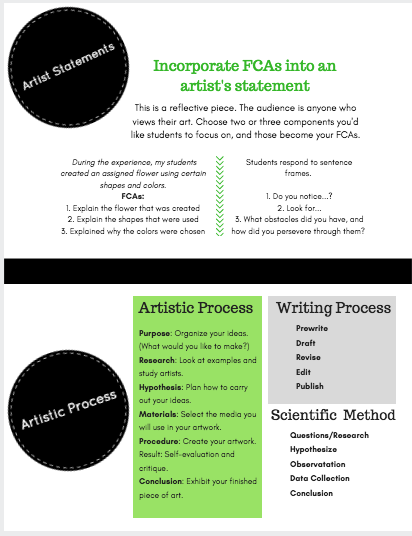 In addition, this video shows our project as it develops from beginning to end, and it also explains how a few of our classes incorporated the glass mosaic arts ideas from the above infographic. While it was not a lengthy project, it encompassed our school's culture, academics, and the arts in a way that was second to none.
Click here for the video: Blooming, Inside and Out