Sheila Garth | November 2016
Social and Emotional Connections through Arts Integration
I started Arts Integration for about a year and a half ago. I quickly "got comfortable with being uncomfortable" as I  stumbled through the details of dance, delighted in the excitement of music, inquired the compositions of visual art, and plunged headfirst into the elements of drama. When beginning this journey, I knew that students would love the process, love to create, love to explore. This was no surprise to me … as humans, we all have emotional connections to one type of art form or another. I also knew that I would love creating innovative, thought-provoking, and interactive lessons. I make sure that there are social and emotional connections.
From my educational background in School Counseling, I also knew that Arts Integration would be an outlet for students who did not want to communicate orally.  Teaching as a special education teacher for nine years prior to becoming a school counselor, I knew that the arts were an effective resource for students with Learning Disabilities, Autism, and ADHD. I felt as though I had predicted all of the positive outcomes of using Arts Integration within the classroom…. I was wrong!
My Surprising Insights
1. If you integrate academic standards along with art and counseling standards, classroom teachers may be more willing to give you more time in their classroom for your lessons.

 
I began my negotiation for a more instructional class time by creating a social studies lesson that had fourth-grade content standards on the topic of the Revolutionary War. The assignment entailed analyzing three paintings depicting scenes from the Revolutionary War. Using Feldman's Model, students discussed and analyzed the historical events and people depicted in the paintings (content standards), the way that color, lines, and symbols were used in the paintings (art standards) and considering multiple perspectives (counseling standards). 

I presented my lesson to the fourth-grade teachers, asking for 15 more minutes of instruction for this specific lesson, and it worked. Since then, I have created more "Trifecta Lessons" for other grade content areas. Seeing that I am invested in their standards, as well as my own, has helped me build more collaborative and positive relationships with my educator colleagues at my school.
2. The students are excited to come to class!
Each time they see me, they inquire about what activity we are going to do next. During my lessons prior to implementing Arts Integration, most of my activities included a social skills book, discussions, and a written reflection page or a group activity that was occasionally arts enhanced.  Although they appreciated the break from "traditional instruction", I do not think they were fully invested in my lessons until they became arts integrated.
3.  I love seeing my vision come to fruition when the students work on the assignments.
I especially love when students give me insights to connections they made, give me feedback on how to make a lesson better, or allow me to see a part of their lives they may not have otherwise shard. Creating arts integrated lessons is truly a growing process for me as a counselor. I am getting better at recognizing the possible social and emotional connections that can come out of the lessons that I create, which allows me to teach practical social and emotional coping strategies to my students. 
4. The way social and emotional connections come to life.
The social and emotional connections and passions that students have when doing an arts integration activity in a social setting (group project), will manifest itself into real life social situations that I will be privy to in the present moment. When students are working together, there is often a hierarchy of roles that manifest itself (who is a leader vs. follower). With arts integration, I see more opportunities to mediate social and emotional connections and conflicts more often than while teaching non-arts integrated group work. More students struggle to relinquish control of parts of the project, get upset if the product is not what they had anticipated or feel left out of activity decisions.
This gives me the opportunity to talk to them while the conflicts are happening, thus helping them problem solve at the moment. Don't get me wrong, more often the outcome is a beautiful synergy of creating and exploring,  and at the end, the students are so excited, so happy with what they have created… you can see the pride on their faces.  These positive social situations create comradery and friendship better than any social skills story can. The reason for the positive and negative emotive reactions is simple to me: their arts-integrated experiences are on the Self Actualization level of Maslow's Hierarchy of Needs.
Making Connections
Maslow- it's a name that every school counselor is well versed in. His Hierarchy of Needs was presented to us in Psych 101 or intro to School Counseling, however, he has had more of a profound impact on my continued journey into Arts Integration than I ever could have imagined. He has allowed me to reflect on the application of my lessons in relation to the cognitive, psychological, and emotional needs of my students. 
If we evaluate our roles as supporting emotional, and physical health in education (school counselors and social workers), social workers primarily focus on basic and safety needs of students, making sure that they are fed and in a safe environment.
School counselors focus primarily on social and esteem needs, helping students communicate and problem solve in a social and emotional connection context. But what about self-actualization?  How often are we as counselors able to put students in positions to really practice the social skills we teach them? How often do we allow students to create and problem solve to the point that they are not only intellectually engaged but also emotionally engaged? 
Prior to using arts integration in my own lessons: rarely. Now, I am an inspired teacher again. I love the fact that I myself can reach the top (self-actualization) on Maslow's hierarchy of needs by fulfilling my own need of being content, creative, and engaged when making innovative, fun, and interactive lessons that I get to share with my students.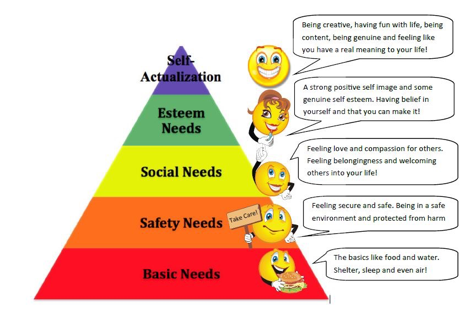 The Products of the Process (Created Lessons)
Third Grade Active Listening
Students learned about Alexander Calder, a famous artist. His art consists of mainly primary colors and shapes. Students worked on active listening to recreate one of his works. Visual aids were provided for differentiation as needed.
Second Grade Feelings
Students were given a list of fifteen feeling words at each table and they individually had to look at visual images (photographs, paintings, drawings, etc) and decide how the person/people/ animal in the images was feeling. They used clothespins to select the feelings they felt were being expressed in the image. Using Visual Thinking Strategies (VTS), we had discussions about why they thought the image projected a specific emotion.
Conclusion
Arts integration can make an impact in so many ways, but one of the less-explored options is with social and emotional connections.  It's my hope that these examples will help to spark your own ideas for ways to connect with students at a deeper level.  It is becoming more and more important to find ways to ensure that our students feel valued and safe to express their ideas.  Arts integration can be a great pathway for this kind of learning!