Dyan Branstetter | September 2016
ABCs of Classroom Management
Strong classroom management tools are essential to helping students succeed. We could be outstanding at crafting high-quality lessons, units, and projects, but if we don't have a structured way of managing our students, they won't reap the benefits of our planning. This is a huge topic, as it spans the way we organize routines and procedures in our classroom to how we handle behavioral challenges with a whole group or individuals. The goal of education is for students to learn. Great classroom management combined with quality curriculum, materials, and planning fosters an environment where students can reach their potential.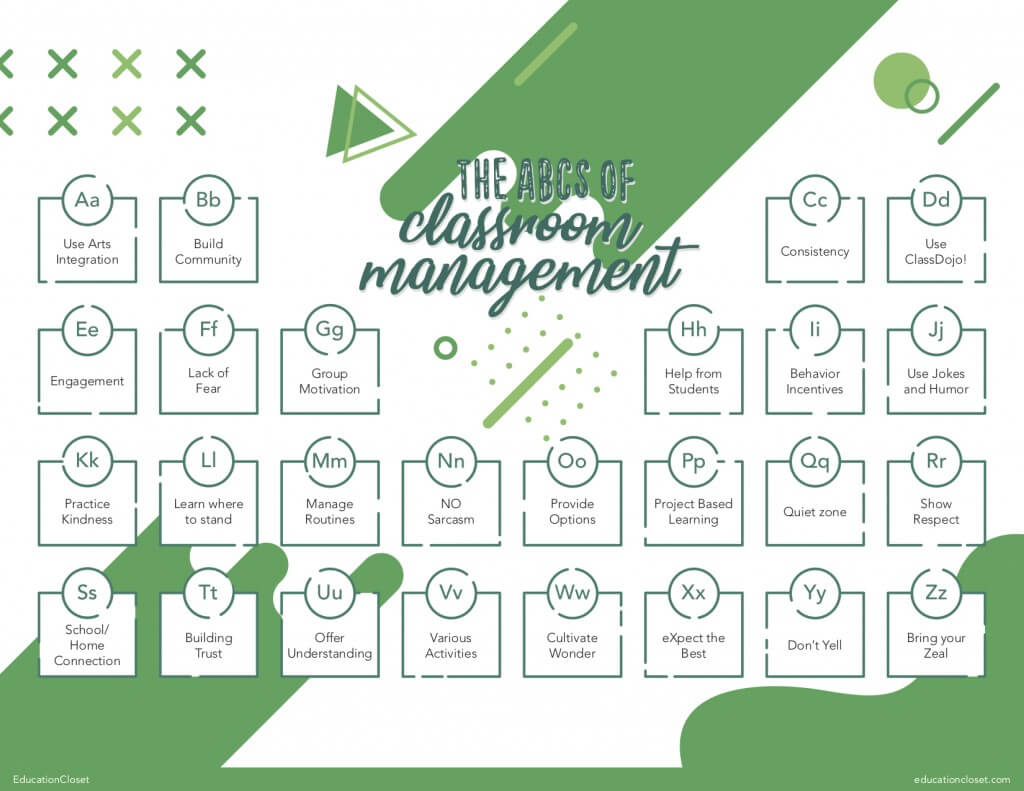 My ABCs of Classroom Management
A: Arts Integration
How can this not be the first?! Arts Integrated lessons and projects engage students and use both sides of the brain. When students are engaged with a purpose for learning, problem behaviors from students are sometimes eliminated.
B: Build Community
Students who feel like they belong are more likely to come to school and are more willing to participate. It is important to build a culture in the classroom that celebrates and accepts all students. This attitude starts with the teacher, and if expected as a non-negotiable, will be transferred to the students.
C: Consistency
This is one of their first things we learn when it comes to behavior management. Consistency with an individual student or whole group behaviors is essential. If we accept a behavior one time and give a consequence for another, students will recognize the inconsistency and won't follow rules consistently.
D: ClassDojo
ClassDojo is a very useful tool in any elementary level classroom management. It is a great way to track positive and negative behaviors, teach a growth mindset, and communicate with parents.
E: Engagement
If students aren't engaged and excited about learning, they will not be learning. They will demonstrate off-task behaviors or compliantly sit quietly and be bored. Creating lessons and projects that engage students will eliminate behavioral problems that stem from boredom. There is a big difference between engagement and compliance.
F: Lack of Fear
Fear should NEVER be a motivator in the classroom. We want students to learn and grow from noticing their achievements and feeling that success. If we instill fear, students will only be performing so they don't get a punishment. In addition, students' brains shut down when they are stressed due to fear, inhibiting learning. This is the opposite of our goal as teachers.
G: Group Motivation
Students are motivated by peer pressure, so use positive peer pressure to your advantage. Determine whom your unofficial student leaders are, and work with them. If you can get your leaders on board, your work in motivating the rest of the class is nearly finished.
H: Help From Students
Give students ownership of your classroom management. Teach them how to manage daily materials and routines, and then turn the responsibility over to them. Not only will they feel needed (see Building community), but eventually some parts of your day can run without your assistance.
I: School-wide Behavior Incentive
A simple Incentive that is consistent throughout your school goes a long way. Here's an example: Our mascot is a Bobcat. We have small slips of paper with paw prints printed on them. If we see a student doing something that is part of our Bobcat 5 (respect, responsibility, kindness, excellence, cooperation we hand them a paw print. Students place their name on the paw print and drop it in a mailbox in our office. Once a month, our principal pulls names for prizes. At the end of the year, all of the paw prints go back in for a drawing. Our grand prize is a ride home on our local fire truck. The whole student body watches the fire trucks pull away while we cheer for the winners. The concept is relatively simple but very effective due to its consistency across adults in the building.
J: Jokes
Make sure to add humor to your day! Happy students are more likely to listen and buy into your ideas.
K: Kindness
This almost goes without saying. We need to show kindness to our students. Fair is not always equal, and it is ok to bend the rules for special circumstances. We need to know our students well to recognize when something is not quite right in their life, and we need to respond in a way that is right for that student. It does not mean lowering expectations, but instead, relaxing them if necessary for a situation. If we know our students well, we will be able to tell if they are trying to avoid work or if they are truly in need.
L: Learn Where to Position Yourself While Teaching
If you notice that a certain student is not listening to directions, move towards that student and stand next to or behind him or her while you explain. If you sense a number of students have tuned-out the directions, have a few students repeat the directions out loud for the class to hear. Sometimes a different voice helps. If students are working in small groups, hover near students who could be potential behavior concerns.
M: Management of Routines
Managing, organizing, and structuring routines is a huge part of making sure activities and lessons flow well. Before implementing the activity, visualize it happening so that you can make sure not to forget anything. After implementing, reflect and make notes about anything that didn't go smoothly. Adjust for the future. Once it works, don't make frequent changes so that students can fall into the routine.
N: No Sarcasm
Sarcasm is a huge roadblock to building trust and relationships with students. It builds fear, and it is not respectful. Don't use it.
O: Options
Students who are given choices drive their own learning. If students are engaged, they are learning.
P: Project-Based Learning
If you're having trouble engaging students, explore the idea of Project Based Learning and implement it. While it is a whole different ball game when it comes to management, students are less likely to have behavior eruptions because they are busy learning. P is also for Purpose: Whenever you assign work, make sure it has a purpose. Students will quickly become jaded or bored if they are assigned busy work, work that is not on their level (high or low), or work that is unnecessary. This will allow behavior problems to crop up.
Q: Quiet
Quiet is not necessary for learning. Some of the best learning occurs when the classroom is noisy and students are working together collaboratively. Sometimes, though, it is imperative so that students can concentrate. To help establish a silent work zone, use a timer for silent time, or a fun app that can visualize the silent success of students.
R: Respect
Show your students the respect that you would like them to reciprocate. This is imperative for successful classroom management. Demand that respects in a gentle way, but makes sure that it is expected. One way to build respect, in addition to getting to know your students' interests is to let them know that your goal is to plan activities and projects are meaningful and engaging.
S: School/Home Connection
Communicate with students' families. A lot. Get to know them, send frequent and specific emails or notes about individuals, and let families know how well you know their child. When parents know that you are on the same team with the same goal (striving to help their child reach his or her potential), you will have greater success in class with that student. If you are communicating about a behavior problem, don't vent about it to parents. They are probably not sure how to handle it either, which is why the behavior is occurring in your classroom. Instead, share the facts of what is occurring, and what your next steps are. If you are not sure of next steps, share who you will be consulting with for ideas to help the situation.
T: Trust
Before students will perform and take learning risks for you, they need to trust that it is a safe environment. Build a classroom management culture that celebrates mistakes and learns from them. Let students know that while your expectations are high, you believe in them and are rooting for them to succeed.
U: Understanding
We need to work to understand ALL of our students and how to best reach their needs, whether academically, emotionally, or socially. This seems like a daunting task, but students know when we are doing our best to do this, and they will respect it.
V: Various Activities for Early Finishers
It is important to have connected, aligned activities plans for times when students finish early. Students who are bored (i.e. not engaged in meaningful, purposeful assignments) will get off task quickly. If you build this into your routine, students will always have something to do to keep their brain busy and learning.
W: Wonder
Capture the sense of Wonder that is within our elementary students and a little more covered up in our middle and high school students. Inquiry-based learning is a fantastic way to do this. This type of learning maximizes engagement and eliminates behaviors that stem from boredom.
X: EXpect the best
Don't accept anything less than your students' potential. Know their individual academic level, and design lessons and assignments that meet those needs. If work is way too challenging, students will shut down or exhibit behavioral challenges. If work is way too easy, students may exhibit behavior problems due to boredom.
Y: Yell
Don't do it. If you are upset with a student, talk with them in private. If you lose your temper, you haven't helped to solve the problem and you may have made it worse. If you are upset with your whole class, get their attention without yelling.
Z: Zeal
Make sure to present your enthusiasm for your curriculum, projects, and lessons. A positive attitude goes a long way, and students almost always adopt your attitude. If you don't like what/how you're teaching, students will know and they won't like it either. Explore new ideas, take a workshop or class, and gain some new strategies to bring the fun back to learning! Arts Integration and STEAM are great ways to bring engagement, joy, and creativity back to your classroom management for students AND teachers. Check out Education Closet's quality professional development opportunities!