Rich Stachon | August 2016
Educator Interview: Corinne O. Takara
Corinne O. Takara is an artist and arts educator in the Bay Area. Her use of technology in the arts is what initially drew my attention. Following her on Twitter, @CorinneTakara, I was intrigued by her recent posts about an art and design thinking camp. Wanting to learn more, I decided to ask her a few questions about it in an Educator Interview.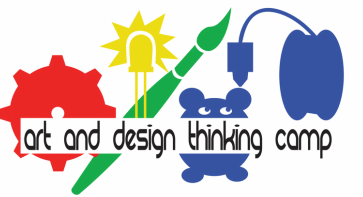 Educator Interview: Talk about your summer camps. What grade levels participated? What do students learn? How long did the camp run for?
Corinne O. Takara: The Alum Rock Art & Design Thinking camp is a six week adventure in making and designing for incoming sixth graders through existing eighth graders in Alum Rock, San Jose, California: http://artanddesigncamp.weebly.com/  Each weeks has a different focus. This summer our camp weeks were: Design Your World, Art and the Environment, Fantasy Character Design, Adventures with Arduino, Storytelling with Circuits, and Game Design. Campers had the option to participate on all six weeks or pick and chose weeks they wished to participate in. In our camp, students learn how to approach open ended design questions, develop a project workflow, and gain maker skills. They can earn skills badges in the camp each week. We also focus on collaboration skills and the importance of documenting the process.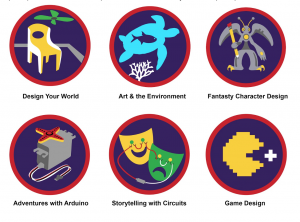 Each week has an unique Maker Journal that camper sketch in and write in to capture their ideas. Many of the project journeys incorporate technology and circuitry. I envisioned this camp in 2012 as I wished to have a place for Alum Rock students to come and explore design projects over an extended period of time. In the summer of 2013, I brought the camp to life in collaboration with Kim Mesa of the Alum Rock Educational Foundation. It was a one week summer camp in 2013 and, since then, it has expanded to a six week summer camp with multiple instructors from various design, engineering, and art disciplines.
Educator Interview: How do these summer camps differ from your school year classes?
Corinne O. Takara: In our summer camp programming we have the opportunity to celebrate process as much as the product. We have the luxury of more time to focus on projects. In addition, we have the space to store work in progress that is often not available during the school year. In an area of San Jose that often feels separated from the rest of Silicon Valley, we are challenging our program to explore how might we create a learning environment that inspires youth to view themselves as problem solvers, innovators and confident explorers of technology.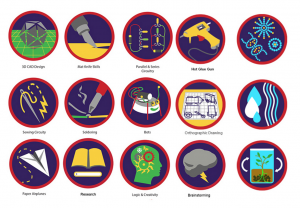 How might we design a program that invites students in underserved areas to see themselves as creative makers with valuable voices to add to innovation conversations? We have learned that campers will seriously delve into open-ended journeys that draw upon their imagination and expertise in their communities and cultures. We have learned that when we foster teamwork in a non-competitive atmosphere, a sense of belonging and friendship builds. Campers then feel that the makerspace belongs to them and they are more willing to take risks and explore. When the process is the focus, campers learn that mistakes are neither to be celebrated nor ignored, but rather, are important moments to document and to pivot from.
Educator Interview: How would you define/describe STEAM?
Corinne O. Takara: I would define a successful STEAM project as one that leverages students' existing knowledge and interests and pushes them to explore beyond those as they create solutions that integrate a range of Maker disciplines. In our camp we strive to expand on what students are learning in the classroom, highlighting the synergy among the sciences, art, math, technology and engineering. Our program challenges students to be creators and drivers of culture rather than passive consumers, and hopefully empowers them to know that, through education and collaboration, they can have a voice in their local community and beyond. By providing an enriching summer experience, we hope to send students back to school as confident learners and passionate explorers.
Educator Interview: Discuss the use of challenges. What challenges have your students entered? How do these challenges motivate student learning?
Corinne O. Takara: I believe design challenges can inspire students to iterate design solutions, have perseverance, and to develop workflow processes. Knowing that an expert beyond the classroom walls will see your work, and possibly critique it is a great motivator. I also believe challenges can be meaningful personal journeys that can connect students with communities and professions they had never considered being a part of previously. This summer, our AREF campers worked in teams to design low resolution prototypes of Mars Habitats. They Skyped with, and received written feedback from an actual engineering team that has worked on designing possible Mars habitats.
Girls in my middle school 3D printing club have participated in every Future Engineer Design Challenge that has launched since 2014. These challenges invite K-12 students to design 3D print design solutions for space exploration and for life aboard the International Space Station. Researching what life is like aboard the ISS has excited the girls about science and engineering, and has enabled them to envision themselves as astronauts.
Students in both my teen 3D printing club and in my middle school girl 3D printing club have participated in the Stratasys Extreme Redesign 3D Printing Challenge. This is a great international challenge for youth that has multiple strands and a different theme each year. By entering these challenges, youth can feel a part of a larger global community pushing the bounds of innovation.
Educator Interview: Discuss/describe any other information you would like to share about your teaching practice, and use of technology in your classroom.
Corinne O. Takara: Engaging students in maker journeys that are relevant to their communities is important. It is equally important to put technology in service of the journeys rather than the other way around. Last year I wrote an article for EdSurge about this topic. As the school year begins, I am planning projects that draw out the personal expertise of students: What is your super hero power as a maker and collaborator? How can you reflect that in a light-up super hero mask? How would you design a 3D print Dia de los Muertos calavera to honor someone special to you who has passed? How might you design a micro park in your community? What community needs would you address in it?
Thank you so much to Corinne for taking the time to share these ideas and perspectives.  I hope it has inspired you as much as it has me in getting excited for the new school year!
Keep Making,
Rich Stachon