Susan Riley | July 2016
How to Build in Time for Play Everyday
Want to live a longer, richer life? Build in time for play.
Sometimes, we treat play like it's a "nice-to-have" or even as a waste of time (cringe).  But science actually tells us (Panksepp, 280-297) that play is crucial for longevity, creativity, and critical thinking.
How does build in time work?  The play is a natural antidote to stress.  Studies have shown that when people engage in play – specifically using the arts – the effect on stress levels is almost immediate.  Think about it: when you sit down to sketch, make music or even take a dance break, don't you feel better?  Doesn't your mind feel more clear?
Of course!  And the arts are a great foundation for play.  Yes – the arts can and should also be studied and practiced and lived – but we can also intersect with the arts for the fundamental JOY that they bring.  And this joy is the purest form of play.  Play isn't a thing we have to fit into our day or our classrooms.  It's one of the most basic ways that we all learn and grow.  When learning is active, engaging, and yes – even a little less structured – it can create powerful opportunities for understanding and build natural connections.

So my challenge for all of us is to make space in our life for 10 minutes of play every day.  For no other purpose than the joy, creativity, imagination and breathing room it brings.
Need a few ideas for ways to play?
Try the handy checklist below (which you can download here) for some starters and add your own along the way.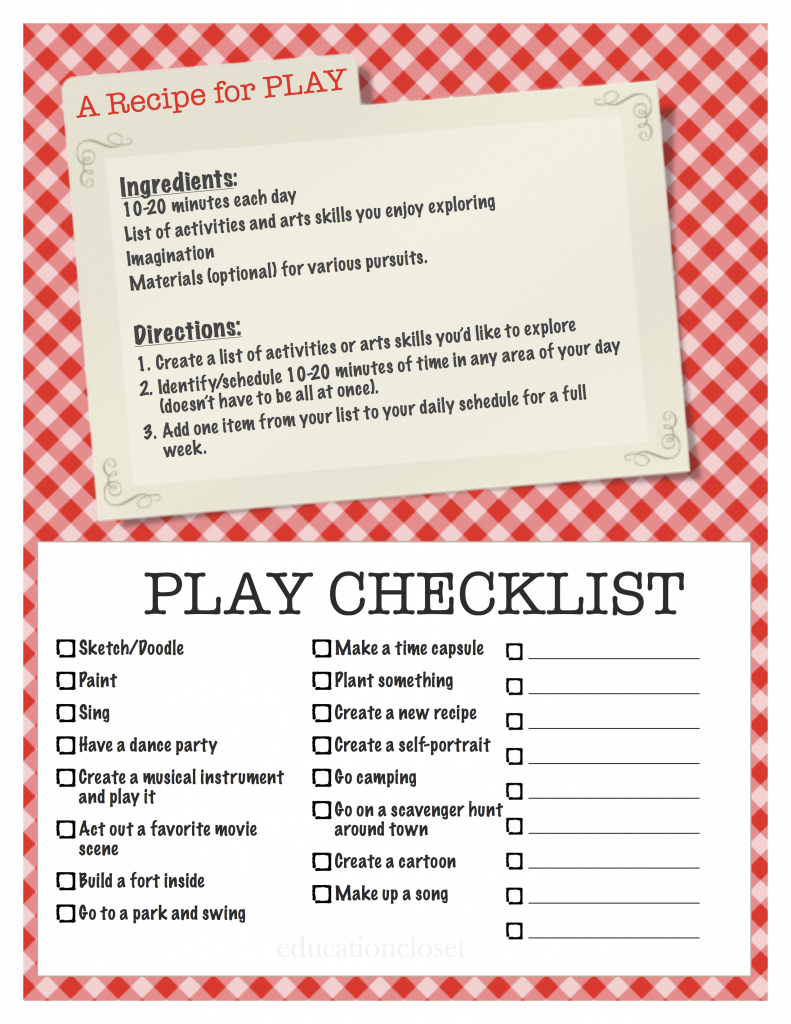 Who knows where your play may lead?  New ideas for your classroom or students, a more restful night's sleep, or even finding your inner artist (again) are all possibilities.  Enjoy every moment and build in time!