Susan Riley | February 2016
6 Steps to Creating a STEAM Classroom
One of the most common questions I'm asked is how to create a STEAM classroom and break down the process. Putting together a single STEAM lesson is one thing, but trying to use the approach with consistency and integrity can be a challenge.  After all, STEAM isn't just about 3-D printing and Lego Labs.  It's an intentional connection between naturally aligned STEM and Arts Standards.
So you can use the approach in ANY STEAM classroom, but the question remains…how?
There are actually 6 steps to creating a STEAM-Centered classroom, no matter what area you teach.  In each step, you're working through both the content and the arts standards to address a central problem or essential question.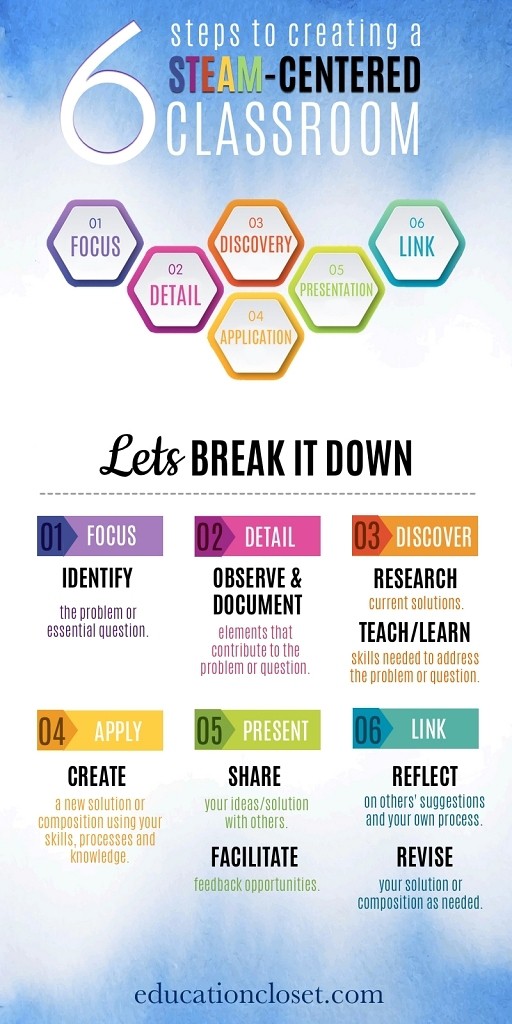 What's great about this process is that you can as easily use it to help plan for a lesson as you can to facilitate the actual learning process in your STEAM classroom.  Let's take a look at each step.
1. FOCUS
In this step, we're selecting an essential question to answer or problem to solve.  It's important to have a clear focus on both how this question or problem relates to the STEM and the Arts content areas you've chosen.
2. DETAIL
During the detail phase, you're looking for the elements that are contributing to the problem or question.  When you're observing the correlations to other areas or why the problem exists, you begin to unearth a lot of key background information, skills or processes that students already have to address the question.
3. DISCOVERY
Discovery is all about active research and intentional teaching.  In this step, students are researching current solutions, as well as what ISN'T working based on the solutions that already exist.  As a teacher, you can use this stage to both analyze the gaps your students may have in a skill or process and to teach those skills or processes explicitly.
4. APPLICATION
This is where the fun happens!  After students have dived deep into a problem or question and have analyzed current solutions as well as what still needs addressed, they can begin to create their own solution or composition to the problem.  This is where they use the skills, processes and knowledge that were taught in the discovery stage and put them to work.
5. PRESENTATION
Once students have created their solution or composition, it's time to share it.  It's important that the work is presented for feedback and as a way for expression based on a student's own perspective surrounding the question or problem at hand.  This is also an important opportunity to facilitate feedback and help students learn how to give and receive input.
6. LINK
This step is what closes the loop.  Students have a chance to reflect on the feedback that was shared and on their own process and skills.  Based on that reflection, students are able to revise their work as needed and to produce an even better solution.
Designed to STEAM Online Course
While this process looks surprisingly simple, there are a lot of moving pieces happening.  That's why I'm excited to announce that we've developed a brand new online course called Designed to STEAM to help you work through all of these elements.  The course is completely self-paced and online, and once you enroll you have lifetime access to all of the videos, handouts, and templates along with 10 PD hours.
We left no rock unturned in this course when it comes to STEAM.  There are 12 lessons which cover everything from lesson planning to implementation to assessment models for STEAM and each lesson includes the same templates we use with schools all around the country.
What STEAM is and how to use it in your STEAM classroom effectively
How to design your own STEAM lesson plans and assessments
The TOOLS and STEPS to creating a Makerspace without a big budget or lots of time
The exact roadmap you need to secure funding and gain support
And there's no need to wait!  As soon as you enroll, you'll receive a unique access link and can begin to download your templates, lessons, assessments and videos immediately.  This is one of our most comprehensive and exciting online classes for teachers who are interested in the STEAM approach.  We CAN move from STEM to STEAM…let's do it together!