Susan Riley | January 2016
Episode 39: Streamline all your STUFF
How many of you feel like you are constantly overwhelmed by STUFF?
From papers that come home, to items on our desks to overflowing inboxes, we are inundated with more details than ever before.  I don't know about you, but it is starting to make me feel so paralyzed that I don't even know where to start.
In today's episode, we tackle this beast and finally try to get organized and streamline all your STUFF for 2016.  So, i'm sharing with you the tools I've been using to help get my life and teaching under control.  Best of all, most are free (or very little cost).

So let's start reclaiming our lives and taming the stuff, shall we?  It's time for a cleaner, clearer start!
FREE RESOURCE
Today's free resource is my Pearltrees tutorial.  As I share today, Pearltrees.com has been a lifesaver for me and this checklist walks you through just how easy it can be to organize your entire digital footprint in one spot.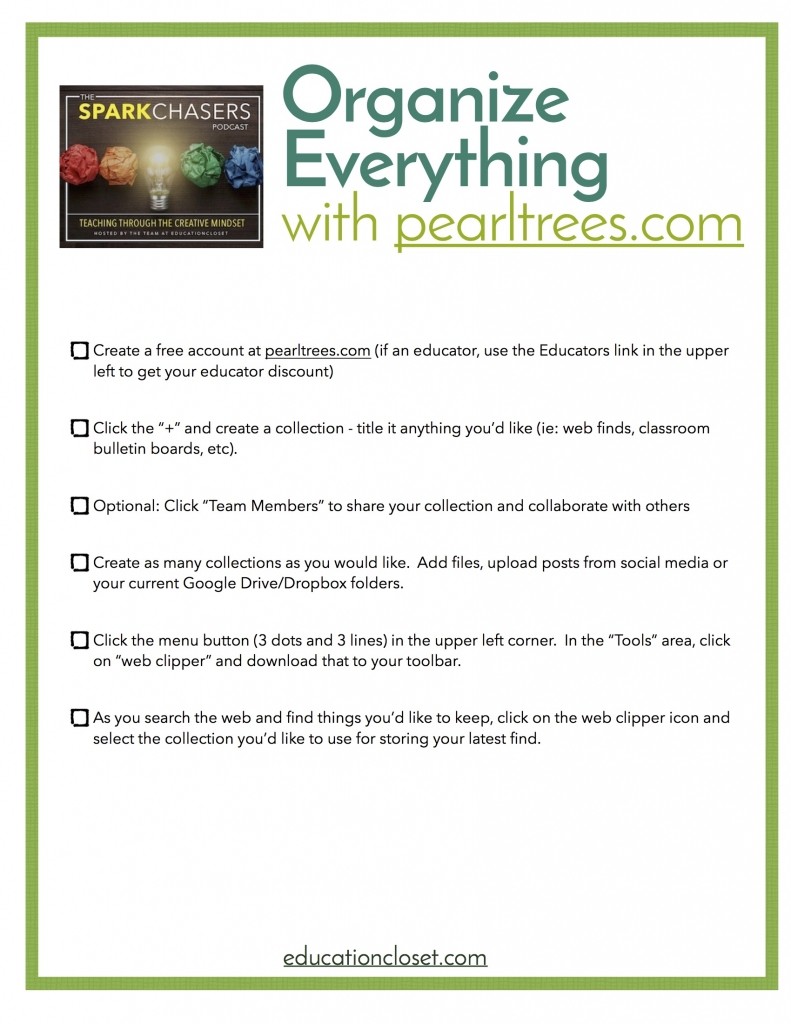 What tools do YOU use to stay organized and steamline all your STUFF?  Let us know in the comments below! 
SHOW NOTES
SPARKCHASERS EPISODE RESOURCES
SPARKCHASERS PODCAST: A WINNING LESSON EVERY TIME
SPARKCHASERS PODCAST: CONNECTING TO YOUR CREATIVE GENIUS
SPARKCHASERS PODCAST: SCARED OF YOUR REFLECTION?
SPARKCHASERS PODCAST: EVALUATING THE CREATIVE PROCESS
SPARKCHASERS PODCAST: WHY PRESENTATION IS THE KEY TO A SUCCESSFUL CREATIVE EXPERIENCE