Susan Riley | January 2016
Episode 38: Hitting the Reset Button
It's the new year and that means New Year's Resolutions, right?  Well, in between the typical "lose 10 pounds by March" and "get more sleep" (hahaha), did you make any resolutions for your classroom in 2016?  Lots of people put this off until August, but there's no need.  You can use the turn of the calendar year to set up a fantastic second half of the school year by simply hitting the reset button.
In today's episode, I'm walking you through my restart planner guide.  This template (which you can download for free below) helps us to consider all of the components in our classroom and how they work together to create the optimal learning environment for our students.  You'll find everything from classroom management, to points for integration, to transitions in this planner.  And what's great is that you can choose what you want to leave alone (because it's working so darn well) and what you'd like to change up for the remainder of the school year.
This time of year is a wonderful opportunity to either use what you know about your class to improve their experiences with you or to have a fresh start with a new group of students for the 2nd semester.  Whichever option best fits you and your needs, I hope today's episode inspires you to plan forward for the start of 2016!

FREE RESOURCE FOR EPISODE 38: Hitting the Reset Button
Today's free resource is the Restart Planner Guide.  In the download, I've included a template, as well as an example so you have a good idea for where to start.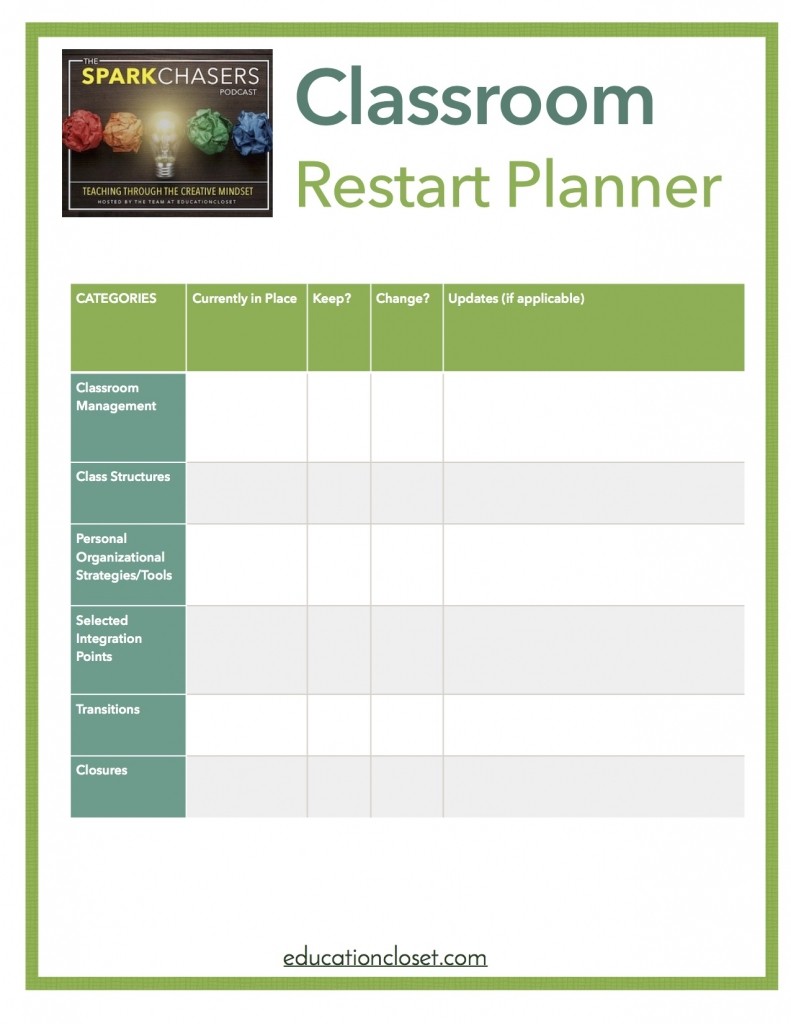 What's one thing you're planning to change in your classroom as we kickoff the new year? Let us know in the comments below! 
SHOW NOTES