Dyan Branstetter | December 2015
Sugar Plums, Soldiers, and Snowflakes, Oh My!
It's December!
I had to laugh when I read a meme that said, "December Lesson Plans 1. Scrape Children off Ceiling. 2. Repeat as necessary." How true! I teach third grade, and the excitement that surrounds the holidays is palpable. Luckily, I found the key to thriving during this month that many teachers simply endure: The Nutcracker. This project, while admittedly a huge undertaking, is consistently one of the most engaging units of the year. It never fails to increase the students' motivation and desire for excellence.
I've seen the Nutcracker more times that I can count. I know the music in my sleep, and there was definitely a point in my life where I was Nutcrackered-out. When I started teaching at my current school, we were fortunate to have an extraordinary artist-in-residence, and she modified the Nutcracker ballet for all of the third-grade students. She presented a little bit of background information on the ballet and taught each class some very modified choreography; the stude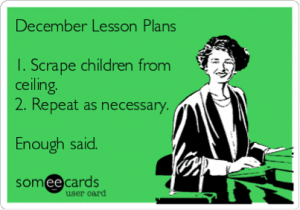 nts just had to show up and perform. It was fun to see the students dancing and recognizing this music that had become so old-hat to me. Unfortunately, our artist in residence's position was eliminated when major budget cuts came our way.
So What Did We Do?
Well, that same year, my grade level began flexibly grouping for Language Arts, which meant I had the exciting task of teaching enrichment readers for a large part of the day. This group needed something they could sink their teeth into, something that would challenge them while engaging them. I had ideas for how I could extend our artist's version of the Nutcracker to make it an arts-integrated, project-based unit. Whether or not I could pull it off all by myself was what worried me most.

I mentioned the idea to my students, and they were on board before I even finished describing my ideas. However, the catch was this: if we couldn't prepare everything in the time allotted, we would have no performance. This was quite motivating for the students, as they were very excited about the prospect of hosting a school-wide assembly. Not only that, but I was taking a huge professional risk.  I knew that my students were expected to perform on our state tests at an advanced level. If I took time off from the traditional approach, and they scored in the proficient range, I wouldn't be able to try something like this again.
But we took the plunge.
I knew I had to prove that academic rigor was threaded throughout every aspect of our project. Not only because of the high stakes, but because of the stigma (that could very well just be in my head) that the arts are fluff.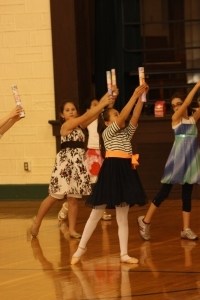 Since we were putting on a performance, I decided that we would include details of our unit in the program that would be given to audience members. Without a curricular connection, rehearsing dance during Language Arts is most definitely frowned upon. Previous teachers expressed concern with the original artist in residence's version, because it didn't have enough of a connection, even though students were telling a story through dance.
For the ELA work of our project, students were challenged with writing the informational portion of the program. Students were given the option to research P.I. Tchaikovsky (composer), E.T.A. Hoffman (Original author of The Nutcracker and the Mouse King), Nutcrackers, or The History of the Nutcracker Ballet. Here, we were working towards many ELA standards while gaining background information to help with the story we were wanted to tell. Moreover, we added meaning to the choreography we were learning. Also, the teams of students were responsible for publishing information about their topic in the program.
What's Next?
I wanted students to know that there are many different versions of the Nutcracker Ballet and the Nutcracker story. A number of students had already discovered this through their research. To compare versions,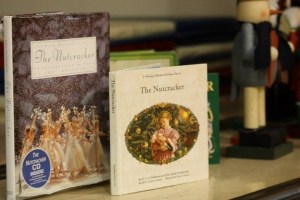 I collected as many books titled The Nutcracker as I could possibly find, from the Dollar Store version to the original; I found versions from multiple libraries, garage sales, and used bookstores, adding up to 22 currently in my collection. Students chose the version they were interested in reading, and after completing the book, they filled in a story map of their version, practicing a skill we had previously learned. Then, each student paired with a peer who had read a different book. Using a Top Hat graphic organizer (similar to a Venn Diagram, but more organized), students compared and contrasted their stories. They used their completed story map to guide them and cited evidence from their book to prove their similarities and differences.
As students were comparing and dissecting their versions, a number of them began to critique the books. We decided to create a tool to judge the books, rather than just chat about them subjectively. The description of the rubric creation and the student-created rubric can be found here: https://artsintegration.com/2015/10/13/involving-students-assessment-creation/. It was so interesting to observe their insightful conversations and hear how critical they were about the authors' descriptions, character development, or plot.
How Did It Turn Out?
As the project developed, I intermixed choreography sessions with research and writing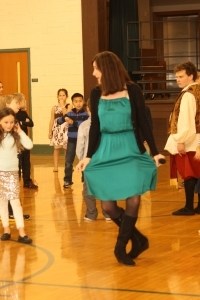 sessions during our Language Arts block. Students learned just enough choreography to put together the story of the Nutcracker. For Act II, The Land of the Sweets, I invited some dancers from a local studio to share their talents and perform some "real" ballet. This would give the students an opportunity to witness live dancing, which was a great reward after all of the preparation they had done. For the parts that we didn't perform, students wrote a narration to help the audience connect the storyline. Students took turns reading, which gave them an extra opportunity to practice their reading fluency. We finished in just enough time for one full dress rehearsal before the final performa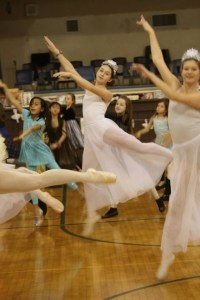 nce.
Although I wasn't sure this project could realistically happen, in the long run, it turned out better than I could have imagined. I'm certain that this was due to the students' engagement. They propelled the project forward with guidance from me. And boy, did December go by quickly.
Next week, I will share resources that accompany this project, as well as tips for how to implement it in your school.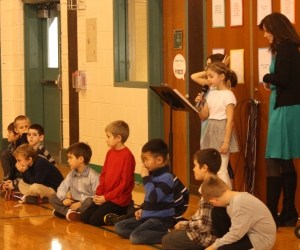 Photography by Michelle Shirk