Dyan Branstetter | November 2015
Using Artists' Statements for Assessment
As much as I like to plan ahead, I am never one to shy away from adding a component to my lessons or units to make them better, even if it means a bit of last minute scrambling. Last year, I was in the middle of an arts integrated project where my students were working on collages to connect to a piece of literature. With 26 students and 26 different projects, it was hard to tell which students had created something that was well thought out and meaningful, and which students had just gone through the motions.
I was chatting about this with our art teacher and she mentioned using and artist statement and assessment tool. After our conversation, I set out to find some templates and examples, and the next day (after some explanation) I added it as part of our project requirement.
Of course, when trying something for the first time, the results are not always what I had hoped for. Even after modeling an artist's statement and assessment tool and discussing what its purpose was, students were still turning in basic statements such as, "I am happy with my collage because it has a lot of blue. I had trouble because we ran out of blue paint." Reflecting on this, I knew I needed to share my expectations in another way.

Example/Non-Example Strategy
The following day, I used the tried and true "example/non-example" strategy to help students rise to my expectations. I found a number of sample artist statements and assessment tool online and sorted them into good examples and poor examples. I always get giggles from the poor examples, but it is effective because the students don't want us to giggle if they match up with one of them.
This also gives us an extra chance to work on written expression. I now feel much more comfortable assessing my students' art, because I have a clearer idea of their intentions and whether or not they were working towards our goal.
See below for the contents of my worksheet and examples for writing artist statements and assessment tool. Click here to find a properly formatted, printable version: Artist Statements
Samples were modified from this website.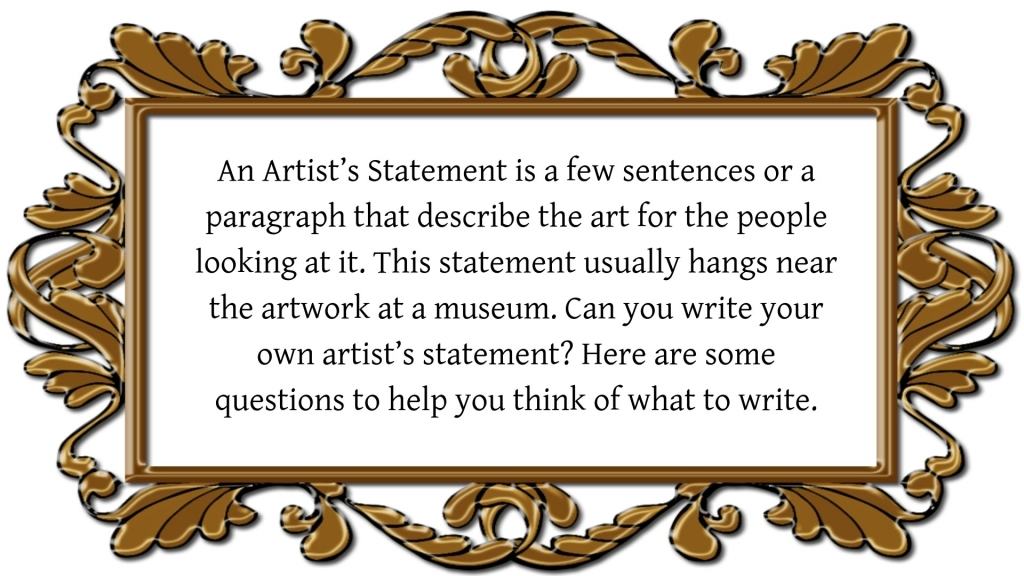 Steps to an Artist Statement And Assessment Tool
Step 1: Explain your vision or idea.
Step 2: Tell what you learned.
Step 3: What difficulties did you have? How did it work out for you?
Other ideas to include in your statement:
Title of the Piece – this alone helps the viewer understand the subject or makes him/her think about your work in a different way.
Why do you like to make art?
What did you do? (Describe the artwork, including the type of art and what the main idea is.
Was your art inspired by anything or anyone?
What happened along the way? (Did anything interesting or unusual happen? Did you solve any problems in the process? Did you change my approach to doing the project? etc.)
Did the project turn out how you expected? Why or why not?
What did you learn through the art project?
What would you do differently next time?
Good Examples & Not-So-Good Examples
Step 1: Explain your vision or idea.
Not-so-good: I like cats. I have a cat.
Good: I was watching my cat play with a toy mouse. She looked so cute and I wanted to learn how to draw her so that I could take it home and hang it in my room.
Step 2: Tell what you learned.
Not-so-good: I learned how to draw better.
Good: I practiced drawing a realistic portrait. I used shading to make the nose look like it came off the face.
Step 3: What difficulties did you have? How did it work out for you?
Not-so-good: Nothing
Good: The hardest part was getting the walls of the house to stand up. I tried tape, staples, and glue. I finally decided to add an "L" brace and it worked.
Need more ideas and templates like this?  If so, I would definitely suggest exploring our Assessment for Makers online class.  Inside, we share more templates and ideas like this to help you get out of the rubric rut and make your assessments even more meaningful!