Susan Riley | July 2015
Top 5 Takeaways from the Summer 2015 Arts Integration and STEAM Conference
WOW.
That's one of the many words running through my mind that just can't begin to capture the amazing online conference experience that happened yesterday – centered all around arts integration and STEAM.  This is the 5th conference we've hosted and every single time I am floored at how much BETTER it gets!
This time around, we had over 1300 educators from all over the world join us for the summer 2015 Arts Integration and STEAM conference – which is our largest audience to date.  So what was it like?  Here's a few things people expressed loud and clear…
#1: FLEXIBILITY – #learnfromwherever.
People are in LOVE with getting PD in way that is convenient for them.  I wish more schools, districts, and even state organizations would realize the benefits of trusting educators more and giving us the freedom we need and deserve.  Over half of our registrants logged in for the live event yesterday (the rest will access it on-demand when convenient).  They gave up their time in the summer to dedicate a whole day to learning with others and it was incredible.  Better yet – they could do it in a space that was comfortable for them.  Take a look at a few spots shared:


Perhaps one of my personal favorites was this one from Laura G….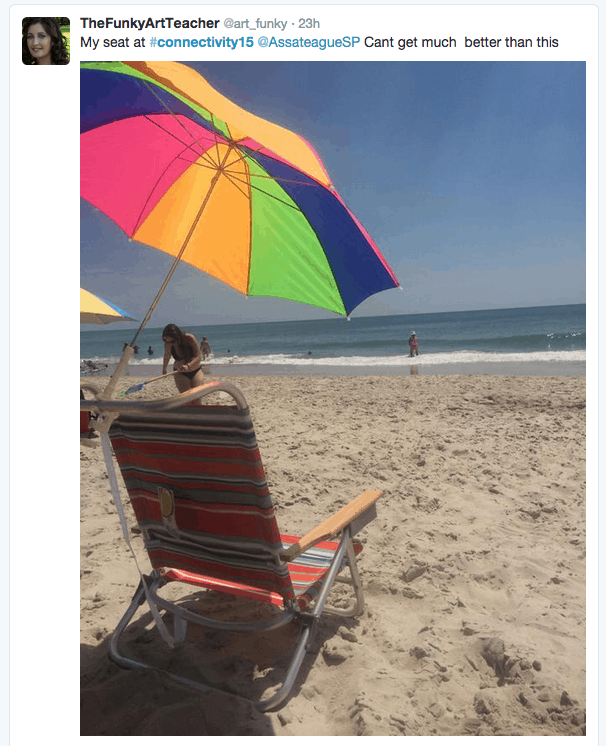 Even at the BEACH, you can get great PD.  That's what I call PD on YOUR terms!
#2: PD doesn't have to be BORING!
Part of the joy of hosting these events is watching people really let go and have FUN!  We send out Tinkerkits to the first 500 registrants and they are packed full of samples, coupons, discounts and even a few things to "play" with during the conference.  This time around, we sent out sunglasses and markers and asked participants to let their creativity shine through by creating their own designer shades.
Aren't they awesome?  By learning through the online platform, we also saw participants at ease with one another, quickly building relationships with other teachers and supporting one another throughout the day.
#3: We have some of the BEST partners out there.
Our partners are a HUGE part in making our conference a success each and every time.  They provide items in both our physical and digital TinkerKits, they connect with our attendees and support them throughout the year when requested, and they even share some amazing sessions.  Two favorites from yesterday were the lesson ideas shared from Art to Remember and Buncee.  Both organizations offered easy ways teachers could connect the arts in and out of their classrooms!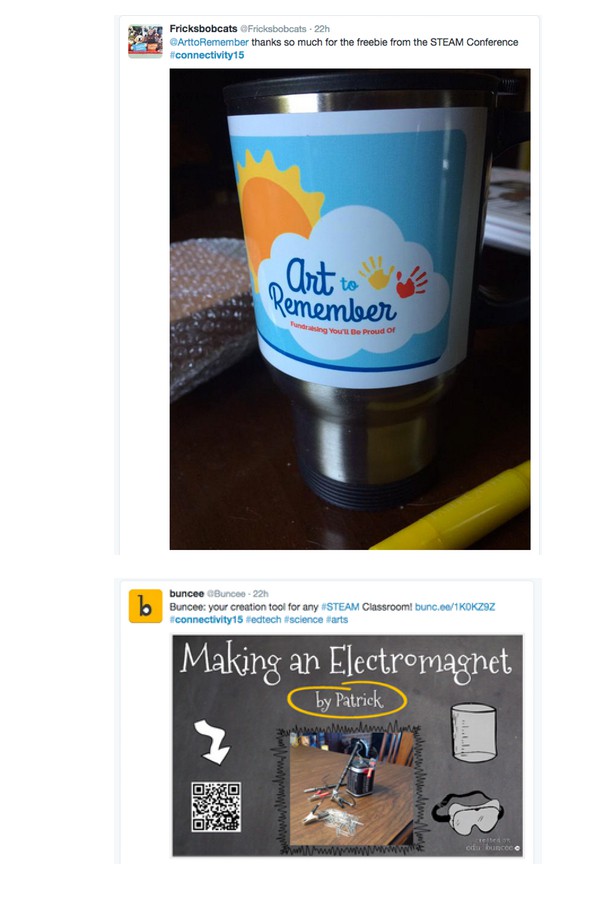 #4: Sharing is a GIFT.
Our attendees weren't just sitting and staring at their screens all day long.  The chat role was running wild all day long (we have a transcript that is over 75 pages long!!) with conversations between attendees and presenters, as well as people sharing links and resources with one another. Many posted comments on Facebook, Twitter and Instagram using #connectivity15, sharing what they were learning with their own networks – truly offering a way for others to follow along and get some helpful information.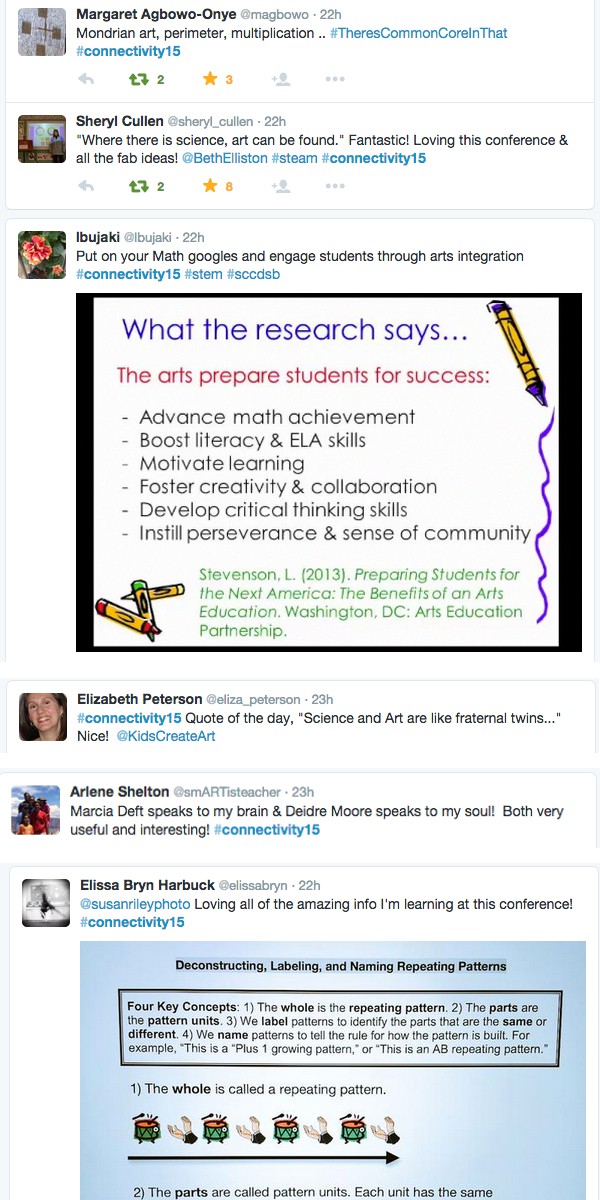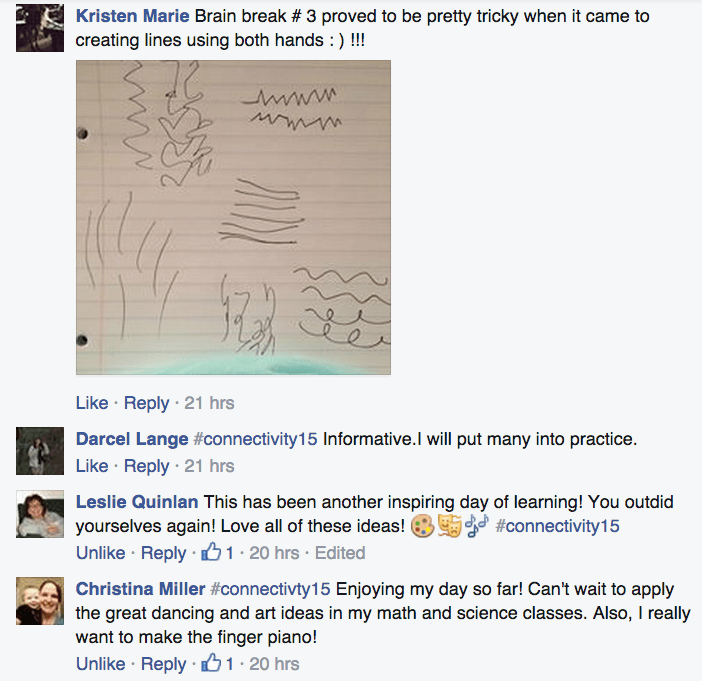 #5: Feedback is our Friend!
This is a phrase that a good friend of mine and I always say after big initiatives or events.  Feedback is so critical for us to learn, grow and become even better in all that we do.  This was the most phenomenal feedback we've EVER received – over 99% of registrants gave the conference a positive rating and would recommend it to a friend.  Take a look at some of the actual words that were shared on our surveys to participants: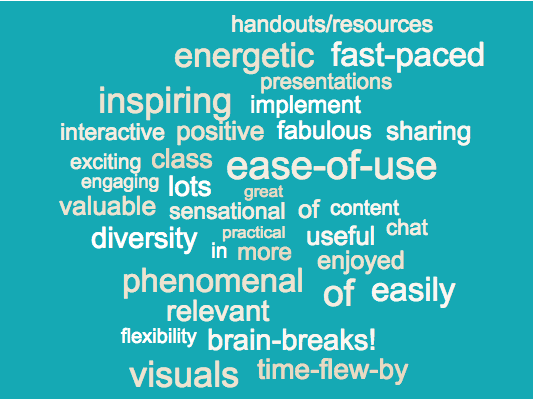 Some of my favorite comments that have come in so far have been…
"I was able to take care of my 3 grandchildren under 3 and still attend conference sessions – this does not happen any other time."
"This has truly transformed my teaching practice." <—WOW!!!
"I can put all of what was presented into practice."
"The sharing during the chats was sensational – it truly captured the enthusiasm we teachers have for arts integration."
"This was my first online conference and I was nervous about technology.  I shouldn't have been – this was so easy to do!"
"This was the most positive, inspiring, relevant and useful conference I have ever attended."
These kinds of comments fuel me and my team to keep moving forward with this for you.  It's a definite need that's out there and we are so happy to be a part of it.  Along with the positive comments, we also received so many valuable suggestions for the winter conference as well – check out how we plan to "up the ante" for February:
MORE SECONDARY sessions – we heard you loud and clear!  We already have 3 sessions booked for MS/HS folks.
More sessions included in our bonus area
Even more options for interactivity
More hands-on opportunities (can't wait to show you what we have in mind for this!!)
More brain breaks/dedicated times for reflection
Whew!  What a meaningful, inspirational day we've had and I can't wait for our next conference on February 6th, 2016.  The planning has already begun! And if you missed registering for the conference, you can now purchase access to the On-Demand site for just $99.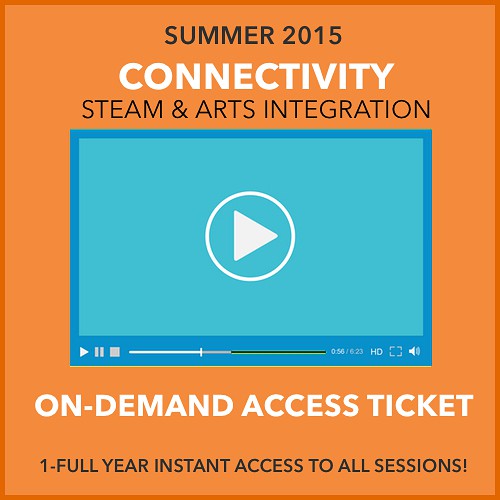 You'll get to see every fantastic presentation, download all the handouts and even get a certificate of 8 PD Hours.  I KNOW you'll find so much value in it.
Can't wait to see you all when we do this again in February!