Brianne Gidcumb | July 2015
Core Music Anchor Standard 5
This month, as part of our year-long series unpacking the Core Arts Standards for General Music
We will look at Core Music Standard 5. Last month, we looked at the performing strand of standards, with Standard 4 outlining the objectives for selecting music for performance. Today, we move onto the objectives for rehearsing music for performance.
Anchor Standard 5:
Develop and refine artistic techniques and work for presentation.
Artistic Process:
Performing (Rehearse, Evaluate, and Refine)

Enduring Understanding:
To express their musical ideas, musicians analyze, evaluate, and refine their performance over time through openness to new ideas, persistence, and the application of appropriate criteria.
Essential Question(s):
How do musicians improve the quality of their performance?
Big Ideas
The fifth anchor standard focuses on how musicians rehearse, evaluate, and refine their performance over time. Key language in the grade-level standards include refine, judge, evaluate, apply feedback, and improve. Students should be able to judge and evaluate the accuracy of their performances. They should be able to apply teacher- and student-constructed feedback and suggested strategies. They should be able to address musical challenges to improve the quality of their work.
Then and Now
1994 Standard 7a: Devise criteria for evaluating performances and compositions.
This is the closest the 1994 standards come to addressing the objective laid forth in Core Anchor Standard 5. The 1994 standards are highly performance-focused, but there are no objectives that explicitly address how we improve our performance through various types of criteria and feedback. Though music educators have included this step in our pursuit of best practice, we now have a consistent set of standards to hold students accountable to this vital step in a musician's process.
Common Core Connections
Below, we've highlighted a few Common Core connections you can look at as you begin to incorporate other contents into music and vice versa, as well as some process connections that are nicely aligned.
ELA:
Writing 5: Develop and strengthen writing as needed by planning, revising, editing, rewriting, or trying a new approach.
We should be encouraging students in any content area to think critically about their product their performance, and their work habits and reflect on how they can better themselves, the process, and the work. We as music educators can highlight the connectedness of the practice of revision and refinement, as well as this 21st century competency of critical thinking, in its forms across various content and curricular standards.
Math:
Standard for Mathematical Practice 1: Make sense of problems and persevere in solving them.
Across individual grade level standards, Core Arts Standard MU:Pr5.1.b addresses how to rehearse, identify and apply strategies to solve interpretive, expressive, and technical challenges. In effect, we are asking students to make sense of musical problems and persevere in solving them!
Standard for Mathematical Practice 6: Attend to precision.
Core Arts Standard MU:Pr5.1.a requires students to apply established criteria to judge the accuracy of musical performances- attending to precision!
Process Alignment
If you've been following this series of unpacking the Core Music Standards, you may have seen my Aligning Processes graphic, highlighting where there are interconnected steps in the inquiry, design, and creative processes. Today, I've added a process to the graphic- the performance process. Though it doesn't include a "make/develop/create" alignment or equivalent, the purple steps in each process (inquiry, design, creative, and performance) align authentically. Drawing students' attention to the steps of reflection, improvement, evaluation, and refinement, and discussing how they are really aligning ideas can bridge the gap between content areas and content processes.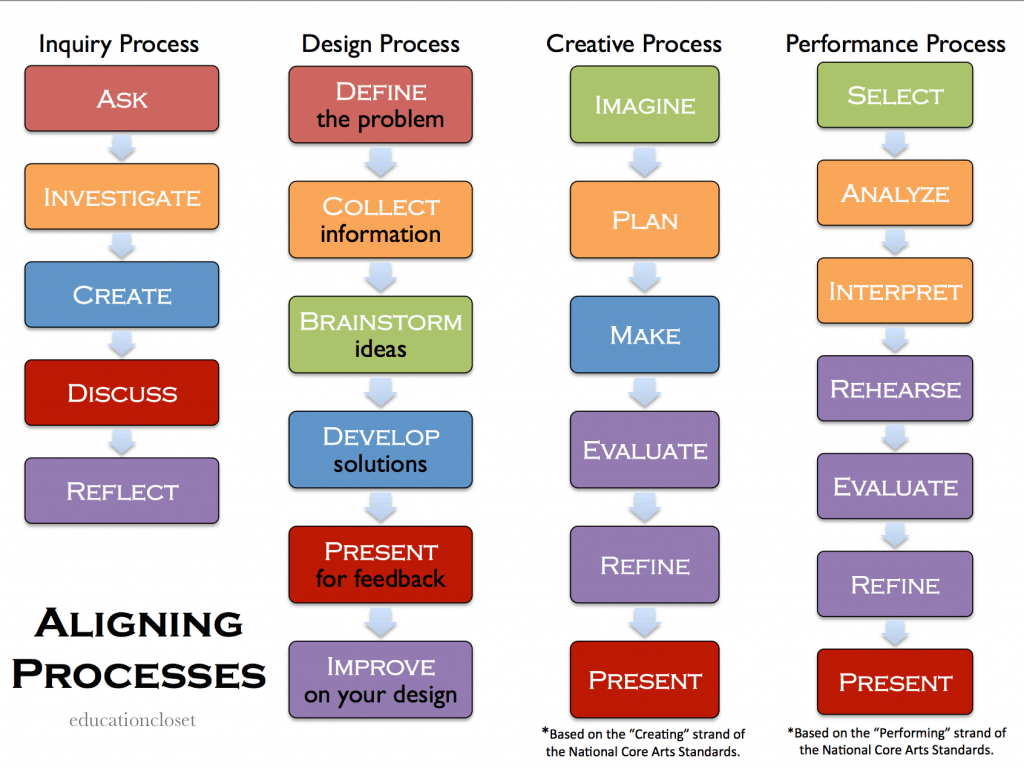 What practices do you have in place in your music classroom to guide your students in rehearsing, evaluating, and refining musical selections for performance?