Susan Riley | December 2014
Integration Stations through QR Codes
One of the ways I love to help make connections with students is through the use of integration stations and QR codes.
I find this both practical and authentic to a laboratory experience for students.  When using stations, students are active in their learning. They collaborate through cooperative groups, and engage in hands-on experiences bringing learning to life.  For the teacher, it requires some setup time beforehand. However, then it runs fairly smoothly depending upon the stations you decide to incorporate.
Stations allow the teacher to become more of an instructional facilitator. Walking around the room asking groups probing questions, listening in on conversations, and engaging students in group discussions, etc.  Personally, I know that I always looked forward to weeks where I utilized stations in the music classroom. This is because the time with my students went quickly, and the learning was tremendous.
You can leverage the same technique for integrated lessons.  By choosing a topic for exploration, and setting up stations that provide students will opportunities to listen, view, create and reflect upon the topic from various viewpoints, integration stations becomes a natural by-product of their learning.  You'll still want to align two naturally-corresponding standards in your lesson plan, but then the fun begins!  Once you select your two standards, consider how you'd like students to demonstrate their learning about those standards. Then, devise stations that teach both of those standards simultaneously AND in isolation.

QR Code Dice
One of the ways you can use these types of integration stations is with QR code dice.  The dice consist of 4 QR codes set to take students to websites, videos, or online resources providing small doses of information about a topic/standard.  You can make this as complex or as simple as you'd like.  For instance, if you'd like to do a deep dive into geometry, you may have stations set up for translations, rotations and reflections. Then, address how each of these types of movements affects a shape or object.  Or, you could choose to focus on reflections, and have dice related to reflections in science, visual art, dance, and math.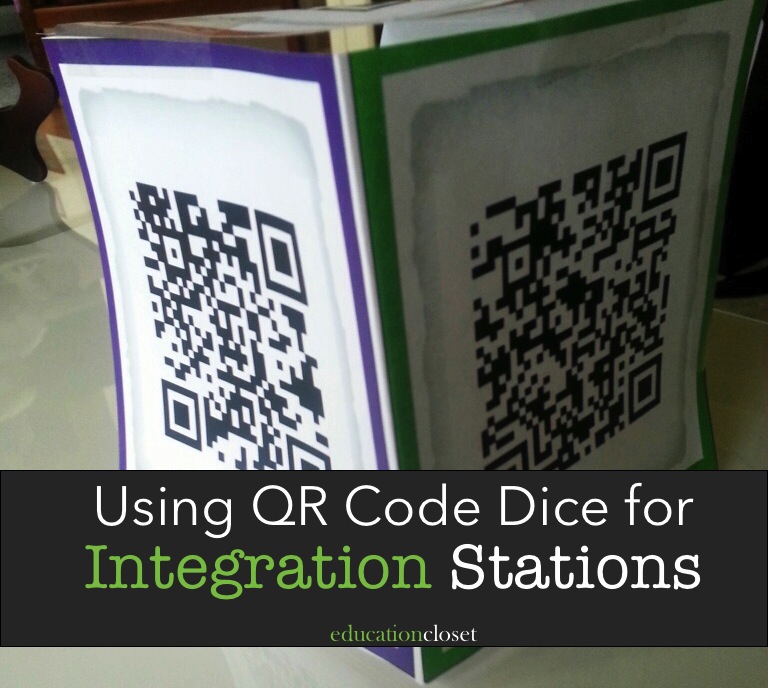 Reflections Example
In this example below, I've chosen to create a single dice looking at reflections in Geometry through each of the four areas above.  In the red block, students will be taken to a PDF that describes Frank Lloyd Wright's use of reflection in his stained glass window designs.  On the blue block, students use a simulations for symmetry art through the Math is Fun website.  The green block will show students a TedED video about color, frequency and wavelength through the science lens.  And the purple block provides students with a mirroring movement activity. This is something they can perform together in their group.  Students simply roll the dice, capture the QR code through a mobile device (Kindle, iPad, Cell Phone, etc) and then work through the activity.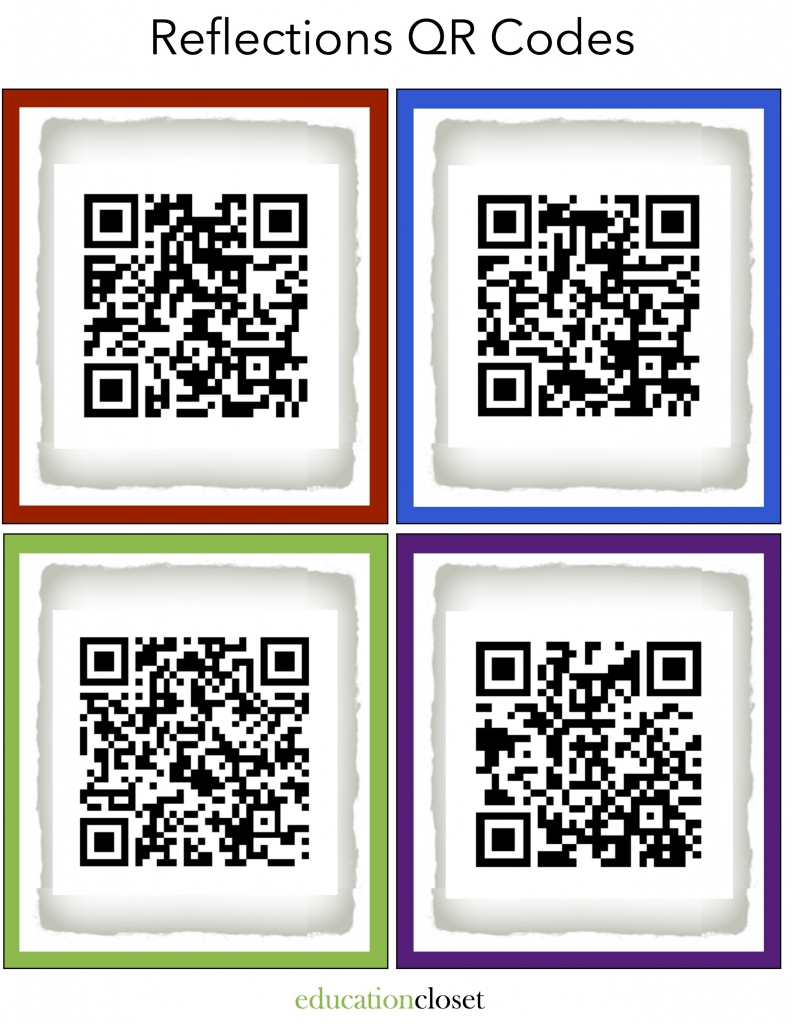 If you're interested in using this in your own classroom, download the template below. Then, just add the QR codes for each web resource you'd like students to use for their stations.  You can create a QR code by simply copying and pasting a website address into the website URL block on any QR generator website, most of which are free.  Once the QR code is generated, just download it to your computer and then paste it onto one of the colored blocks.  Enjoy this fun integrated twist to classroom management technique that's an old favorite of teachers everywhere!