Susan Riley | September 2014
Writing SLOs Flowchart for Arts Educators
Do you ever have the feeling SLOs Flowchart weren't designed with the arts educator in mind?
Of course!  When most states began the implementation of SLOs Flowchart (also known as Student Learning Objectives, Student Growth Objectives or Student Growth Goals), the practical application of these growth measurements for an arts educator weren't at the front of consideration.
Plus, the fact that each state has it's own variation of a model for measuring student growth makes the process even more difficult since you can't just reach out to another arts educator in a different state or district and ask them for help.  Tie all of that into the fact that many states are using the performance on SLOs Flowchart by the students as a part of teacher evaluation, and the whole system becomes enough to leave any educator exasperated at best.
One of the ways I help arts educators through the process of SLOs is asking a series of questions. This then informs us on the next steps in the development of an SLO that actually WORKS for arts-focused instruction.  Since every district is so different in its requirements, these questions lead us on a more personalized path. Thus, helping to guide the framework around the SLO Flowchart itself.

Here's a few of my starting questions:
1. Has your administration detailed how many SLOs Flowchart you are responsible for?
Typically, it's either 1 or 2.  Some districts require 4-6.  Simply by knowing how many of these you need to develop, you'll be able to focus your energy and time.
2. Do you need to do a school-wide SLO Flowchart (with a focus like writing, ELA or math), can you choose your own focus, or do you need to do a combination of the two?
If you need to have one of your SLOs reflect a school-wide focus, try finding the natural ways the arts connect.  For instance, if your school has a writing focus this year and you're required to develop a SLO focusing on writing, think about how you could use your art as text.  Painting is a form of writing because it uses skills and processes from reading art to create a new form of text.  The same is true of musical composition.  Writing doesn't HAVE to be traditional writing. Since artwork can be used as non-traditional text, all of the Common Core English/Language Arts Standards can be used with your arts area.
3. Are you REQUIRED to create an SLO that looks at all of your students, or can you choose a grade level or even a specific population?
If possible, try to choose your own population.  Decide on a grade-level, or a certain set of classes that you would like to concentrate on.  If this isn't a possibility in your district and you HAVE to measure all of your students, select a broad element – such as expression or line – and look at how you might focus on this in all of your classes.  This way, you have a singular focus with some flexibility is what and how it is taught based upon the grade level or classes on your roster.
4. Can you choose a mastery target or do you need to choose a growth target?
If you are working with large student populations in your SLOs, sometimes a mastery target is easier to deal with from a measurement standpoint.  Either the students mastered a concept or they didn't.  Growth targets are fantastic for showing authentic measurements of progress, but can be more difficult from a time perspective to demonstrate and document.
Need a Visual?
This is a lot of information packed into a single article.  If you need something that helps you work through those questions in a visual format, we've created an SLOs flowchart for you that can be
downloaded right here
.  Just print it off and move through the chart as you begin to develop your SLOs for the year.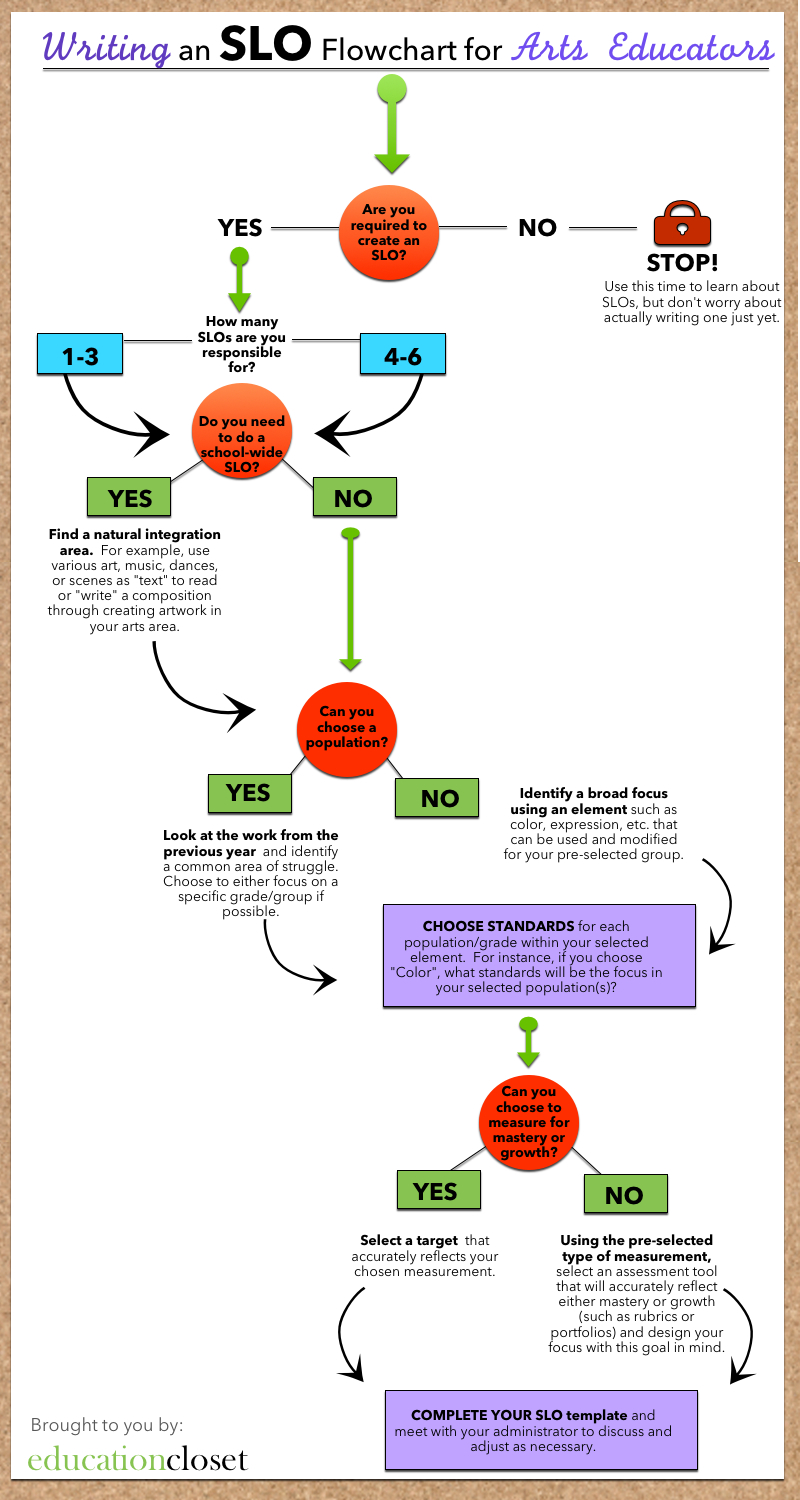 Want more helpful tips like these?
Be sure to register for our Art of SLOs live online event, taking place on September 24th, 2014 at 8PM EST.  You can login from anywhere for an hour-long session with resources like these, as well as a Q&A session that you can use to get feedback on your own unique situation.  We look forward to continuing to work with you in this process!