Susan Riley | June 2014
Arts Integration Strategy: Adding On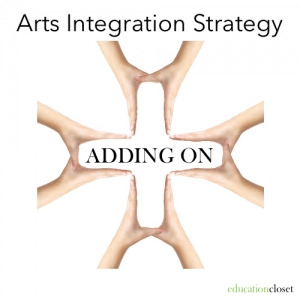 It's time to share a new Arts Integration Strategy!  As summer is now in full swing, it's nice to start keeping a list of strategies that you can use to help you integrate the arts throughout the upcoming school year.
All summer long, we'll be sharing with you NEW strategies that you can take and tweak to ensure a creative, yet focused start to your fall lessons.  Please remember, though, that an arts integration strategy acts as a conduit into a fully developed arts integration lesson.  These strategies are a great way to use your morning meeting time, as transitional tools, or as a way to isolate an upcoming arts skill that you plan to use.
Today's arts integration strategy is called Adding On and it's so simple to use.  It's a quick, yet effective way to burst through mind blocks and build spontaneous creativity skills.

Basic Steps:
1. Gather the class together in a circle and provide them with a topic (i.e.: Over the summer, I…)
2. The next person adds just one sentence.  The person seated next to them must provide an additional sentence related to the first sentence (whether it applied to them or not).
3. This continues until everyone has added a sentence about the topic that builds on the sentences previously provided.
4. Do the activity again, but this time, limit each person's answer to just one word instead of one sentence.
You can record this activity and even turn it into a rap or song by allowing students to use the mixing tools found on either Garageband (Mac), Audacity (Windows), or other recording software.  The speed of this improvisation is what makes it challenging.  You never know what the person before you will say, so there is no way to prepare.  You need to work quickly, but creativity, at the same time.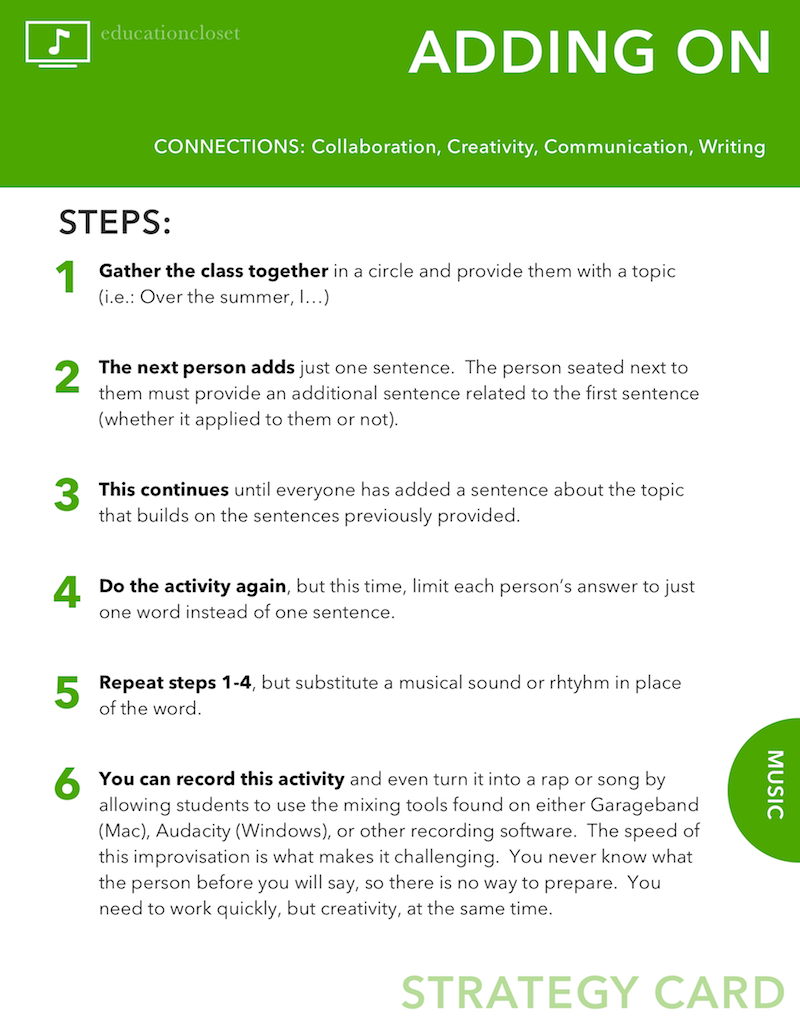 Extension Using Various Art forms
1. Try this activity using music notes.  Give each student either a rhythmic instrument or a xylophone and ask them to each add either a phrase or a note to the previously shared addition.
2. Create a movement sequence.  Use the same steps, but substitute a movement for the sentence or word.  Each new student must add a new movement to the sequence that builds on the previous movement.  Combine to create a dance sequence.
3. Add a visual element.  Provide a large piece of blank paper and each student must either add a single new visual art element (line, color, shape, etc) OR select just one element and each student must explore that element in a different way (i.e.: color – every student uses a different color or explores shades of color). The trick is to have each student build upon the previous student's work.
4. Create a dramatic sequence.  Combine the original version with actions to create a hilarious improv sequence that can be filmed and edited based upon a topic.