Rob Levit | May 2014
Science and the Visual Arts – A Beautiful Friendship
I recently finished a cool residency at Old Mill Middle North in Anne Arundel County working with a tremendous team of 8th grade science teachers, the IB coordinator and literacy coach. We wanted the students' unit of study on sedimentary rock and fossils to come alive, be hands on and experiental. I proposed creating a scientific journal so that their investigations and findings could be captured. The approach was one of observation and inquiry-based learning rather than rote presentation of facts. Students would use pen sketching and watercolor techniques to create their interpretation of Sideling Hill in Hancock, Maryland and two authentic fossils I obtained from a mail order service as a basis for their investigations.
Science and Visual Arts
Here are the steps that we took to create an easily replicable lesson that can be used in virtually every unit and illustrates the beautiful friendship between science and visual arts.
1. Use inexpensive and easily obtainable supplies – I've and it once and I'll say it again – go for simplicity. When thinking of  early naturalists journal, I thought they probably had little room for  art supplies, so staying true to life, we provided the students with the essentials – watercolors, one brush, glue stick,  brown paper for the journal and writing and watercolor paper cut into halves and quarters. The main thrust of arts integration is to provide effective and multi-sensory ways of making classroom units come alive. The emphasis should not be on the materials but on how the materials can serve the lesson.  The IB coordinator, Ms. Domenic, spent less than $100 and we served 300 students!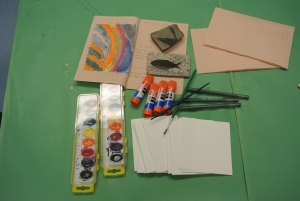 2. Choose subject matter that is interesting and relatable. Students were familiar with Sideling Hill (Hancock, Maryland) from their unit of study and many have passed through it because it is in their home state of Maryland. That actually makes a difference because it isn't an abstract place from a science book but an actual place they can visit. In fact, one of the students had photos on his phone camera from a recent drive through Sideling Hill! The more concrete we can make science for our students, the more they can relate and therefore, learn and retain.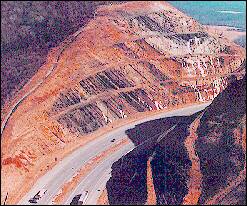 3. Give students guidance in both science and visual arts. Students received an elementary lesson on brush strokes, water application and color lightening/darkening in order to apply the art form to the science unit. This is important because one of the hallmarks of good arts integration is not only using arts as a way to get students interested in science but as a worthy tool and technique unto itself. It is worthwhile teaching students how to use watercolors – the art form of painting is just as important as the discipline of science. The Friday before I visited the school the Ms. Deafenbaugh, Ms. Logbo and Ms. Lefevre used the See/Think/Wonder thinking routine  using Darwin's drawings to create a connection between science and visual arts.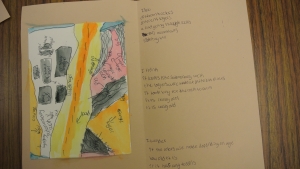 4. Use real life examples if at all possible. I was thrilled to find a box of really high grade fossils at a reasonable price on Amazon and couldn't resist purchasing them. It was well worth it because the students were able to see up close what they were learning in the unit. Again, the fossils remove the "science as abstraction" syndrome and make it concrete and therefore interesting and usable. The last day of the residency, the students created fossil sketches with pen and watercolor and were instructed to use the Claim/Support/Question thinking routine in their journals to:
Make a claim about which fossil is older
Support it using the visual evidence provided and activate their prior knowledge of sedimentary rock
Ask any questions that made them unsure of their claim
At the end of the writing assignment, students were shown a timeline that gave the answer and we discussed the findings.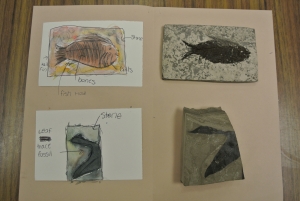 5.  "Crowd source" a vocabulary list. Rather than provide the students with printed vocabulary list, we developed the list as a group. For example, I asked one student for a vocabulary word related to the unit (fossils, sedimentary rock, mold, cast, etc.) and another to provide a definition of the chosen word. This method allows an otherwise boring vocabulary list to become an active source of discussion and interaction and allows students to participate in group learning.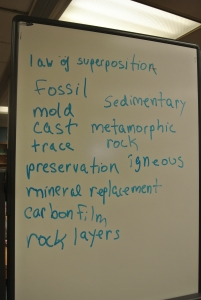 6. Create a summative writing assignment.  I left a final assignment for the 8th grade science and visual arts students. Using their watercolors and vocabulary list, create a 1-3 paragraph summary of what they learned and discovered. The teachers agreed to provide an extension writing assignment later on by connecting student knowledge of sedimentary rock and fossils to the upcoming unit on evolution.