Susan Riley | April 2014
How to Collaboratively Weave Your (Digital) Story
One of the basics of an art is the ability to communicate a story.  It could be a personal communication or it could be a reflective way to make meaning of a societal or global issue, but in the end art is always about sharing a story.  We use the skills and processes of the arts to help our students release their story to the world, often times as an individual means of expression.  Yet, there is so much power in being able to share a collaborative story!  Think about the act of group-created murals, class compositions,  group choreography and improvisation.  These help us to use our individual talents and weaknesses to create something much stronger than ourselves.
We now have the ability to use these basics of storytelling and connect them through digital tools which can both stand alone and be used in and through the arts to create an even greater spectrum of communication possibilities.  Today, I'm sharing with you 3 of my favorite tools with tips on how to collaboratively weave your digital story and translate it into meaningful, integrated learning experiences.  Just click on each heading to go to the site and get started!
This is a pretty simple tool that could be used in stations or as part of a story lab experience.  Students can work through telling a "story" together by assigning each other characters or roles in a script and then responding to each in real time.  There's no login necessary and students can save their tale via a permanent link.  They can even add music to enhance the story.  Here's a quick tutorial video from Nicholas Ziegler for how to use this easy resource in the classroom:

Suggestions for Digital Story Creation:
Write a story about a historical or cultural event or person.
As an improvisation exercise.  One person types a line and the next person responds within 5 seconds.
Pose and work through a math problem using a variety of pieces of evidence.
Share reflections on a collaborative arts or science experiment.
This is a rather new tool, and I'm so excited about it!  It's visually stunning, has easy drag-n-drop features and can utilize pretty much any medium.  You can add photos, videos, soundtracks, and writing all on one "tack board".  This a terrific way to allow students to synthesize their work and pull it all together in a single presentation.  Take a look at this demo video from the great folks over at the Tackk website:
Suggestions for Digital Story Creation:
Create a marketing campaign for a new prototype, composition, or idea.
Capture the work process and final project presentation.
Storyboard a play or sequence of events over time.
Connect multiple content areas with the same theme together to create a custom study board.
This tool allows you to search and connect in a way that is an immersive exploration experience.  Students can go to the website, select a topic and begin to sift through the collections of the National Archives to find evidence of the progression of that topic over time.  They can then save pieces of evidence that they find useful to their own digital vault and create a poster or movie using the artifacts from their personal collections.  Or, they could create a pathways challenge for another group of students who need to work through their curated clues as part of a learning experience.  Take a look: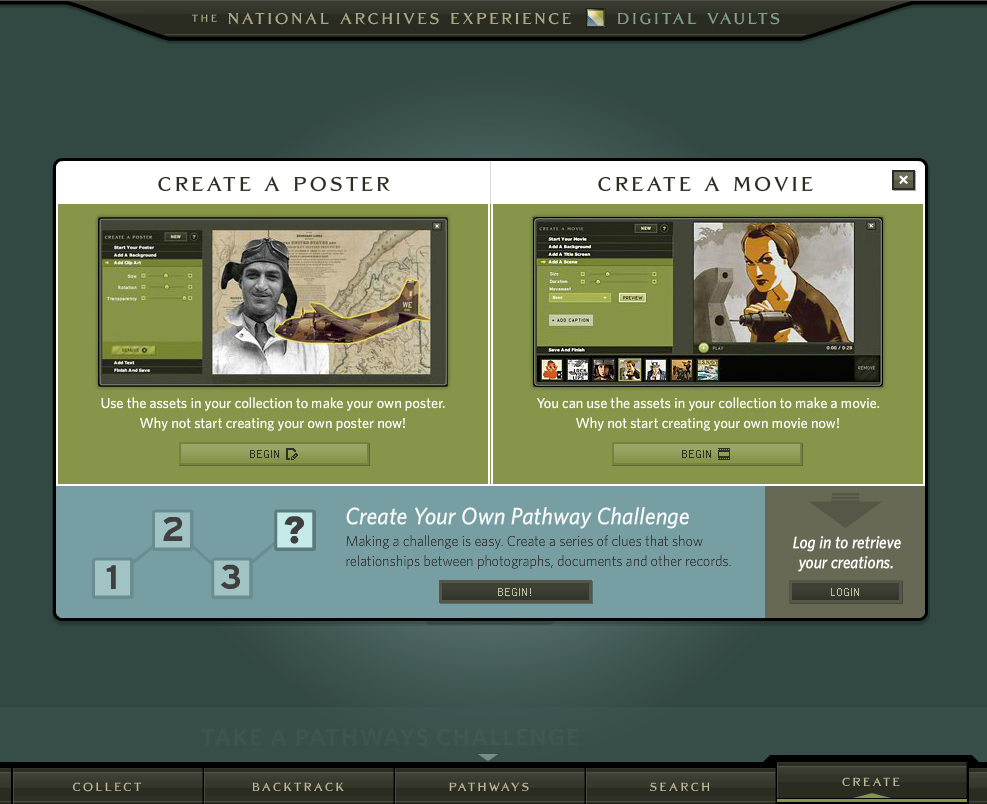 Suggestions for Digital Story Creation:
Find evidence from multiple areas of study (science, the arts, math, language) and create a pathway challenge
Create a movie that tells the connective story of a historical event or era using actual digital artifacts
Curate a collection that others can view as an exhibit that communicates a message
These are just a few of the incredible possibilities that exist for digital storytelling.  There are so many more tools out there to help take your students' imaginations and learning to new heights.  Interested in more?  Jessica Wilt will be sharing a presentation dedicated to this topic at our Online Connectivity Conference this summer.  If you haven't registered yet, visit our webpage for more information and to find out how you can participate in this 3D virtual event!
Do you use digital storytelling in your classroom?  What tools have you found to be most helpful?  Share with us in the comments below – we'd love to hear what else is out there!