When we first started this website 10 years ago, it was with the focused intention of sharing a journey through Arts Integration.  Even after all of the growth and wonderful metamorphosis that our organization has undergone, this still remains at the heart of what we do.
We passionately believe that Arts Integration is the connective pathway toward reaching and teaching every child and empowers educators in their professional growth.
This approach is still somewhat misunderstood by many in the educational community.  We often receive emails and phone calls asking us "what is arts integration?"
Personally, I think it's because Arts Integration is such a complex, yet elegantly simple, concept.  Here's an easy to understand definition:
Arts integration is an approach to teaching and learning through which content standards are taught and assessed equitably in and through the arts.
To help clarify this process, we're sharing this infographic with you!  We've taken the meat and potatoes of Arts Integration and placed them in a document that makes it a little easier to digest.
We hope that you'll download it and refer back to it whenever you have a question about whether or not something is truly "arts integration".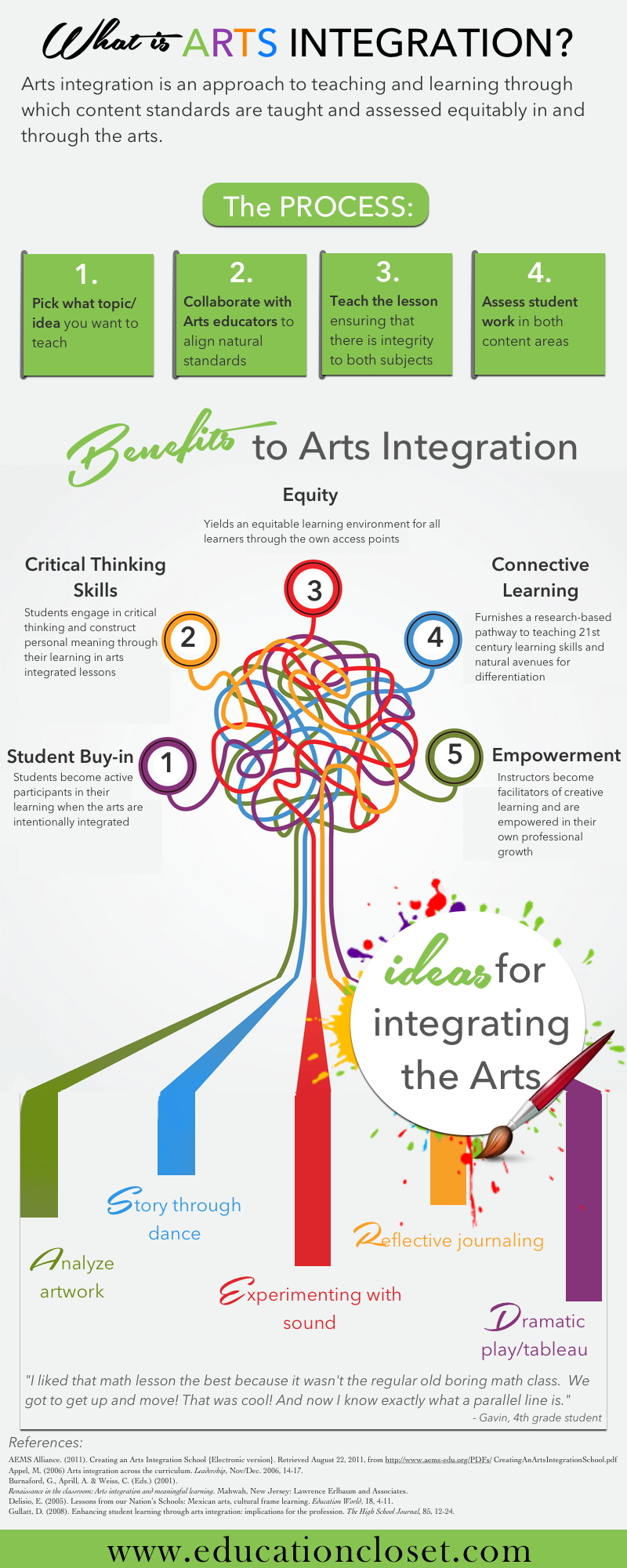 Key Features of Arts Integration
You'll notice in the above infographic that there are a few items that really distinguish Arts Integration from Arts Enhancement.  It's easy to confuse the two, so let's take a look at what makes arts integration different.
Standards-Based
One of the hallmarks of Arts Integration is that it is grounded in connected standards.  When you're creating or teaching a lesson, ask yourself: what standards am I address in both the content and the arts area?  If you can't identify both, it's not arts integration.
Teaching in and through the Arts
When you're working in an arts integration lesson, you'll feel like the line between the content and the arts is blurred.  That's a good thing!  In arts integration, the arts are an avenue through which students apply and connect the previously taught content.  The arts are not servicing the content.  Instead, both the content area and the arts area are interconnected.
Assessing Both Areas
In an arts integration lesson, the ending assessment reflects the growth in both the content area and the arts area that was taught.  Do you have to be a master in the arts area to assess it?  No, because you're looking for growth in that area, not mastery.  Only the arts teachers can evaluate an arts standard for mastery, just as only the classroom/content teachers can evaluate a content standard for mastery.  But anyone can measure growth in both areas.
Ready for more? Check out our free on-demand masterclass: 5 Mistakes Teacher and Leaders Make with Arts Integration. You'll receive a 1 hour PD certificate just for watching, plus helpful ideas for avoiding common arts integration pitfalls.