Rob Levit | February 2014
The Power of Your Default Future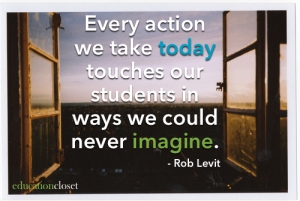 Over the years I have studied many different concepts of personal and organizational growth and attempted to apply them in the realm of education. One concept that has had a lasting and valuable impact on me is the idea of the default future. It's a really simple idea – What will your future look like if you change absolutely nothing about your personal life and educational practice? This question is an intense one and it instantly makes the connection between what we are doing now and the impact that our actions will have in the future.
Here's why considering the default future is so important; because, as John Donne famously wrote, "No man is an island." That's right – frightening and inspiring at the same time – is the fact that every action and decision we make today ripples and touches our family, friends and students in ways that we could never imagine, until now. I want you to imagine your default future and ask yourself, "what will my life and educational practice look like in one year, five years, ten years or twenty years if I do absolutely nothing?"
There is good news and bad news. The bad news is that our health habits, teaching weak spots, blind spots and bad habits aren't isolated to us. They affect, often deeply, all those around us and amazingly, people that may never ever meet us! Of course, the converse is also true and that's the good news. All the amazing teaching you do, all the time you spend creating materials, all the time you spend tutoring a student, all the time you engage in personal development, well that's your default future too.

So, take heart and take a good, deep drink from the oasis that is your precious life. What needs to change so that your default future is bright and amazing? What needs to be reinforced and praised so that your default future continues to glow?
I suggest taking out a journal and thinking about your default future in several areas:
Physical – Your body, diet, health, sleep, daily routine
Emotional – Your deepest positive emotions and your darkest fears
Mental – Your mind, thoughts, executive functioning and skill set
Creative – Your passions, your creative life
Spiritual – Your connections, your community
See, as a person and as an educator (a most sacred profession) you have so much to offer but it won't just happen. You have to face the future, live in the future by strengthening what's happening right now. Your impact and footprint in the world is way bigger than you realize. Are you taking the time to create the future that will serve the brilliant size and shape of your life and educational practice?
Here's some more information on the default future.