Susan Riley | January 2014
Using Badges in the Arts Classroom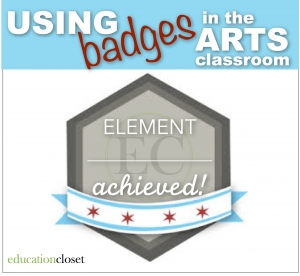 As we head into February, I'm sure you're noticing more classroom management issues cropping up.  If you're like me, February and March are my most dreaded months of the year.  The excitement of snow is wearing off, I'm itching for some warmer weather and longer daylight hours, and it's the long stretch before spring break.  Your students are feeling it too, which is why walking into your classroom may seem like a game of chance when it comes to student behavior.
One of the ways that always proves successful for me is by bringing a little fun to the mix: using badges in the arts classroom!  This classroom management strategy brings some of the gaming culture to my room and appeals to something that naturally is a draw for my students.
Why Use Badges?
First – you need to know what "badges" are in gaming.  Badges are small awards that you get when you complete a level or master a skill in the game.  You collect badges throughout the game and earn more points for each of the badges you collect.  What's nice about using badges in the arts classroom (visual art, music, theater, dance or media arts all apply) is that students are earning their badges based upon their own level of growth.  So while they may be competing as a class for a larger goal as a group, they can also compete with themselves to grow in a skill or process you want them to learn.  I've even used badges as a way to track student growth for my own data, differentiation practices, and student support.

How it Works
There are many ways you can use badges in your classroom, depending upon the outcome you're looking for.  Here's a couple of examples:
As a class incentive.  This works well when you have classes that you know will require little more intensive work for classroom management.  You can set up a goal for each class (ie: everyone stayed on task for the full class period 3 times in a row) and when the goal is achieved, they earn a badge.  For each badge, students earn a certain number of bonus points in your class and the group with the most points at the end of the marking period receives something special (a "free" day of music or art, being able to create outside, etc).  You can even create a tally board for your classroom so that everyone can see each class' scores.
As an individual motivator.  Some students just lose their motivation at this point in the year.  If you're having students who are struggling in this area, being able to earn a badge for each skill or practice that they master in your class gives them a type of visual currency that they ARE achieving and making progress.  For example, you can design a badge for each element you're working on during the year and as students progress through their work, they can earn a badge for each element.  The goal is to have a badge for all the elements by the end of the year.
As a differentiation tool.  This is a great way for you to support your students as they move through your class and keep organized at the same time.  You can set up levels of badges for each class and then provide differentiation for the project or assignment's approach.  For instance, students who have 1-2 badges can complete the project with a specific set of requirements that will ensure they have success.  Students with 3-5 badges may not need as much support, so you can provide them with a bit more freedom.  Students with 6-8 badges may need more advanced techniques, which you can offer as they move through the project.
Digital or Traditional?
You can design your badge for what works for you and your students.  You may want to download or create a badge that you make many copies of and distribute as a tangible reminder.  Or, you may want to create or download a digital version of the badge and post them to a student portfolio or class blog page.  The choice is yours – that's the beauty of this system!  Need an example?  How about this (you can right click and save it):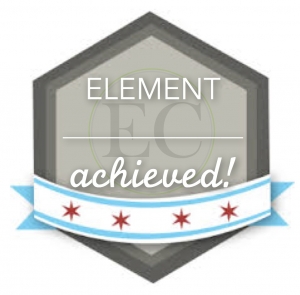 Have you ever used badges in your classroom before?  What worked for you?  Are you interested in trying it?  Give us a shout out in the comments and let us know!