Susan Riley | January 2014
Arts Integration and STEAM Conference
WINTER 2015 ARTS INTEGRATION AND STEAM CONFERENCE IS NOW OPEN FOR REGISTRATION.  CLICK HERE FOR MORE DETAILS!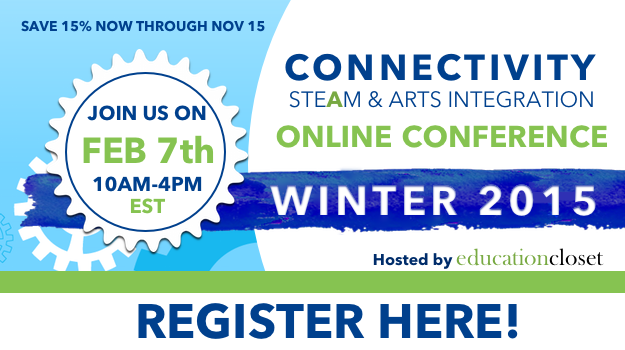 It's finally time!  We are gearing up for our annual Connectivity Conference and this year's focus will be all about Arts Integration, STEAM and the Common Core.  This is the premier Virtual Arts Integration and STEAM conference in the nation and we're in our 3rd year running.  This year, we're making a few (BIG) changes and adding some surprises to our conference and we're excited to announce one of them today.  Starting today, we're opening up a call for proposals from potential presenters from around the globe.  If you have a strategy, research, lecture or tech tool you're itching to share with the world, we invite you to submit a proposal to present at this year's conference.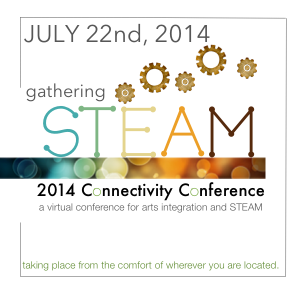 Leveraging Global Knowledge
Why this big change?  Because the world is bigger than our little corner.  We are the ORIGINAL online arts-focused conference and have had the distinct honor of sharing voices from across the field who are innovators and creators in their own right.  However, we've learned that when you open the doors, the world steps up.  We want this conference to feature practical solutions that are working in real classrooms, as well as highlight tools and strategies that teachers, administrators, and artists from all over the globe can use immediately.  Who better to share these ideas that educators just like you?  We still plan on curating all proposals and our team will select the sessions we feel will offer the most value to our participants on our topic this year.  Rest assured – this conference will offer the high-impact, engaging and vigorous information you've come to expect from EdCloset.
A Few Key Notes Before Submitting
If you or someone you know are interested in submitting a proposal, there are a few details you need to review:

1. All sessions are provided completely online.  We will be using a virtual platform setting so that the learning from this conference is equitable to all educators.  You must be comfortable with virtual video and presentation software to participate.  We're asking our presenters to choose to either present their session live at a selected time or to record their session ahead of time and be available for a live chat during their conference session.
2. The date of the conference will be on July 22nd, 2014 and will be an all-day event.  You'll need to have access to an internet connection that day to participate.
3. All submissions must be received by February 1st, 2014.  
4. All proposals will be reviewed by our Conference Oversight Committee.  All applicants will be notified by February 15th, 2014 as to the status of their proposal.
Ready – Let's Go!
Submissions for this year's conference are now CLOSED.  We invite you to participate in this incredible conference by registering now to ensure that you receive cutting edge information in this exploding integrated field!