Typhani Harris | January 2014
Recovering Dancer: the evolution of a studio competitor to dance educator
Editor's Note: Please welcome Typhani Harris to the EdCloset writing team!  Typhani will be joining us every Monday and providing us with her unique insights in the world of dance, arts integration, and Common Core.  Welcome, Typhani!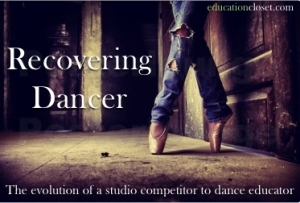 Since this is my first official article as part of the EdCloset family, I thought it most appropriate to introduce myself, and share my background so that readers have a foundational perspective of my articles.
I was a dance-studio baby throughout my younger days.  My mantra of eat, sleep, dance consumed my world so much that my parents converted our garage into a personal studio.  If I was awake, I was either at school or at dance.  The studio environment gave me another family, something to be proud of, and a totally misconstrued perception of dance as art.

This distorted concept of dance followed me through college, as I majored in English with a minor in dance.  Dance at my university was none other than an extension of my studio years, where performance and winning were at the forefront of the dance definition.  So, it was no surprise that I took that approach into my first position as an English teacher and cheer coach for a local high school.  After two years I moved to a new school that offered me one dance class and four English classes.  The dance director of the school studied dance at a renowned university that placed dance as art above dance as entertainment.
Needless to say, we never saw eye-to-eye, and I quickly moved to a school that offered me the chance to build my own dance program.  I jumped at the opportunity and was determined to build an award winning dance team.  Within the first two years, we had won multiple titles, numerous accolades, and even made it to Florida for Dance Nationals.  In California, there is no dance credential, so in order to build my program and teach more than 20% (or one class) outside my English credential, I had to go back to school.  I thought to myself, piece of cake!! I have been a dancer for over twenty years.  I quickly applied to California State University, Long Beach for the Master of Arts in Dance program.
Being the twenty-year competitor, dance entertainment veteran that I was, I brought my "A" game to the audition.  I had my best audition outfit on (cute shorts with a matching halter top), my make-up expertly done, and perfectly curled hair.  As I entered the room, I got the sense that I was in the wrong place.  I walked outside, checked the room number, and realizing I was in the correct place, walked back in.  However, I was surrounded by bunheads in leotards and tights doing weird stretches and warm-up activities that were outside of my norm.  So, I plopped myself on the floor to begin the traditional stretch in second position.
I had spent the previous months perfecting my quad pirouettès and jetès, so you could understand my utter surprise when they did not ask me to demonstrate either, but rather wanted something called a "triplet" as well as an improvisation of  "my journey here".  I didn't understand anything they were asking for.  I left the audition completely defeated; knowing there was no way they wanted me, a jazz baby.  But one month later, I received an acceptance letter.  Thus began my rehabilitation, my recovery from dance competitor to dance educator.
Over the subsequent three years I learned, modern, composition, lighting design, history, kinesiology, teaching strategies, costume design, and somatic practices.  I had no idea these things even existed, and from that moment on vowed to rebuild my dance team into a comprehensive dance education program, grounded in the theory and history of dance as art.
Bringing Back the Art of Dance
I am determined to bring back the art of dance; the ability to creatively express ourselves, by fostering risk-taking, comprehensive arts education, and the support of upcoming initiatives.  Opponents of the Common Core hail that it is creating drones…well what does competition create?   Competition cultivates dancers who believe the most important thing is winning…but, is that all there is??  I believe that competition has its place, and I wouldn't have received the opportunities I have if it wasn't for my studio life and competitive foundation, however, I am a strong proponent of dance as education within academic institutions.
The premise of the majority of my articles will be based on the principles of standards-based dance education, secrets of the dance teacher, infusing common core into dance, professional development, teacher preparation, the new assessments, and multiple strategies that bridge Language Arts and dance.
Dance is about baring the human soul and placing it on a stage for everyone to see, and my column will be devoted to exactly that.  For consistency, each month will be organized by topic:
Week 1: Secrets of a Dance Teacher
Week 2: Common Core
Week 3: Teaching Strategies
Week 4: Teacher Talk
And each week I will offer a preview of the next article!
I look forward to sharing and being a part of the EdCloset family!!
-Piquès & Pirouettès!
Next Week, Common Core
Cutting the Cord: transitioning to the Common Core
As the role of the educator changes with the educational paradigm shift we must ask ourselves how do we prepare our students to take ownership of their education?  How do we set them up and set them free?