Susan Riley | July 2013
Get Some FREE Professional Development Today – Live!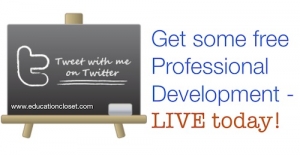 For today's free Friday, we invite you to get some professional development live and in real-time.  Our Connectivity Conference is happening today from 9AM-5:30PM EST with some of the best specialists from across the country presenting and providing one-to-one professional development for our participants.
While you are not able to attend the virtual conference without a purchased ticket, you CAN follow along on our Twitter feed: #connectivity13 for all the latest updates, resource links, key statements, and strategies being shared by our conference attendees.  You will have a wealth of PD right at your fingertips as it happens – we are so excited to share this!
To follow along, take a look at our Twitter feed below.  If you have questions you'd like to ask our presenters, just type it in the space below and we'll be sure to get them answered.  What a fantastic way to get the PD you need, when you need it.  Happy Friday!