Susan Riley | April 2013
Get Your Spark Back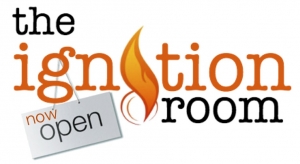 Are you as passionate about teaching in April as you were in September?  Is the remainder of the year still as full of promise as the fresh start at the beginning of the fall?  For most teachers, the answer is no.  We have seen an incredible rate of change and initiatives coming down the pike this year: Common Core, Student Learning Objectives, new Teacher and Leader Evaluations, 1:1 or BYOD, and district-specific goals have all been a priority.  And with so many priorities, it can be easy to miss the biggest one of all: our students.  Compound all of this with the fact that the school year is coming to a close in less than 2 months and it's no wonder that teachers have lost their spark.  We have seen this and know your challenges and today, we're revealing a way to get your spark back!
The Ignition Room
We have been working diligently for the last several months to prepare a special place for teachers, leaders and artists to gather together as a community and recharge their creative batteries.  Today, we're unveiling the Ignition Room!  This members-only area is designed to provide you with resources, special perks and an online community where you can share your stories, ideas, challenges and triumphs with others who understand your experiences.  The Ignition Room provides:
Spark Packs
These exclusive packs are provided each month for subscribers of the Ignition Room.  Each monthly spark pack contains:

An integrated lesson seed to try that is aligned to Common Core Standards with ideas for extensions K-12.
An accompanying assessment guide for your lesson seed.
(2) Strategy cards for STEAM in the classroom.
Our top tips for classroom management, organization, technology resources.
Occasional coupons, freebies, and partner items to add to your teaching toolkit.
Online Community
In this lively discussion area that is exclusive to our membership, you will be able to
converse with others who are passionate about integration
network with colleagues across the country and
share ideas, tips and resources.
Advocacy Tools and Merchandise
We provide members of the Ignition Room with discounts at our new merchandise store to make it easy for everyone to advocate for creativity and the arts.
Free Friday Gift
To celebrate the opening of the Ignition Room, we are offering 10% off all merchandise at our new Ignition Room store.  All items have already been marked down 10%, so you don't have to worry about any coupon codes.  We hope you'll enjoy this discount and join this exciting new community!  We can't wait to share these resources with you to make your job easier and re-ignite your passion for your craft!