Let's take a look at a PARCC sample assessment prototype and find out how connecting assessments through the arts can lead to an elegant fit in these areas. Please keep in mind these are suggestions at this point. There is a great possibility of changes happening here.  However, what I find so exciting in the structure of these assessments is the direct connection to how the Arts provide critique in each of their areas.
Here's an example of 6th Grade English/Language Arts assessment suggestions: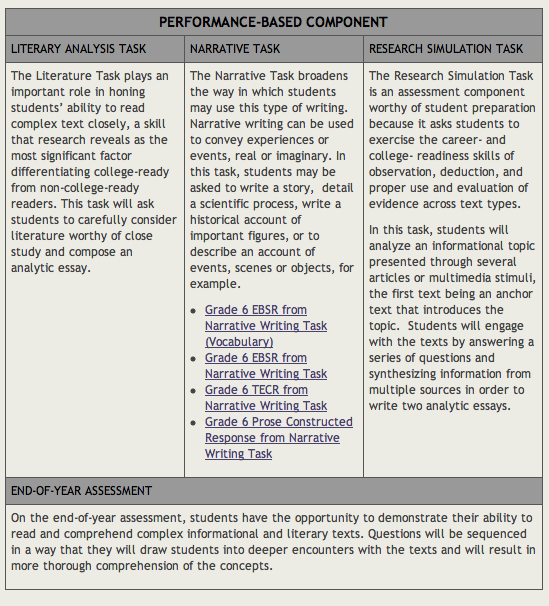 There's definitely a performance component involved, as well as a year-end summative assessment.  In itself largely alters the days of No Child Left Behind.  No longer is student growth and/or knowledge measured in one, high-stakes standardized test.  While this will still be a piece of the puzzle, we will provide a performance piece to gain a complete picture of student learning.  As artists, we know that the performance is where students can show tremendous growth. This is because the time, skills and processes needed to complete performances are so comprehensive of learning.
Literal Analysis Task
In this particular example, the Literary Analysis Task focuses on close-reading.  In terms of the arts, we need to stop thinking that reading is simply traditional print materials.  Students can read a piece of art or a piece of music.  They can read a choreographed score and certainly, they can read a scene.  All of these are examples of text complexity using symbols, words and images. All of which need to be thoughtfully interpreted to synthesize into personal understanding of the piece.

Narrative Writing
For the narrative writing, direct connections can be made to composing a piece of music, with an outline of a story to develop a piece of art around, as an artful journaling project, or as writing a scene based on a specific topic.  The extensions for moving from writing these stories in each artform to performing them is our way to add rigor and relevancy for our students.
Research Simulation Task
I love the Research Simulation Task because the vocabulary used lies within it's definition: focusing on observation, deduction, proper use and evaluation of evidence.  These are the exact things we ask our students to do each time they look at a piece of art, listen to a score, or watch a performance.  We want them to dissect, discover, make their observations and use those observations to inform their own next steps as an artist.  We have them listen and look at a variety of pieces so that they have enough prior knowledge to make aesthetic criticisms.  Research is an inherent part of artistic growth!
All of these tasks can be so easily embedded authentically within the Arts classroom.
We don't need to, nor should we be, a separate "foreign" area.  Too often, we either feel pushed aside or put upon when it comes to school reform.  What these new assessments bring is empowerment to recognize that performance tasks are critical to understanding the child.  Need more tips and ideas like this?  Try out our assessment for makers online class which is packed full of templates, resources and checklists to help you create your own authentic assessments. Let's embrace this chance and participate in the process of assessment for all students!