The Essential Substitute Teacher Folder
Grab-and-Go Forms, Lessons, and Ideas
Prepping for a Substitute
Have you ever been caught off guard and needed to put in for a sub at the last minute?  If you're a teacher with more than 2 weeks worth of experience, this has most likely happened.  You then have to scramble to try and find your emergency sub plans (if they're prepared) or to write a quick set of lessons before your sub arrives.
Meanwhile, you're probably trying to do this when you already don't feel well or are in a hurry, and that can lead to a disaster in your classroom.  Which makes an already stressful situation even worse.
Having this folder prepped and ready to go now is a huge time-saver and helps you feel less overwhelm when the unexpected happens. With this guide, you'll find samples of the essential forms you'll need, as well as helpful tips for organizing your substitute teacher folder.
Sub Folder Forms
So what do you include in your substitute teacher folder? These forms are always helpful: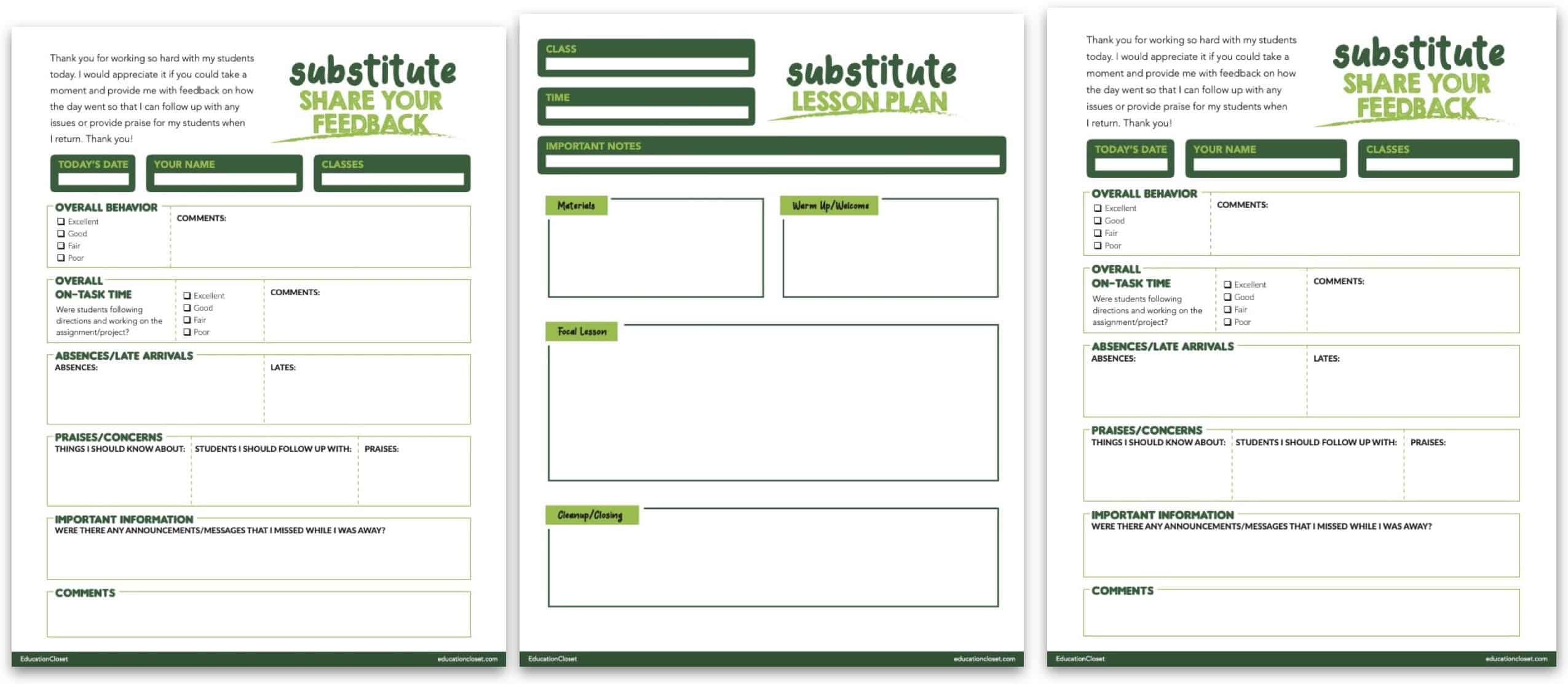 Class Overview Form
The class overview form gives the substitute an at-a-glance document with key information to reference throughout the day. That includes: 
your name and contact info

who to reach out to for assistance

Starting Procedures

Classroom Management Process

Class Rules

Daily Schedule and

Special Information (anything else you think is important)
This document will help your sub feel prepared for the day and gives them an understanding of how you typically run class.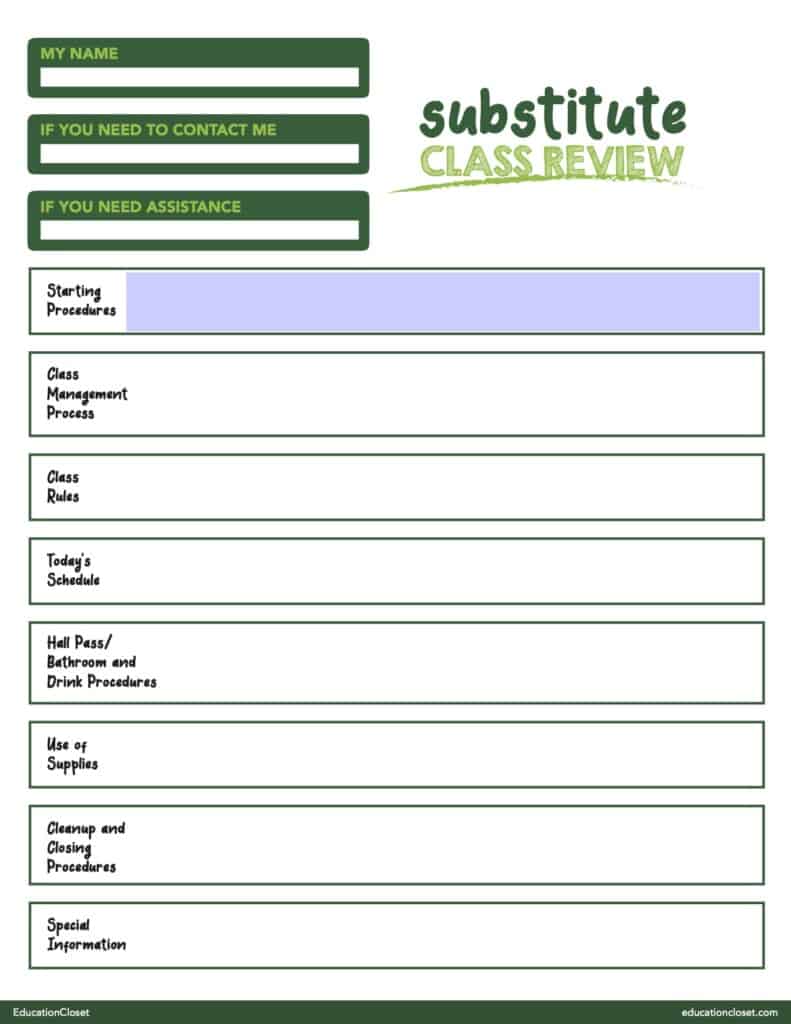 Substitute Lesson Form
This form includes all the pertinent information a sub would need to share a simple, yet effective lesson with your students. This includes:
A list of materials needed for the lesson

Warm-up

The focal lesson outline and

Cleanup/Closing
The key here is to leave a lesson that is easy to follow, has clear instructions on exactly what should be covered, and that doesn't require a lot of setup or moving pieces. Anything is better than leaving a movie or worksheets! We'll cover more about what kinds of lessons work well for substitutes in the next section. For now – just note that it's important to leave a lesson plan or two in your folder.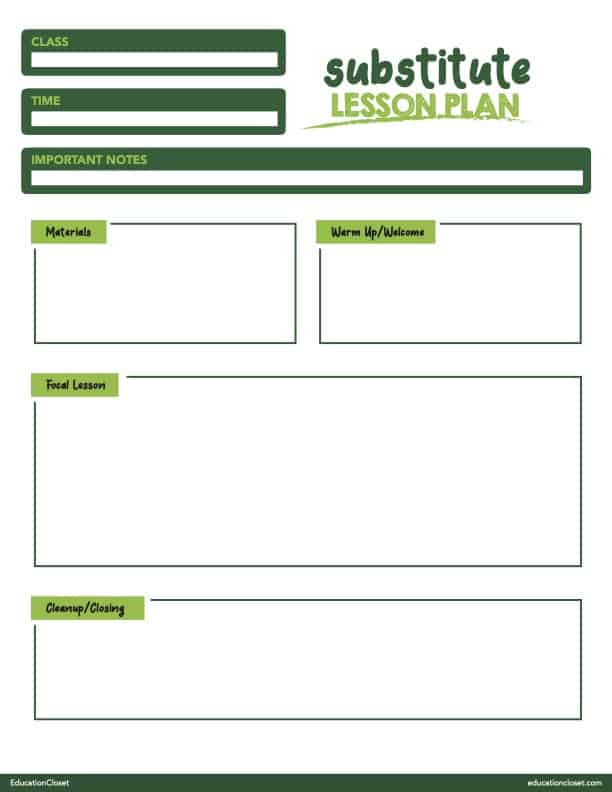 Feedback Form
It's important to know how the day went for your substitute. What went well, what challenges they encountered, and what you'll need to address when you return. Having your sub fill out this feedback form helps make the transition back a bit smoother. Including a copy of this in your substitute teacher folder is a must.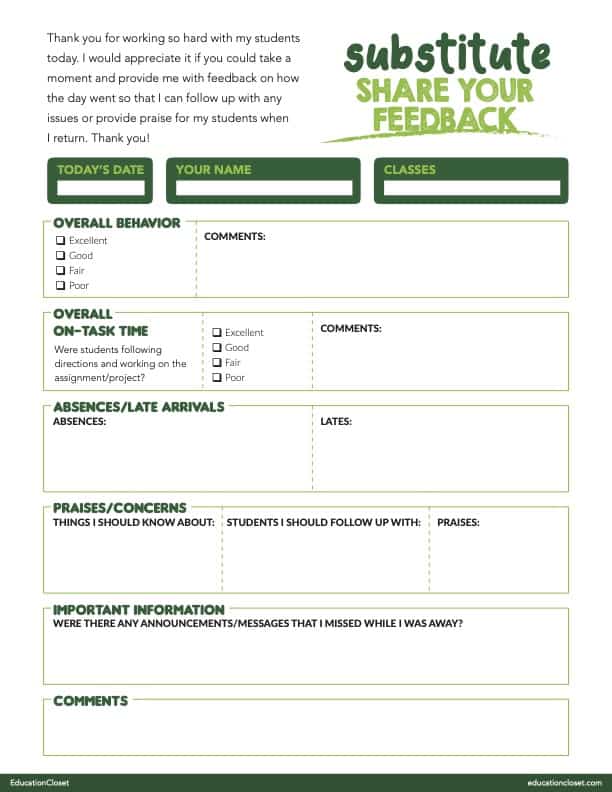 What Sub Plans to Include
Let's go back to the sub plans you should leave in your folder. Ideally, you'll want to include 2 different sets of lesson plans for each class that you teach.  These should be generic lessons that extend and deepen something you've already worked on with your students.  
For instance, a music teacher may want to keep a lesson in the folder for patterns and Bach that was suitable for both grades K and 1.  It's an easy enough lesson for a sub to come in and feel comfortable teaching, but it's also something that reinforced concepts that would be addressed throughout the year.
This is also a great opportunity to include a simple arts integration or STEAM lesson. These naturally connect to previously taught lessons and provide a fun, hands-on opportunity for students to practice what they've learned. 
If you're looking for creative lessons that are already done (and include a web-based slidedeck subs can use), definitely check out the Accelerator platform. There are lessons for every grade level and content area – each are a huge time-saver and work great as sub lessons.
Double Your Lessons, Lessen the Stress
Be sure to include (2) lessons for each grade or class you teach in your substitute teacher folder. This serves multiple purposes:
By leaving multiple lesson options for each grade or class, you empower the sub to select the one they feel most confident in teaching. The more confident they feel, the more they will have a good experience and want to return to sub again.

Additionally, you may not be able to return to class after just one day. Having at least two lessons for each grade/content ensures that you have plans covered if you're out longer than planned.
Organizing Your Folder: Flipbooks & More
Organizing all of these items into your folder is important. The easier it is for a substitute to just step in, the better for everyone. So let's look at some ways you can house these substitute materials in simple, practical ways.
Flipbooks
Instead of just having a set of forms in your substitute teacher folder that can get lost, an alternative could be to create a Classroom Flipbook that slides in the front pocket.
Inside, the flipbook can contain the steps for vital information in your classroom.  There can be tabs for emergency procedures, classroom expectations, notes about students (like who had specific allergies) and key contacts for other members on your team.
You can get fancy and laminate each page or use the binding machine if you have one.  But if not, a stapler, some construction paper, and some plain white paper will do the trick. 
What's important is that it works for you.  You can label each tab with what you need to reference in an emergency or on a daily basis.  And you can have as many or as few tabs as you'd like.
Often, substitutes carry these flipbooks with them as they move throughout the school since they are small and portable. It provides them with an extra layer of confidence.
Go Digital
Another alternative to a physical substitute teacher folder is to put everything onto a thumb drive or onto a website. You can create a simple Google Site for free with links to your lessons, forms, and key contacts. 
Or, you can put all of these items in a digital folder and then add them to a thumb drive which you label "Sub Drive". You then can leave a simple note with instructions like "Sub Plans – put me into the computer" and they are ready to go. 
Be sure to leave a generic login and password that your sub can use so that they have access to your computer without getting into your personal files.

Cultivating a Quality Sub List
Finally, to be truly prepared for a substitute, having a quality list of individuals you trust is important. Starting now, develop a list of substitutes you've worked with that you'd love to come back and sub again. Then, try seeking recommendations from other teachers in your building, the PTA, and even your local community. Add these folks to your list and include their phone numbers and email addresses.
Rather than just having the system call in a random sub for your class, you might have better success by heading to your own curated list and personalizing that request. This works best if you're planning an absence – not when you're unexpectedly sick or out. But it's worth having a list like this to fall back on when you need it.
And, if you've created substitute procedures that are easy to follow, fun to do, and which value their time, you'll have substitutes who are more likely to take your next absence if you need it.